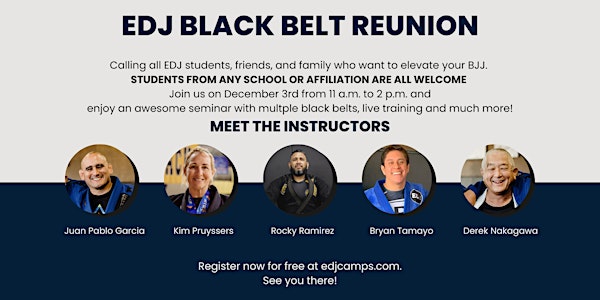 EDJ 2nd Annual Black Belt Reunion
END OF THE YEAR TEAM MEETING & OPEN HOUSE!
When and where
Location
EDJ School of Jiu Jitsu 210 Dupont Street Corona, CA 92879
About this event
Belt Promotions, special seminars, international team meeting!
Calling all EDJ students, friends, and family who want to elevate your BJJ.
STUDENTS FROM ANY SCHOOL OR AFFILIATION ARE ALL WELCOME
Join us on December 3rd from 11 a.m. to 2 p.m. and
enjoy an awesome seminar with multple black belts, live training and much more!
210 Dupont st .Corona, CA .92879
www.edjcamps.com
(951) 662-0162