| | |
| --- | --- |
| Editing "Magic" for Amazon + Taking Your Mobile Device To A New Level at March 8th's LAPPG | |
Event Details
Join us for an inspiring evening as we explore the worlds of television and filmmaking with two valuable presentations:

EDITING "JUST ADD MAGIC" FOR AMAZON STUDIOS

Fresh from completing editing on the 2nd season of the family friendly comedy/drama series from Amazon Studios, "Just
Add Magic," LAPPG member Greg Hobson will detail the workflow of this VFX heavy show and how the editorial process evolves, both creatively and technically.  Greg will share with us the schedule, time frame, what the post team consists of and whether there are any benefits or drawbacks to delivering a whole season at once, unlike traditional network week-by-week deliveries. Join us and become informed about what it's like being an editor on such a heavily creative show.
In addition to being a valuable member of LAPPG, Greg Hobson is an award winning editor having spent many years editing independent features, TV movies, and such popular Disney Channel shows as "Even Stevens", "Zeke and Luther" and "That's So Raven." Greg is also a producer, cinematographer, and a DGA award nominated director.
Taking Your Mobile Device to the Next Level
Producing high-quality video used to be a difficult enterprise but today, aspiring filmmakers,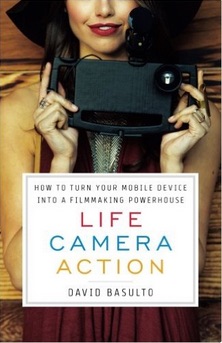 journalists, vloggers, live-streamers, and editors have the tools for creating incredible videos right at their fingertips–literally. Come explore different ways to add better audio, lighting, apps and more as we take our devices to the next level. 
David Basulto is the founder of iOgrapher, leader in the world of mobile filmmaking and is the author of the new book, Life Camera Action. He has taught thousands of video enthusiasts across the globe how to turn their phones and tablets into powerful video-making machines. We are thrilled to have David returning to the LAPPG to share his experience and knowledge with us and to update us on his inspiring story, becoming a successful entrepreneur at age 51!
***As always there will be plenty of time to network, enjoy some coffee and participate in our great giveaway which includes thousands of dollars of amazing prizes from our generous partners!

$5.00 cash kindly requested at the door will include 1 giveaway ticket.
Location:

Roth Hall

1714 21st Street

Santa Monica, CA 90404
Click for a map here.
***Street parking is available as well as a Crossroads parking lot behind on 22nd Street. Click here for a parking map.

---
iZOTOPE RENEWAL & NEUTRON ADVANCED
We'd like to offer an huge thank you to the awesome team at iZotope for renewing their support for the LAPPG for the 2nd year! Not only do we use their products on a daily basis but we are very excited to to share their new mixing plug-in which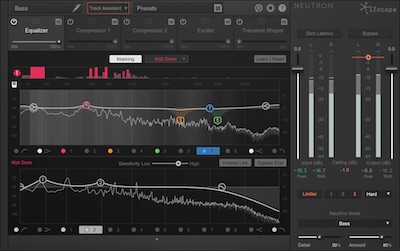 combines the latest innovations in analysis and metering with award-winning audio processing.

From the ground up, Neutron Advanced has been designed with the complex needs of film, television, radio, and multimedia production in mind. Brand new features like the Track Assistant can help you quickly find starting points for EQing your tracks, leaving you more time to be creative. The Masking Meter can also help identify collisions between dialogue and music beds, and the sidechain capabilities of both the dynamic Equalizer and the multiband Compressor can let you carve out clarity and intelligibility while preserving the dynamics and drama of music, atmos, and FX.

Try the free 10-day trial of Neutron and achieve unprecedented focus, clarity, and creativity in your mixes.
---
MORE USER VIDEOS FOR AUDIO NETWORK'S PREMIERE PRO PANEL!

In February, Audio Network released two additional features and tips videos for their Adobe Premiere Pro panel users. The Adobe Premiere Panel - Features and tips: Waveforms and keyboard shortcuts video reveals how to use shortcuts to work more efficiently within the panel. The Adobe Premiere Panel - Features and tips: File location video explains where your music files are saved and how to change the default location within the Audio Network panel.

http://bit.ly/2kpnLUT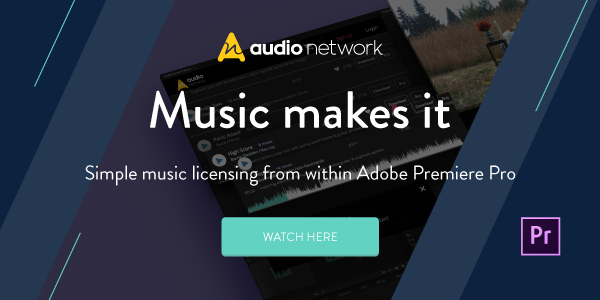 ---
THIS WEEK IN SOUND FOR FILM....

LAPPG's Woody Woodhall interviews the first Oscar Nominated female sound team as they speak about their work on the modern-day musical, "La La Land" on ProVideo Coalition

's

28 Weeks of Audio. Here's an excerpt from the blog post:
Sound for a Modern Film Musical

 28 Weeks of Post Audio - Week 15

#MixingMondays

La La Land, this year's big Oscar nominee, is the first feature film to have a female sound editing team nominated. Millie Iatrou and Ai-Ling Lee, were co-supervising sound editors on the film. Ai-Ling was also tasked with sound design and shared mixing duties with legendary re-recording mixer Andy Nelson (2 Oscar wins among his 21 nominations). I spoke with Millie and Ai-Ling about their work on the film.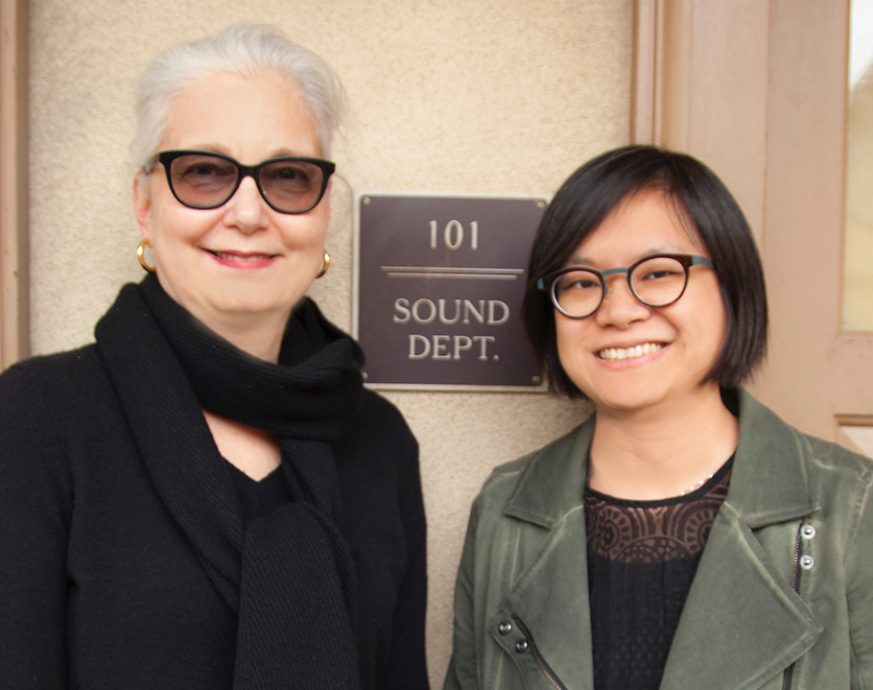 La La Land is the 5th or 6th collaboration between the women. They first supervised together on Cameron Crowe's film, "We Bought a Zoo" and found a great working relationship immediately. Millie says of Ai-Ling, "I love her work, I love her personality. We have a similar work ethic and aesthetic so it was just a good working relationship. We're always aware of what the other person is doing and what challenges they're facing, and we'll play things for one another. I'll have her give me notes and I'll give her notes, it's very collaborative." Ai-Ling continues, "The way that we work as a team is that she is more involved in dialog and the ADR side, where for me I am more in charge of design, sound effects and Foley. (Read more here…)

---
MARK YOUR CALENDAR FOR THESE UPCOMING EVENTS:

March 8th, 2017 – March LAPPG Meeting (Crossroads School, Roth Hall) 
April 18th, 2017 – April LAPPG Meeting (Crossroads School, Community Room)
May 10th, 2017 –  May LAPPG Meeting (Crossroads School, Roth Hall)

May 24th, 2017 –  2017 Creative Storage Conference (Culver City, CA)
---
POST|PRODUCTION WORLD COMING TO NAB THIS APRIL

It's that time of year again! Post-production pros, start making plans for Post|Production World at NAB Show in Las Vegas. This year, the conference will take place on April 22 - 27,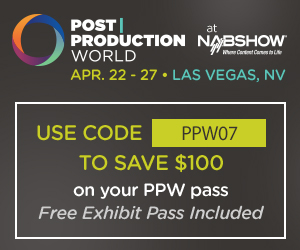 with a program containing over 250 sessions on video editing, motion graphics, cinematography, lighting, sound design, color correction and grading, project management, UAV, content distribution and much more.  A new list of certification prep classes, hands-on instruction and field workshops are also available. Join all the industry leaders that will be there to share their expertise.
Plus, as a LAPPG community member, you can save $100 on your PPW Pass -- just use code PPW07 at registration.

For more information and to register, visit: http://www.nabshow.com/education/post-production-world

---
NEW ROTH HALL PARKING MAP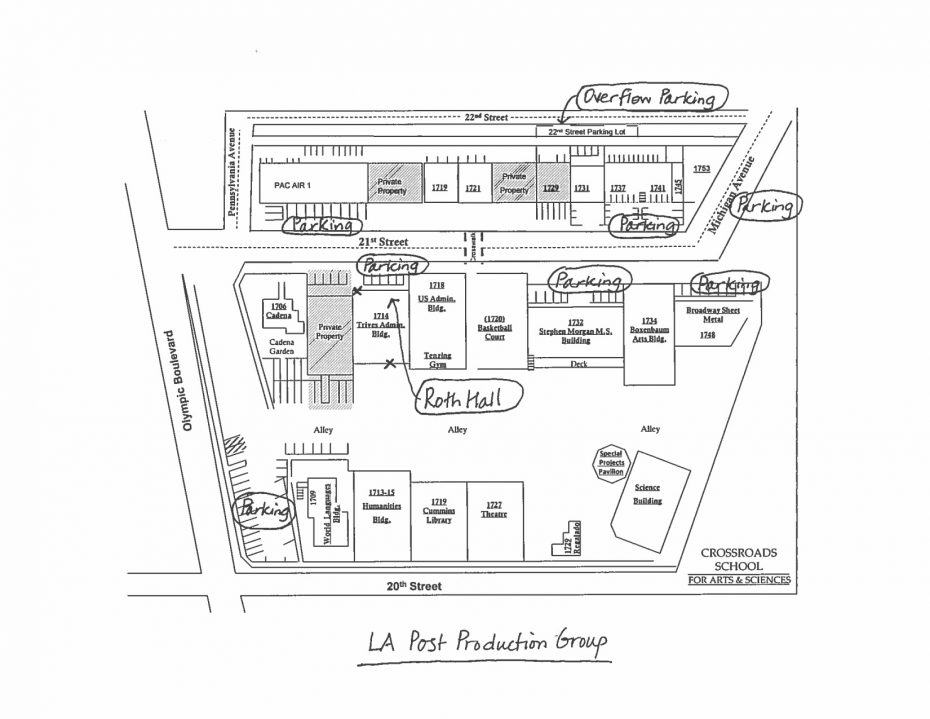 ---
NEWFILMMAKERS LOS ANGELES (NFMLA) CELEBRATES WOMEN'S HISTORY MONTH
 In honor of Women's History Month, NFMLA presents another installment of its InFocus series, InFocus: Female Directors. The first film program of the evening presents brilliant meditations on lost love, regret, happiness and the underlying, relentless force of time. These talented female directors give us stories depicting everything from loss of innocence tales to dark comedies about psychotic soccer moms.

The second film program also centers on female directors. This block of shorts features a powerful documentary that accentuates important social and domestic issues without pulling any punches, an earnest comedy about what it's like to be eclipsed professionally by a best friend, a drama that wittingly spotlights the age when one must choose between their parents' expectations and their own personal dreams, and so much more.
Closing out the evening is a third shorts program featuring riveting character-driven dramas from Switzerland, Belgium, and the USA, which are all dynamic as well as visually stunning.
Throughout the night, you will have the opportunity to mingle with the filmmakers, industry supporters and film lovers over cocktails and beats at the filmmakers' lounge adjacent to the private entry of the South Park Center's 500 seat theater in Downtown Los Angeles.
    $5 advanced purchase / $7 at the door for individual programs
    $15 for all three programs with an open bar
For tickets and details visit:
---
ADVANTAGE VIDEO SYSTEMS' NAB CONTESTS




Advantage Video Systems is getting excited for NAB and is inviting everyone to use their code LV8668 to register to get a pass for NAB and be entered into one of their two contests. You do not need to attend NAB to be eligible to WIN.  Prizes include: one of three $200 gift certificates to AVS, one 8TB RAID, and the

grand prize of an iPad Pro with Pelican case and $1500 production setup.  

Also entrants will be entered to win their other contest, AVS's daily in-booth raffle.  (Prizes TBA.) You must be present to win this one! Come by AVS's booth and enter there for extra chances as well. Signing up for their NAB Concierge Service will get you another entry as will going to one of the NAB events that AVS sponsors like the SuperMeet. Good luck and AVS looks forward to seeing you at NAB.
For more information about these contests, please contact Jeff Stansfield at Advantage Video Systems at 818-624-4242.
---
2017 CREATIVE STORAGE CONFERENCE 

LAPPG members will receive a $100 discount to the upcoming 2017 Creative Storage Conference, May 24, 2017 in Culver City, CA. To take advantage of this offer please register at: https://cs2017.eventbrite.com?discount=onehundredoff65371289

Tom Coughlin of Coughlin Associates, will present high-level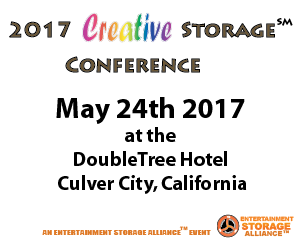 results from the 2017 Survey of Digital Storage Professionals (their 8th survey). As a media and entertainment professional you are invited to participate in this survey.
 
This survey is designed to determine the industry's digital storage needs and expectations for the capture and creation of raw content, editing and post production, distribution of content, digital archiving as well as digital conversion and preservation. The results of this survey will be used to create the 2017 Coughlin Associates report on Digital Storage for Professional Media and Entertainment. The survey will stay open until May 15, 2017.
 

Here is the link for the survey:  https://www.surveymonkey.com/r/FPRW6Y5
 

For more information on the 2017 Creative Storage Conference, please click here.
---
CONNECT WITH US!              

---
We thank the following partners for their generosity and support of our monthly meetings. Please visit them:
Adobe, Advantage Video Systems, Art of the Guillotine, Audio Network, Blackmagic Design, BorisFX, Creative Handbook, Digieffects, Digital Rebellion, Focal Press, GoPro Entertainment, HDSLR Shooter, Imagineer Systems, Intelligent Assistance, iZotope, Mercury Production Report, Other World Computing,  Post Production Buyers Guide, Pro Sound Effects, Pro Video Coalition, ProductionHUB, Randi Altman's postPerspective, Shutterstock, Sorenson Media, Sound & Picture.
We look forward to seeing you on Wednesday, March 8th!
Sincerely,

Los Angeles Post Production Group
Please visit www.lappg.com for discount offers, job listings, industry news and more.
When & Where

Crossroads School for Arts & Sciences
Roth Hall
1714 21st Street
Santa Monica, CA 90404


Organizer
Los Angeles Post Production Group
The Los Angeles Post Production Group is a professional organization for people with a passion for film, video and the digital media finishing process.

The LAPPG discusses all aspects of post production, from picture and sound editing to color correction, visual effects, codecs, storage and post workflows.

Expert presenters and leading companies come to our monthly meetings and share new technologies, techniques, tools, products and best practices to aid us in telling great stories.
We also provide our members with great offers and discounts as well as opportunities to network and make industry connections.
Membership is free and you need not live in Los Angeles to take advantage of this great resource.
To become a member please email your name and information about yourself to membership@lappg.com.
Editing "Magic" for Amazon + Taking Your Mobile Device To A New Level at March 8th's LAPPG