Description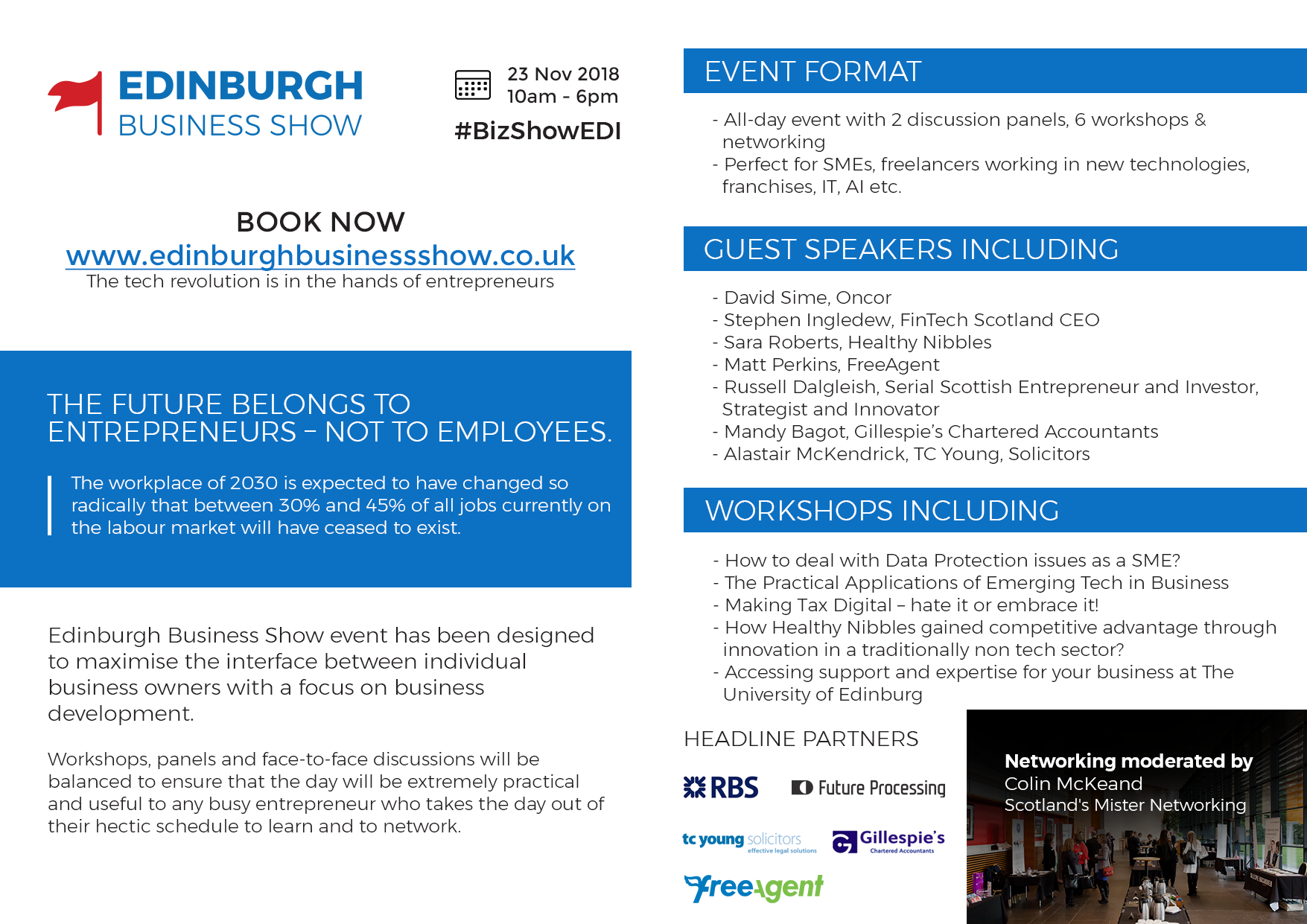 Entrepreneurs like you are the heroes of the 21stcentury revolution
In the 18thcentury, the steam engine of the Scottish engineer James Watt drove the industrial revolution forward. In the 20thcentury, Poland's Marie Curie revolutionised medicine by inventing X-ray equipment. The drivers of the 21stcentury revolution are entrepreneurs and businesses. The heroes are names like yours.
Entrepreneurial X-men unite
Heroes work best together. We are calling on all entrepreneurs to join the 2018 Edinburgh Business Show event. Organised by PBLINK & Scotland's Mister Networking and hosted by RBS at the RBS Exhibition Centre, Gogarburn, this event is to:
Dramatically grow your business network
Provide valuable insights for you and your team
Source advice from experts and mentors
Event Details
All-day event with 2 discussion panels, 4 workshops and networking
Perfect for SMEs, freelancers working in new technologies, franchises, IT, AI etc.
Standard ticket £14, inc lunch and refreshments all day, plus access to all workshops
Exhibition and sponsor packages for businesses from only £99
Why Edinburgh?
Glasgow may have big industry and a gallus swagger, but Edinburgh wins on creative talent, energy and entrepreneurial spirit. It's a unique and vibrant place to do business. With great access to universities, great flight connections, diverse communities, lots of networking organisations and growing population of young professionals, Scotland's capital city stands out from the crowd. Edinburgh Business Show is for entrepreneurs interested in developing the big-name disruptive businesses of the future.
Why Now?
Technology changed the world and the way we behave as entrepreneurs. Less than decade ago if an entrepreneur wanted to launch a new project and required a simple website it cost a fortune to employ someone to set it up. Now with easy tools you can set up a website for pennies in matter of seconds.
Today's big names are yesterday's news. High-street brands like M&S, Tesco, ToysRus, New Look and more are shutting branches across the country.
It's a time of change. By using the right tools, and above all, a new mindset, we believe it is possible to create more opportunities than ever. This is our time, the age of small businesses and sole traders.
We simply call this the Entrepreneurs' Revolution.
FAQs
What is Edinburgh Business Show Agenda?
Please visit Show website for latest speaker announcements: www.edinburghbusinessshow.co.uk
What are my transportation/parking options for getting to and from the event?
If you will travel by car please contact us to arrange car park space: info@pblink.co.uk. Please note there is limited parking space near the Exchibition Centre and we can not guarantee to accommodate all enquiries.
We encourage to take tram and tak Gogarburn stop. There is abou 10 minutes walk from the tram stop to the Exhibition venue.
How can I contact the organizer with any questions?
Feel free to contact Colin or Bart if you have any questions regarding the event:
Colin: 077 678 449 42, colin@colinmckeand.co.uk
Bart: 078 426 130 16, bart.k@pblink.co.uk
What's the refund policy?
You can cancel General Admission and Exhibition tickets 14 days before event. Your fees will be fully refunded.
Do I have to bring my printed ticket to the event?
Yes, you need to bring your ticket with you, either printed or on mobile app.
Can I exhibit at the event?
Yes, you can exhibit at the Edinburgh Business Show event, however there are some restrictions about types of the businesses who can not exhibit: law firms, money transfer firms and banks. Please contact us before booking to confirm if you can exhibit: info@pblink.co.uk
As a visitor only, what can I bring into the event?
Business Cards, Leaflets or other small handheld handouts are permitted. You may not bring banners, roller or pop up stands or any bags or sealed envelopes of literature.
Is there WiFi available?
Yes WiFi will be availible.
Is my ticket transferrable?
Yes, you can transfer your ticket to someone else. Please notify us no later than 7 days before event