Description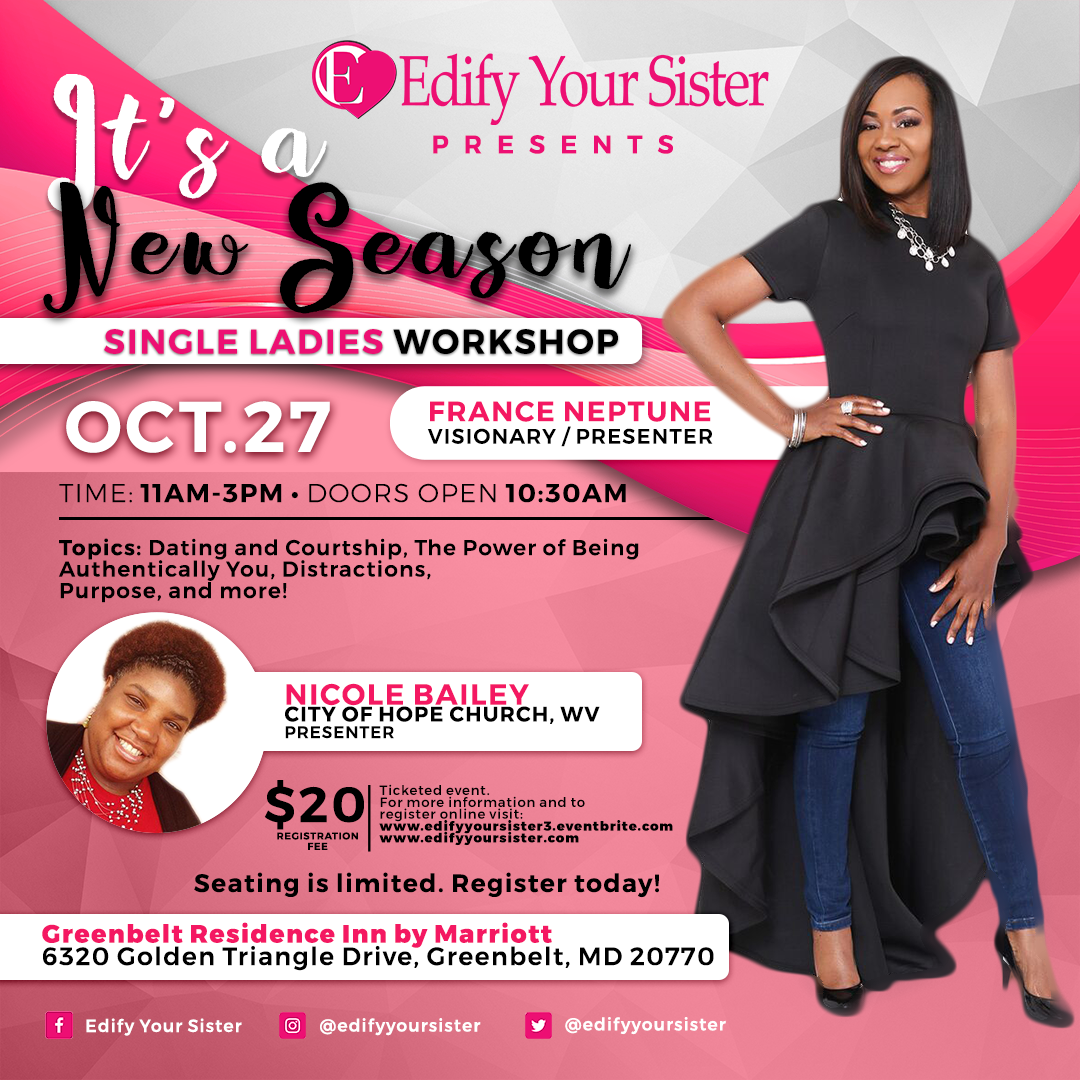 Edify Your Sister® Presents: It's A New Season Workshop
Date: October 27, 2018
Time: 11:00am-3:00pm/ Check-in: 10:30am
Location: Residence Inn by Marriott Greenbelt / 6320 Golden Triangle Drive/ Greenbelt, MD 20770
**Lunch will be provided**
Single ladies...this one's for you! It's A New Season Workshop was created to help you navigate through your season of singleness. Whether you're dating, in a relationship, single, or survived a divorce, come on out and bring a friend with you. Come fellowship with other single (unmarried) women. Are you struggling in your singleness? Maybe you're in a relationship you want out of. If so, don't be ashamed, It's A New Season sis...We got you❤️. You'll leave encouraged, empowered, and edified. We hope to see you there!
-Edify Your Sister
Topics: Dating and Courtship, The Power of Being Authentically You, Distractions, Purpose, and more!
There will be no tickets sold at the door. Seating is limited. Please help us spread the word! Invite a family member, sisterfriend, coworker, etc. For additional information or questions please contact edify2015@yahoo.com.
You can also purchase your ticket(s) through:
paypal: paypal.me/edifyyoursister
website: www.edifyyoursister.com
"Let us therefore follow after the things which make for peace, and things wherewith one may edify another." Romans 14:19

FAQs
Who is this event for? Single women (unmarried women and youth girls (12+)).
What to bring to the event? Ticket (printed or electronic).
What is the refund policy? Tickets are nonrefundable however, tickets can be transferred to somebody else. Please email edify2015@yahoo.com with this request so we can update the Registration List.