Actions and Detail Panel
Edify Your Sister Launch
Sat, May 20, 2017, 9:00 AM – 2:00 PM EDT
Description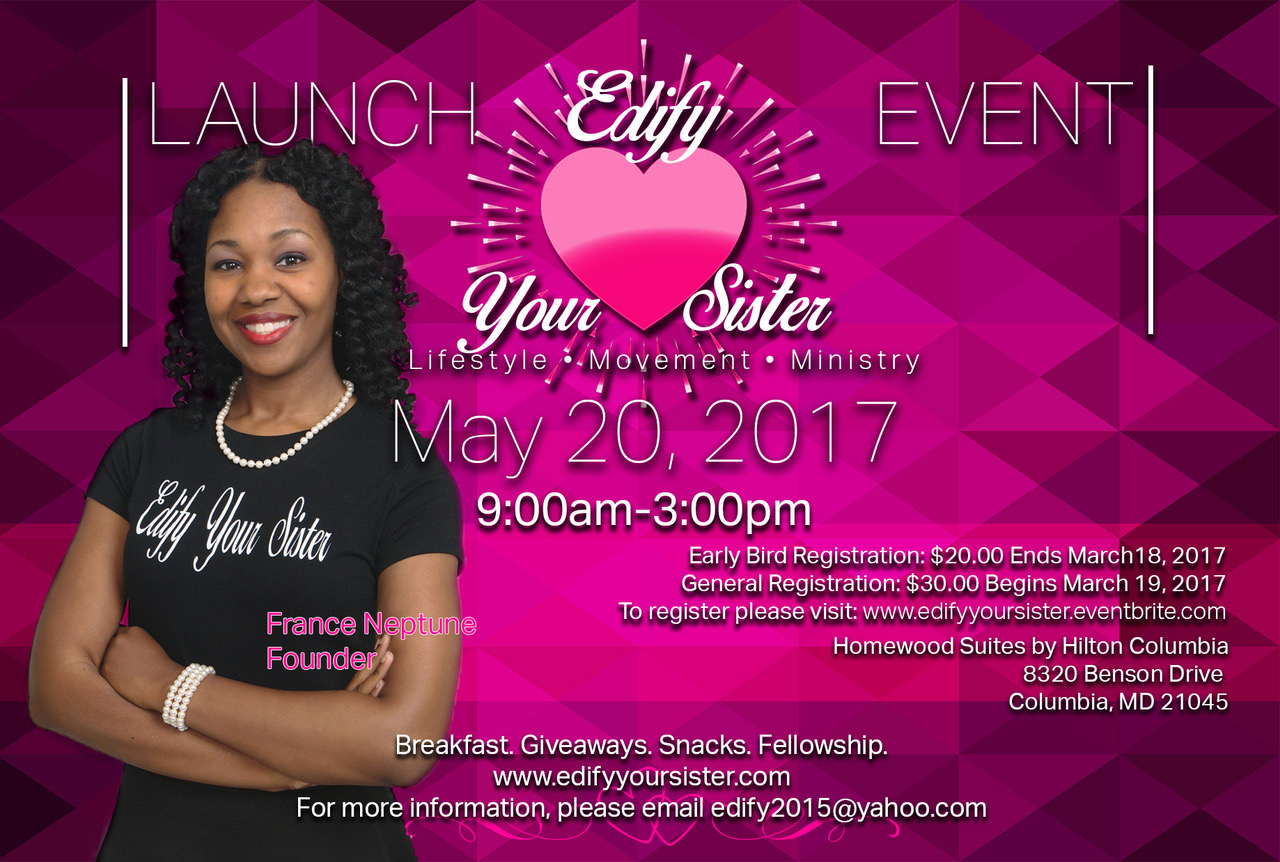 **For a limited time only, use PROMO CODE eys2017 to save $5.00 off registration**

You are cordially invited to the official launch for Edify Your Sister™!

Date: May 20, 2017
Time: 9:00am-3:00pm
Check-in 9:00am-10:00am. Breakfast starts promptly at 10:00am.
Place: Homewood Suites by Hilton Columbia
8320 Benson Drive
Columbia, Maryland 21045

What to expect:
Hot Breakfast, Giveaways, Testimonies, Snacks, Fellowship, Spoken Word, Swag Bags, and more!

The launch is going to be a time of inspiration, shedding, and fellowship! You will be motivated, encouraged, challenged, and built up through discussions, testimonies, and more.

Edify Your Sister™ empowers and builds up. Our goal is for young girls and women to enthusiastically embrace that they are loved by God and are fearfully and wonderfully made. We desire to help young girls and women discover their purpose, know their worth, and help them heal from past hurts. We are an empowering, anti-bullying, and anti-body shaming movement that desires to bring peace and unity among one another.

This is a ticketed event. There will be no tickets sold at the door. Seating is limited. Get your ticket today!

Please spread the word and invite a family member, friend, or coworker. Don't miss this wonderful opportunity to experience genuine sisterhood, love, support, and encouragement. Our events are purposed to Renew, Restore, Educate, and Edify. For additional information or questions please contact edify2015@yahoo.com.

"Let no corrupt communication proceed out of your mouth, but that which is good to the use of edifying, that it may minister grace unto the hearers." Ephesians 4:29

FAQs
What to bring to the event? Ticket (printed or electronic).
What is the refund policy? Tickets are nonrefundable however, tickets can be transferred to somebody else. Please email edify2015@yahoo.com with this request so we can update the Registration List.
Who is this event for? All youth girls (11+) and women.
Lodging? Use the link below to reserve your hotel room at the discounted rate:
http://homewoodsuites.hilton.com/en/hw/groups/personalized/B/BALCLHW-EYS-20170519/index.jhtml