Description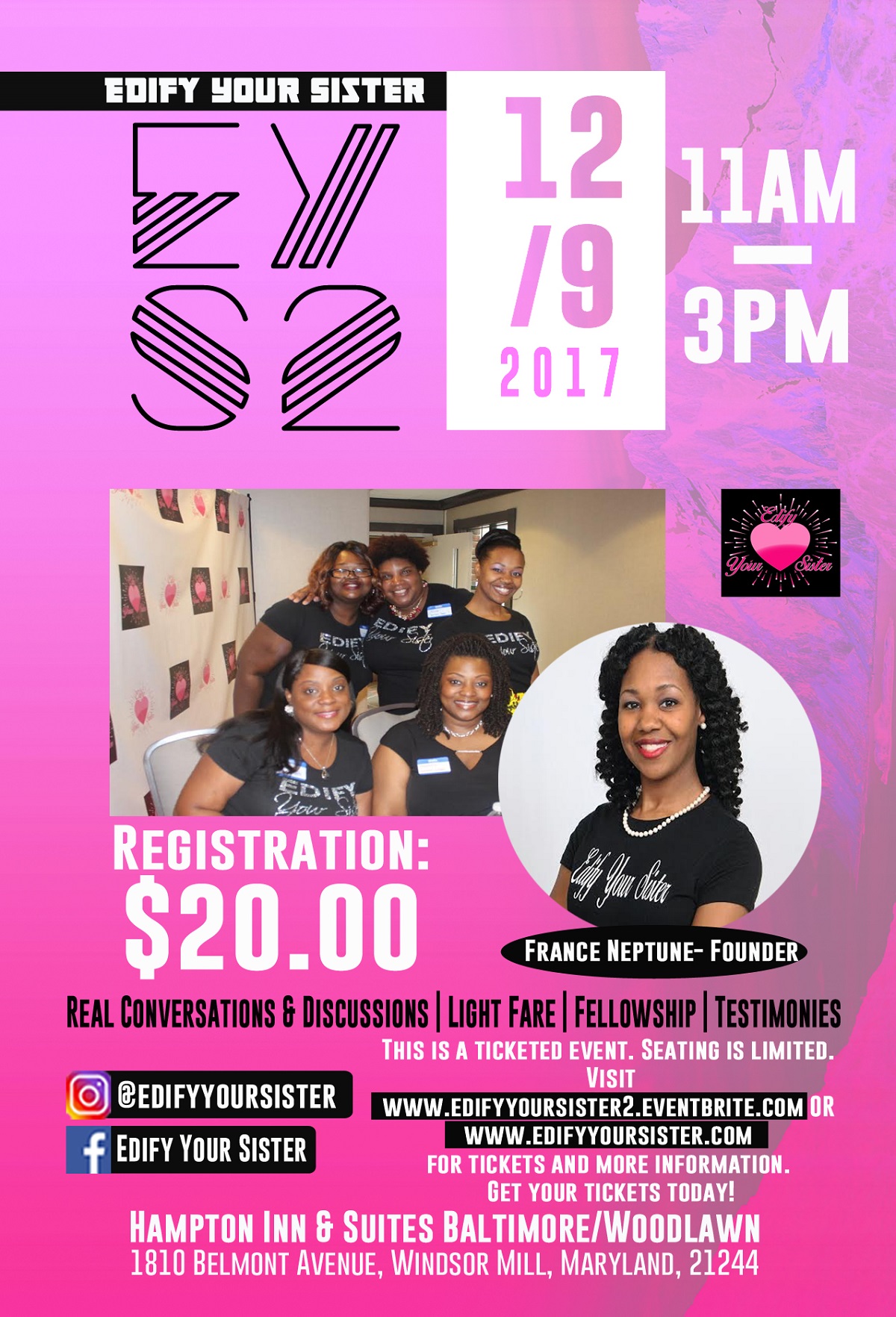 **Early bird registration- $15 through November 30th!**
You are invited to Edify Your Sister™ EYS2 In His Image!

Date: December 9, 2017
Time: 11:00am-3:00pm
Check-in: 10:30-11:00am
Location:
Hampton Inn & Suites Baltimore/Woodlawn
1810 Belmont Avenue
Windsor Mill, Maryland, 21244
Topics: Self-esteem, self-confidence, self-image, His image and more.
What to expect: Discussions. Lite Fare. Fellowship. Testimonies. 8 strategies to being "Uniquely and Authentically You."
You'll leave empowered, motivated, challenged, and built up through testimonies, discussions, and more!!
This is a ticketed event. There will be no tickets sold at the door. Seating is limited.Spread the word! Invite a family member, friend, coworker, etc. Don't miss this wonderful opportunity to experience genuine sisterhood, love, support, and encouragement. For additional information or questions please contact edify2015@yahoo.com.

"Let no corrupt communication proceed out of your mouth, but that which is good to the use of edifying, that it may minister grace unto the hearers." Ephesians 4:29

FAQs
What to bring to the event? Ticket (printed or electronic).
What is the refund policy? Tickets are nonrefundable however, tickets can be transferred to somebody else. Please email edify2015@yahoo.com with this request so we can update the Registration List.
Who is this event for? Women and youth girls (11+).