Description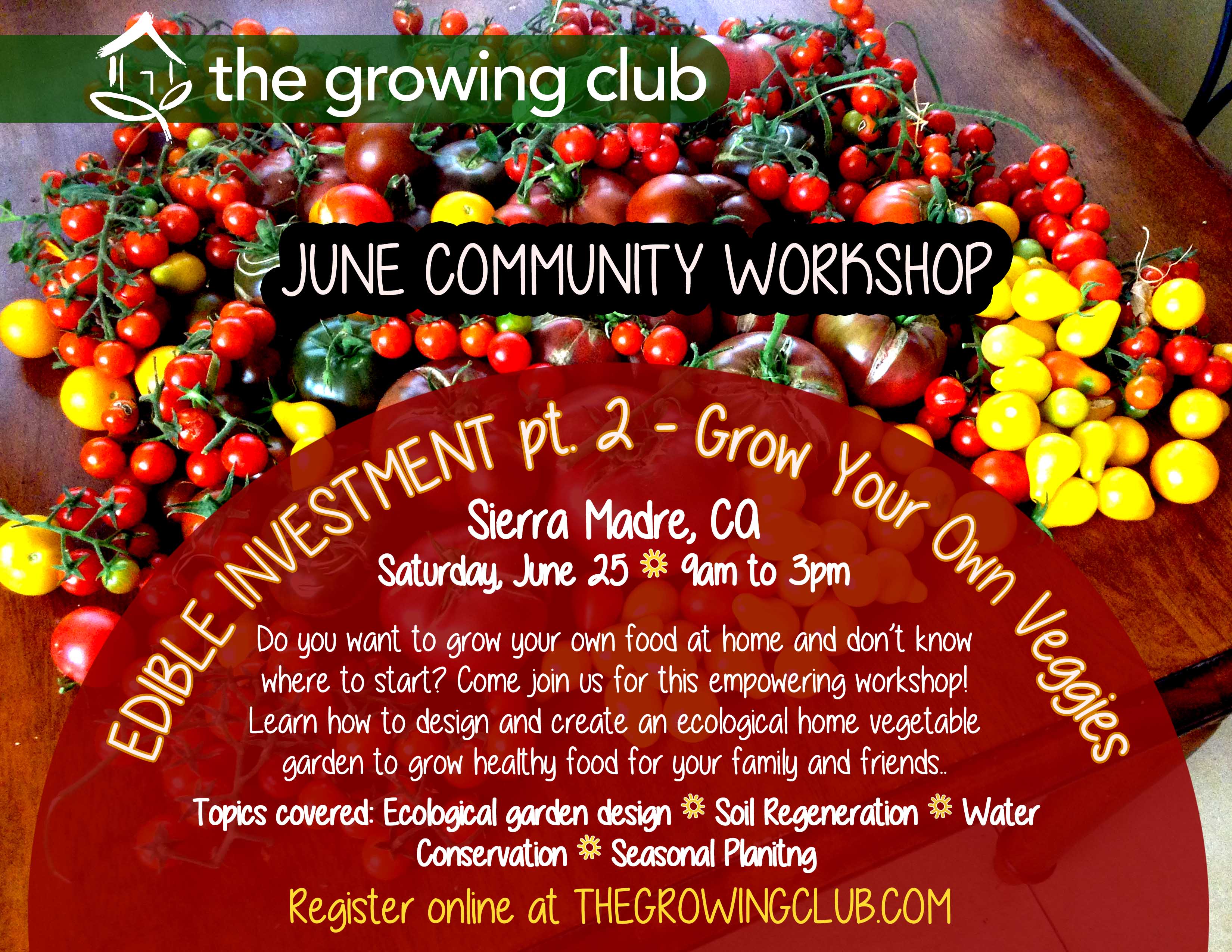 Every month, The Growing Club hosts a full day hands-on workshop to help and inspire local community members create bountiful, beautiful productive gardens. This month's garden hands-on workshop topic is "EDIBLE INVESTMENT Part 2 - Grow Your Own Veggies."
---------
Workshop Description

Do you want to grow your own food at home and don't know where to start? Come join us for this empowering workshop where we will learn how to design and create an ecological home vegetable garden. You'll be well on your way to growing healthy food for your family after this workshop. We will be covering a variety of topics from where and how to place your vegetable garden beds, how to create healthy & biologically rich soil, how to conserve water while growing an abundance of produce, and planting seasonal vegetables for a seasonally appropriate diet.
BONUS: This workshop is being held at the home of Growign Club Member Carolyn Dasher, who has been working to transform her landscape into a beautiful ecological water-harvesting garden with large established fruit trees and native plants.
Topics covered: Ecological garden design, soil regeneration, water conservation, seasonal planting
Schedule
9am to Noon: Hands-on Vegetable Garden Installation
Noon to 1pm: Brown Bag Lunch
1pm to 3pm: Vegetable Gardening Basics (Sit-down Session)
Scholarships Available
We strive to make all of our workshops and classes available to all, regardless of financial means.
If you would like to apply for a scholarship, please click here.
---------
How do I become a member of The Growing Club?
Head over to our website at http://thegrowingclub.com to sign up.