Edible Institute

Saturday, May 10, 2014 at 7:30 AM

-

Sunday, May 11, 2014 at 4:30 PM (EDT)
Event Details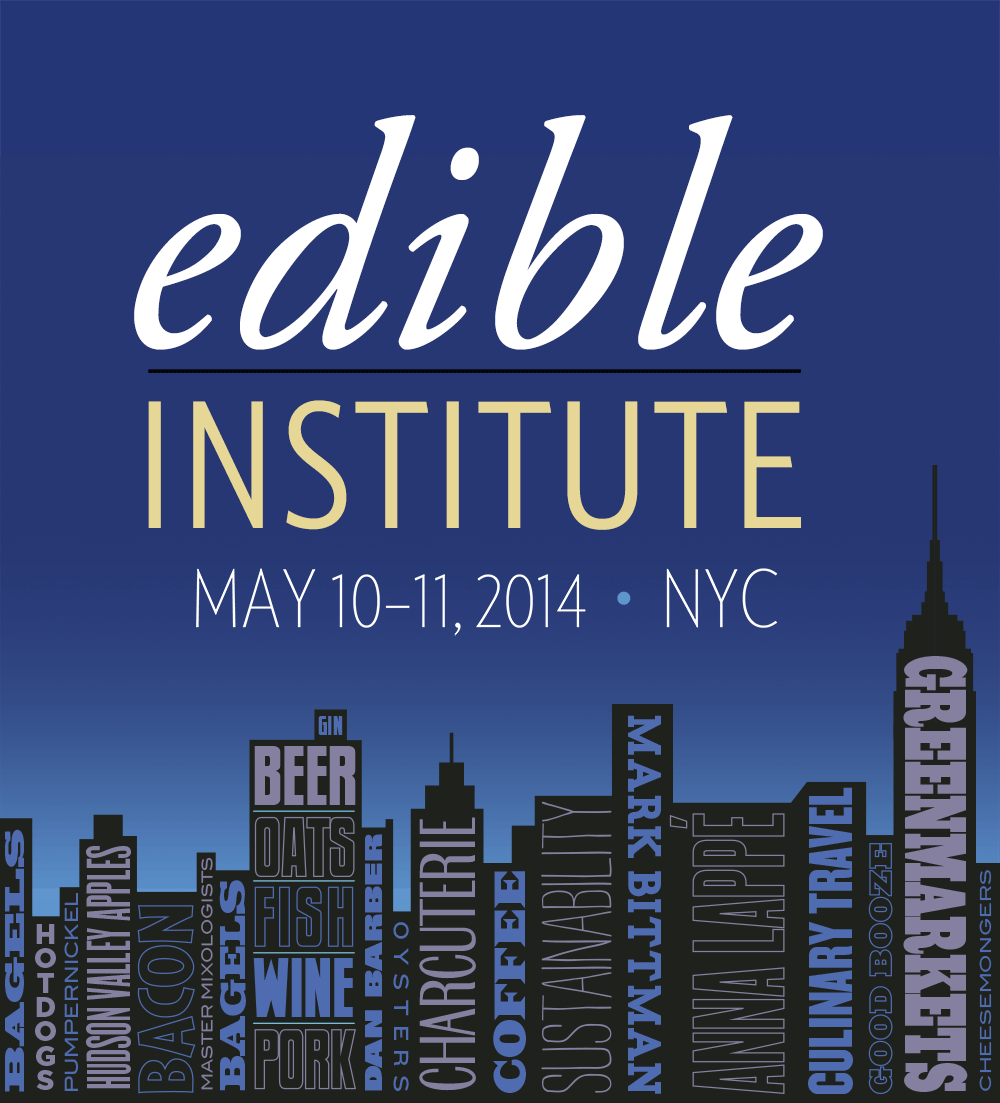 Mark Bittman • Anna Lappe • Tom Philpott • Joan Gussow • Gary Paul Nabhan • Dan Barber • Danielle Gould • Brian Halweil and many more from our food and drink community...
Join the nation's food movers and shakers at a 2-day celebration and discussion of where the American food movement is, and where it's going. This annual think tank, part of the meeting of 80 Edible magazine publishers from around the nation, will feature talks and panels by farmers, chefs, drink makers, journalists, and food and drink enthusiasts (like you). Attendees enjoy two days of discussions at The New School in Manhattan, food and drink tastings, as well as invitations to selected events during the weekend, from walking tours of Brooklyn's rootop gardens to bus trips to Hudson Valley wine country to a live FoodTech meetup.
Both days will consist of dynamic, moderated, Q&As in the morning and afternoon. There will be breaks for networking and an assortment of refreshments, curated local lunch options and end-of-day food and drink tastings for attendees.  
Topics will include:
Culture: Can the food "revolution" cross geographical, cultural and class boundaries.
Technology: The expanding "foodtech" space and what it means.
Business: How to build a sustainable food business in a city (or nearby suburb).
Drinks: Why is the good food movement drinking more.
Seafood: How will small scale fishers save East Coast seafood.
Food Service: What will it take to bring the good food movement to scale in school cafeterias, hospitals and beyond.
Stay tuned for a full list of speakers and panels, as well as food and drink tastings available to attendees. All attendees will also be sent a list of recommended accomodations and eating options near the Institute, and a list of curated food and drink activities happening in conjunction, from walking tours of the Union Square Greenmarket to lunch specials for attendees around town to regional food tours before and after the Insitute.


When & Where

The New School
66 West 12th Street
New York, NY 10011


Saturday, May 10, 2014 at 7:30 AM

-

Sunday, May 11, 2014 at 4:30 PM (EDT)
Add to my calendar