Description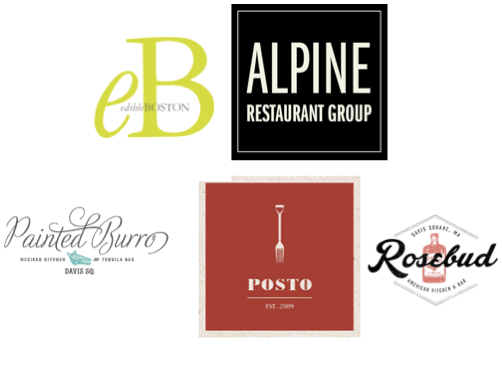 Edible Boston and Alpine Restaurant Group present a Three Course Locavore Dinner at Three Restaurants in Davis Square, Somerville. ($75 Inclusive of Tax & Gratuity)
Mexican Fiesta for the First Stop at The Painted Burro (219 Elm Street, Davis Square, Somerville)
PASSED HOR D'OEUVRES - Utilizing Fresh Produce from Brookford Farm (Butternut Squash, Beets, Kale)
Mini Empanadas w/ Duck Carnitas & Butternut Squash, Cinnamon Crema

Mini Roasted Beet Tacos w/ Sauteed Kale, Goat Cheese, Avocado Crema & Spiced Pepitas

Pork Flautas w/ Oaxaca Cheese & Apple Poblano Salsa
BEVERAGE: Fresh Pomegranate, Mint, Lime & Soda Water (non-alcoholic)
Mangia Mangia! for the Second Stop at Posto (187 Elm Street, Davis Square, Somerville)
FIRST COURSE
Siena Farms Heirloom Tomato Panzanella with Grilled Ciabatta from Nashoba Brook Bakery and Vincotto
BEVERAGE: White Wine TBD
ENTRÉE COURSE
Heritage Grazers Pork Shank & Prune Ragu, Maine Potato Gnocchi, Barolo, Parmesan Crema
BEVERAGE COURSE: Red Wine TBD
Sweet Treats at Rosebud American Kitchen & Bar ( 381 Summer Street, Davis Square, Somerville)
DESSERT
Pear Cranberry Pie w/ Candied Ginger Ice Cream
BEVERAGE: Boozy Milkshake with Ken & Gina's Amazing Organic Ice Cream
This is a 21+ event.
---
We are so excited to have you join us as part of Edible Boston's Supper Club.
The Edible Boston Supper Club brings together a small group of people (20-30) for prix fixe meals at one of our advertising restaurants, breweries, cafes, etc. throughout Boston, MetroWest, Worcester County and the North Shore. Gatherings will take place at least once a quarter (coinciding with the release of our newest publication), and we will pick a different location and host each time.
Our events are communal gatherings where we encourage making new friends with fellow readers, makers, and all those passionate about local food. If you are coming as a group, please let us know so that we may seat you together when and if possible.
Dietary restrictions: please inform us in advance of any food allergies or other dietary concerns. We will do our best to accommodate your requests.