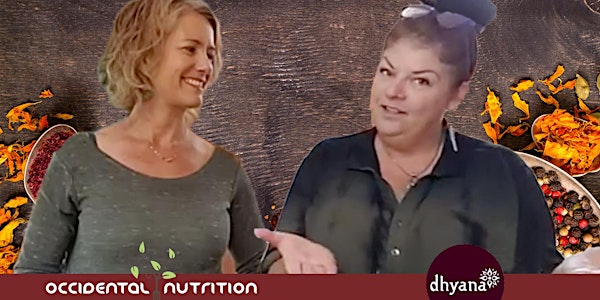 Edible Ayurveda with Deanna Badtorff & Mary Sheila Gonnella
When and where
Location
The dhyana Center 186 North Main Street #Suite 240 Sebastopol, CA 95472
Refund Policy
Contact the organizer to request a refund.
Description
Nutrition to Spice Up Your Life!
This weekend retreat is for health minded "foodies" who understand that food is medicine, and that the choices you make daily are what can give you the vitality to restore balance in the body.
Whether you are new to Ayurveda or you know Ayurveda in your own body, this class will give you the relevant tools to continue to grow into and be inspired by the daily nourishment you give to yourself.
Your body is dynamic and ever changing, and the changes and challenges you face require you to acknowledge your evolving relationship with food and your body.
THIS WEEKEND CLASS IS FOR YOU IF YOU ARE READY TO:
deepen your relationship with your food

know what to eat for your constitution

connect more to your food choices, your body and your overall health.

refuse to accept the status quo of aging, and the current healthcare system that doesn't always recognize nutrition, self care, and the concept of taking your health into your own hands.
ARE YOU IN A PLACE WHERE YOU ARE TIRED OF:
Wanting to eat right, but not sure what's right for you?

Sneaking food and adult beverages that are starting to really impact our health.

Feeling like you are in a food rut, and feeling uninspired in your kitchen.

Resorting to your kids' leftovers

Feeling bad about what you are feeding yourself and your family.

Having a bowl of popcorn for dinner because you just don't feel inspired to cook?

Skipping meals and instead snacking all day?

Just being confused by all the food trends and fads, and wish you could find what works for you?
We get it, we see it all the time with our clients and in our classes, that is why the timeless wisdom of Ayurveda can give you the tools to learn how to feed yourself in a delicious, satisfying, and nourishing way.
We are living in a time of information and education at our fingertips, via the web. This has many benefits, because as consumers we are becoming more savvy and the trends and research are being put into action.
When you understand the body through the lens of Ayurveda, you can also start to understand your symptoms through that lens as well:
Are you feeling hot, cold, wet or dry?

What elements are out of balance?

Where and how can you make changes to course correct?

What season is it and how does it relate to my food choices?
Based on you assessment, what foods are hot, cold, wet, or dry, and how can you use the foods and spices that you are eating every day to help you to find balance?
Ayurveda allows you to tap into your own wisdom, or the genetics you were born with to understand what is right for you. Finding that allows you to make wiser food choices, and when you know this, it's also inspiring to try new things, and for some of us, to start to enjoy cooking again!
As we collectively turn back to our roots, we realize that science is actually catching up to Ayurveda. The ancient trusted herbs and spices are now the new modern day superfoods. Let us share this wisdom with you in a practical user friendly way, so that you can have clarity on your food choices, and know how to deeply nourish yourself, that is loving and aligned with your constitution, your temperature, your aversions, your likes and loves.
If you are ready to feel:
Nourished

Inspired

More knowledgeable about spices, what to eat, when to eat, and how to create more balance with the food in your life, we invite you to join us!
If you are you ready to take action and increase your energy, eat what your body really needs, and take the guesswork out of "what should I eat?" or "what the heck should I be feeding my family?", then this class is for you.
Come smell, taste, and learn with us, and finally let go of the confusion and start nourishing yourself with confidence, knowing that you are Nourishing your best asset...YOU!
September 7 & 8, 2019 :: 11:00AM - 6:00PM each day of class
---
BONUS MEET & GREET EVENT FRIDAY:
Receive a 20 minute birth pulse reading one-on-one with DeAnna & a 20 minute individual glandular and hormonal assessment with Mary Sheila.
Spend the day in our Self-Care Sanctuary
Receive the tools you need to maximize your workshop experience!
Begins at 1 pm, September 6. Add this to your course for $150