Edible and Medicinal Plant Walk with Caitlin and Annie hosted by Florida Na...
Description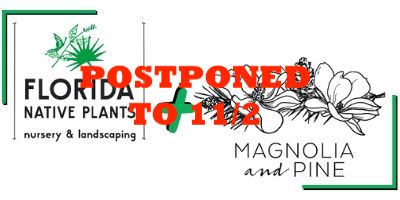 10/18 Update: Due to inclement weather this event is being rescheduled for 11/2.
Florida Native Plants Nursery & Landscaping presents Edible and Medicinal Plant Walk with Caitlin McMullen
Have you ever wondered what the plants around you are? Whether they are food or medicine to us? Come walk amidst the lush greenery of the Florida Native Plant Nursery and meet some of our local plants along with herbalist Caitlin McMullen. We'll touch on some of the most common plants around us that we can connect with in many ways to improve our physical health as well as our connection to the ecosystems around us.
Cost: $10 per person, Kids 12 and under are free.
Space limited! Pre-registration required by 5pm, NOVEMBER 1 (click "Tickets" or "Registration" button).
Bring a sun hat, non-DEET natural bugspray, a water bottle, and if you like, a notebook, pen and camera for note taking. The walk should last an hour and a half. Parking is limited, so carpool if possible. Many of the plants we'll meet are also available for purchase through the Nursery, so if you'd like to get to know some of them better, you can take them home to your garden or container garden.
Caitlin McMullen is a lifelong plant lover, and a dedicated friend and student of the plants. She is a mother, herbalist and gardener and the woman behind Magnolia and Pine, a small batch, seasonal, locally sourced (mostly homegrown) herbal apothecary and herbal CSA.
Hosted by Presenting Partner, Florida Native Plants Nursery & Landscaping!
Eat Local Week! This educational walk is one of 20+ events during the 2019 Eat Local Week. Check out www.TransitionSRQ.org/eatlocalweek for a full list of events!