About this Event
Seniors come show your skills to college coaches from all over the country. This will be your last chance to perform infront of college coaches before signing day. Come compete against the best seniors in the area.
Registration - 6:00pm
On Field - 7:00pm- 8:00pm
Meet and Greet - 9:00pm-9:30pm
We will have coaches for every position. At the end we will have competative drills and one-on-one's. You will have an opportunity to do a meet and greet with all the college coaches in attendence.
If you have any questions please contact:
Elias Karras at elias@eftsportsperformance.com, (847) 687-6005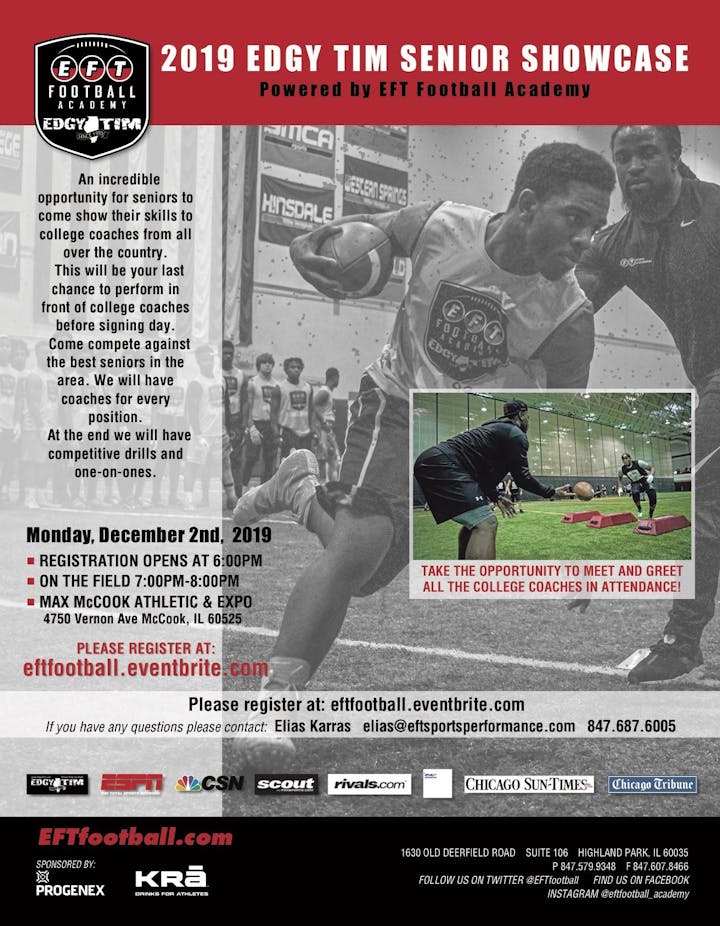 EFT Football Academy is an exclusive division EFT Sports Performance. EFT was founded over 20 years ago by Elias Karras, and has grown to be the premier elite performance training facility in the Midwest. In addition to developing 500+ Division 1 athletes, EFT has helped service athletes at the highest levels. With 80+ active NFL players, MLB draft picks, NBA all-stars, multiple olympians, hockey champions, and much more, EFT has developed programs to improve athlete's physical ability to better perform.