Topio is excited to announce Edge Computing World Europe, will be held as a virtual event on 22 - 23rd June 2022.
About this event
Edge Computing World Europe will bring together over 500 attendees from end users, ecosystem and developers, and 60+ speakers in total with a unique collection of edge experiences, case studies & insights.
Edge Computing World Europe features End User presentations, case studies and business insights from across the market, including sectors such as Application Management, industrial manufacturing & robotics, media, automotive, intelligent infrastructure & retail sectors. Keynotes sessions will focus on Edge Best Practice, Telco Edge & The European Edge Economy
There will be an Edge Developers Conference, as well as deep dive discussions on Edge Sustainability & Leveraging Edge Data.
The content is organized into EIGHT focused Summits giving you a unique deep dive into vertical markets and major technical themes.
Plus the unique Edge Developers Conference hones your edge technical skills with presentations from the leading open source bodies.
The one day Edge Developers Conference held on 22nd June 2022 will include:
Technical insights on edge computing from the industry's foremost experts
Introduction to reference platforms and tools available from leading industry collaboration bodies, including the Linux Foundation, Open Infrastructure Foundation, ETSI, Open Compute Project and Eclipse Foundation.
Join the launch session of the joint ETSI- Linux Foundation Edge Hackathon.
Access the Exhibition & Demos
Speaker Highlights: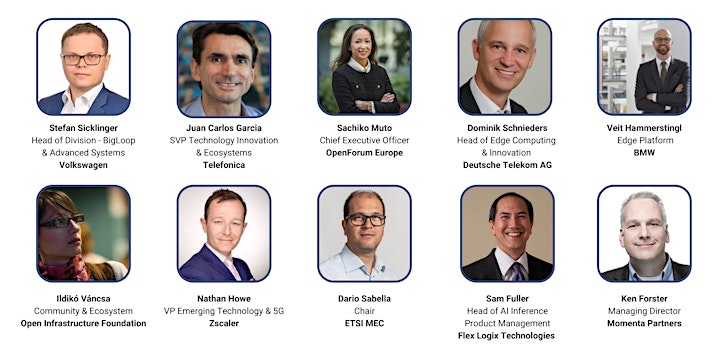 Edge Computing World Europe is one of many activities provided by Topio, pioneering thought leaders and influencers in edge native applications and infrastructure, to accelerate the edge market. The Edge Computing World events are:
Comprehensive: Edge Computing World covers all aspects of edge computing from the Access & Regional Edge to the Constrained Edge. As such, we're inclusive of all perspectives on the edge, rather than focusing on one single viewpoint, such as data center, carrier, or embedded edge. We believe a comprehensive view of the edge is essential to leverage its full potential.
Independent: Edge Computing World is a fully independent platform – it doesn't promote the perspective of anyone organization but instead creates a space where all have the same opportunity of access. Unlike many other events, we give a platform to all viewpoints.
Accessible: Topio's mission is to accelerate markets, and Edge Computing World is designed to educate and connect as much of the market as possible. Not only is our content quality very high but this online event is free to attend!!
Inclusive: Edge Computing World brings together all the participants & communities of the edge, including developers, ecosystem, and end-users.
User Focused: We also view the user as being the most valuable voice in the conversation, and strongly prioritize user experiences and use cases in our program & presentations.
Supported by the Industry: Edge Computing World is supported by all the relevant industry bodies from across the edge computing space, including the Linux Foundation, the Automotive Edge Computing Consortium, the Industrial IoT Consortium, the Eclipse Foundation, ETSI, and the Open Geospatial Consortium.