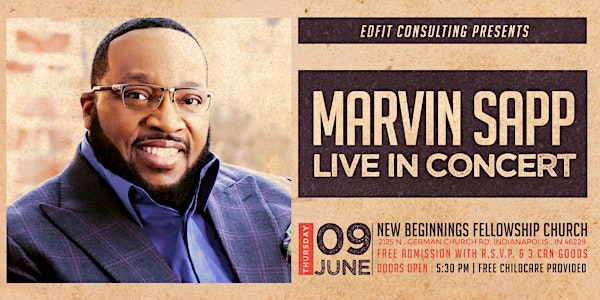 EdFit Presents: Marvin Sapp Live In Concert
When and where
Location
New Beginnings Fellowship Church 2125 North German Church Road Indianapolis, IN 46229
Description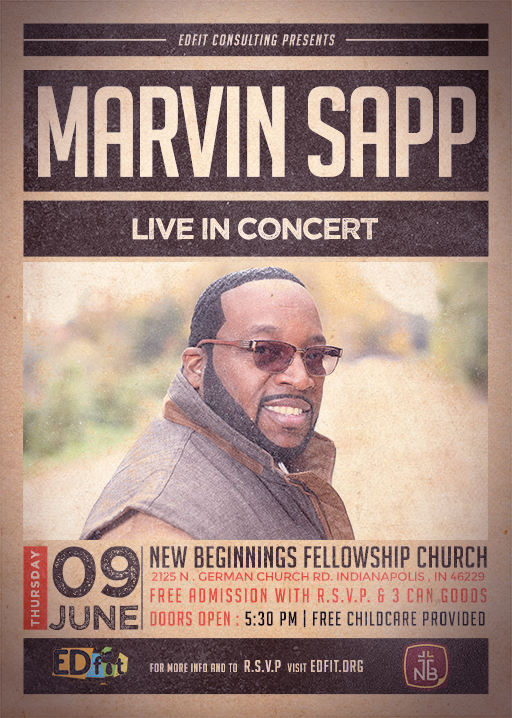 On Thursday, June 9th, EdFit Consulting is proud to present Grammy Nominated Gospel Recording Artist Bishop Marvin Sapp, Live in concert at New Beginnings Fellowship Church. Doors for the concert will open at 5:30 PM with the show starting at 6:30 PM. Admission to the concert is Free with the donation of 3 can goods or non-perishable items. Childcare for youth ages 6 - 12 will be provided on a first-come basis. This concert is sponsored in part by: New Beginnings Fellowship Church, Walton Family Foundation, Friedman Foundation for Educational Choice, Byrd Enterprises, Steward Speakers Series, Davis & Associates, Restore The Role, Edna Martin Christian Center, Forest Manor Multi-Purpose Community Center, Martin Luther King Community Center, and 100 Black Men of America.
Bishop Marvin L. Sapp is a passionate orator and biblical teacher, who desires to be a living epistle glorifying our Lord and Savior Jesus Christ both in word and in deed who serves as the senior pastor of Lighthouse Full Life Center Church as well as Bishop over Global United Fellowship North Central Providence. Many say his voice is instantly recognizable with a characteristically raspy ringing with power and authority as he masterfully illustrates with excellence the Word of God. Not only is his delivery exemplary, but his knowledge of the historical text brings to life the message of hope and healing.
Bishop Sapp is also the President/Founder of Grand Rapids Ellington Academy of Arts and Technology (GREAAT). The first performing arts and technology charter school in West Michigan (Pre-K to 12th grade), which began in the fall of 2012 enrolling 6th – 8th grade students. GREAAT is now Pre-K to 10th grade consisting of over 500 students. GREAAT strives to cultivate academic excellence in children by inspiring their minds and imagination through the arts.
Singing since age four he has shared the stage with many gospel notables and his gift is celebrated across musical genres. He began singing with the gospel group Commissioned in 1990. In 1996, God led him to go solo. He released his first CD "Marvin Sapp", then Grace and Mercy", then his CDs were as follows: "Nothing Else Matters", "I Believe", "Diary Of A Psalmist", "Be Exalted", "Thirsty", "Here I Am", "I Win" and in 2013 he released his Christmas Card CD that featured his three children. The backdrop for the CD "I Win" came from him mitigating the pain of the loss of his wife through conversations with God. The title "Here I Am" for gospel star Marvin Sapp is more than a little ironic when one considers that, "Never Would Have Made It" from his 2007 release "Thirsty" has been among the most ubiquitous gospel and R&B songs. According to Billboard, Marvin Sapp single "Best In Me" matched the 2008 peak of his seminal "Never Would Have Made It." The mega-selling "Never Would Have Made It" held the #1 slot on Gospel and R&B radio for over a full year; topped the Urban AC chart (the first to do so since Yolanda Adams' "Open My Heart") and has the top selling ringtone and ring back (2 million sales), and propelled "Thirsty" to the top of the gospel charts for 28 weeks. He has enjoyed a decorated music career receiving 10 Grammy nominations, 22 Stellar Awards, 2 Soul Train Music Awards, 2 BET Awards, 2 Dove Awards, and 8 BMI songwriter's awards for sales along with many other accolades and honors from national, regional, and local institutions.
Bishop Sapp has been honored and recognized for his professional and philanthropic efforts in his home city, Grand Rapids, Michigan. He received the city's highest African American honor, a Giants Award, as well as the Frederick Douglas Award from the National Association of Negro and Professional Women's Club. He is an established author of seven books. He is also an entrepreneur illustrating success in various areas of business.