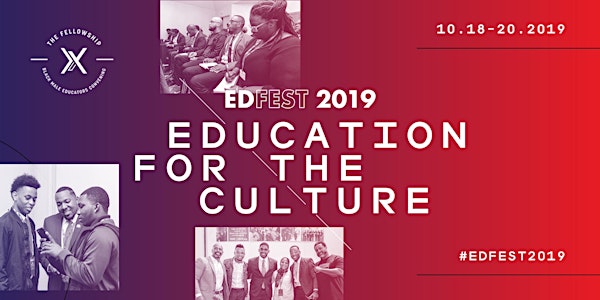 EdFest 2019: Education for the Culture
When and where
Location
Philadelphia 201 Hotel 201 North 17th Street Philadelphia, PA 19103
Description
EdFest is the convergence point of our mission-aligned work and is a platform to highlight the incredible work being done by and for Black Male Educators. Today, 2% of teachers nationwide are Black men. In Philadelphia, this number is only marginally better: about 4% of all teachers are Black men in a district with a student body that is 50% Black and 27% Black male.
We know students benefit from working with Black teachers who deeply understand who they are and are invested in their educational progress. This years theme, Education For The Culture, reaffirms the reality that teachers have always been the original influencers. In order to advance the recruitment, development and retention of Black male educators in schools, community-focused education must be the primary driver of change.
JOIN BMEC FROM OCTOBER 18TH-20TH AS WE REIGNITE OUR COLLECTIVE IMPACT AND REDEFINE WHAT EDUCATION MEANS FOR THE CULTURE.

EDFEST KEYNOTE SPEAKER:
DR. YUSEF SALAAM
At just 15 years old, Dr. Salaam's life was upended and changed forever after being wrongfully convicted in a frenzied case that rocked New York City. Since his release, Yusef has committed himself to advocating and educating people on the issues of false confessions, police brutality and misconduct, press ethics and bias, race and law, and the disparities in America's criminal justice system.

In 2013, documentarians Ken and Sarah Burns released the documentary "The Central Park Five," which told of this travesty from the perspective of Yusef and his cohorts. In 2014, The Central Park Five received a multi-million dollar settlement from the city of New York for its grievous injustice against them.

Yusef was awarded an Honorary Doctorate that same year and received the President's Life Time Achievement Award in 2016 from President Barack Obama.He was appointed to the board of the Innocence Project in 2018, and released a Netflix Feature limited series called "When They See Us" based on the true story of the "Central Park Five" with Ava DuVernay, Oprah Winfrey and Robert Dinero, in May of 2019.