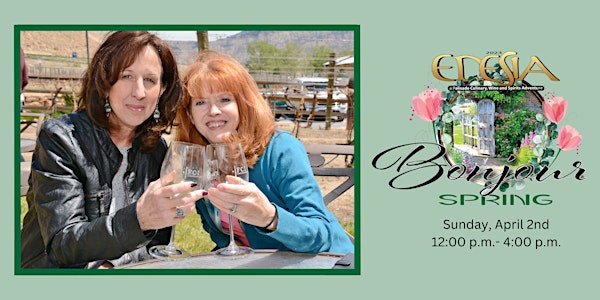 Edesia - Bonjour Spring
Edesia: A Palisade Culinary, Wine and Spirits Adventure - Bonjour Spring!
Date and time
Sunday, April 2 · 12 - 4pm MDT
Location
Wine Country Inn 777 Grande River Drive Palisade, CO 81526
About this event
For 13 years, the Wine Country Inn in Palisade, CO has offered the perfect setting for our community to welcome spring and support affordable, quality healthcare provided by MarillacHealth by hosting an incomparable fundraising event: Edesia. This year is no different! Join us at Edesia, a true food and wine extravaganza featuring numerous local food and beverage vendors on the beautiful grounds of the Inn. Guests will be able to relax, mix and mingle with friends, all while tasting the offerings of new and established wineries and food vendors in the Grand Valley Viticulture Area (AVA).
This year's theme is "Bonjour Spring" and will showcase wineries and culinary 'artists' offering their best to you and your friends, as you relax and enjoy the afternoon. Along with the wines, Edesia will offer tastes of beer, spirits and mocktails, and samples from food vendors from the Grand Valley. Local musicians from Mixed Bag will perform live music during the event. Come on out and have a good time!
The list of food and beverage vendors includes:
13 Brix Cider Bistro
Bella Balsamic
Blaine's Farm Store
Carboy Winery
Carlson Vineyards
Caroline's/Tapestry Lounge
Centennial Cellars
Colorado Cellars
Colorado Q and The Baker's Boutique
Colterris Wines
Decadence Gourmet
Enstrom Candies
Enzo's Ristorante Italiano
Fisher's Liquor Barn
The Flying Pig
Grande River Vineyards
Green Junction Farmstead
Kannah Creek Brewing Company
LaNoue DuBois Winery
Little Pink Truck
Ocotillo Restaurant & Bar
Ordinary Fellow
Palisade Brewing Company
Palisade Peach Shack
Peach Street Distillers
Peachfork Orchards & Vineyard
Pear Blossom Farms
PizzAmore
Palisade Pies
Red Fox Cellars
Restoration Vineyards
Talon Wines
Taste of Heaven Catering
Varaison Vineyards & Winery
Vines79 Wine Barn
WCCC Viticulture and Enology
Wild Willy's Carvings
Tickets are $65 each, and $75 at the door. Funds raised at Edesia support MarillacHealth, Mesa County's Community Health Center, that provides medical, dental, and behavioral healthcare to all, regardless of income or insurance status. Your support and participation helps keep our community healthy! For more information visit MarillacHealth.org.
Edesia is presented by FCI Constructors, Inc. with Alpine Bank, as well as other generous community businesses and individuals: Alta Home Builders, Bank of Colorado, Community Hospital, Dalby Wendland & Co., CPA, Hoskin Farina & Kampf, Office Outfitters, Quality Health Network, Rocky Mountain Health Plans, JoAnne and Jim Roland, and Whitewater Building Materials. And a very special thanks goes out to the Tally Family, the staff at the Wine Country Inn, and all the vendors that attend and support.