E.D.E.N. Digital Premiere Screening
About this event
On Friday the 18th June 2021 at 7pm, E.D.E.N. Film Productions will be showcasing the short films that were produced by members of the LGBTQ+ community on their online filmmaking project, E.D.E.N. Digital.
E.D.E.N. will premiere the films made on the project alongside behind the scenes footage and interviews with participants. The event will start at 7pm via E.D.E.N.'s YouTube channel. The film will be screened using YouTube's premiere functions.
E.D.E.N. Digital launched in February, engaging 18 members of the LGBTQ+ community in 15, 2-hour interactive online filmmaking workshops, covering storytelling techniques, sound recording and editing. Alongside group discussions, feedback sessions and a 1-2-1 Zoom call available for each participant on the project.
The aim of the course was to empower the participants with all the tools they needed to make a film using just their phone, or whatever camera they had available. The project was delivered by award-winning filmmaker Brett Chapman and E.D.E.N. Film Productions' CEO and Founder Claire Watkinson.
E.D.E.N. Digital was funded by Comic Relief's LGBTQ+ COVID-19 Recovery Fund, in partnership with METRO Charity, Yorkshire MESMAC and Birmingham LGBT.
You can watch the premiere screening on our YouTube via this link: https://www.youtube.com/watch?v=7g6GNRO0u4k
Please Note: For anyone viewing via their Smart TV YouTube app - you may notice that the premiere time says 6pm; please rest assured the premiere time is definitely 7pm (the event will not start early, and you will not miss out!)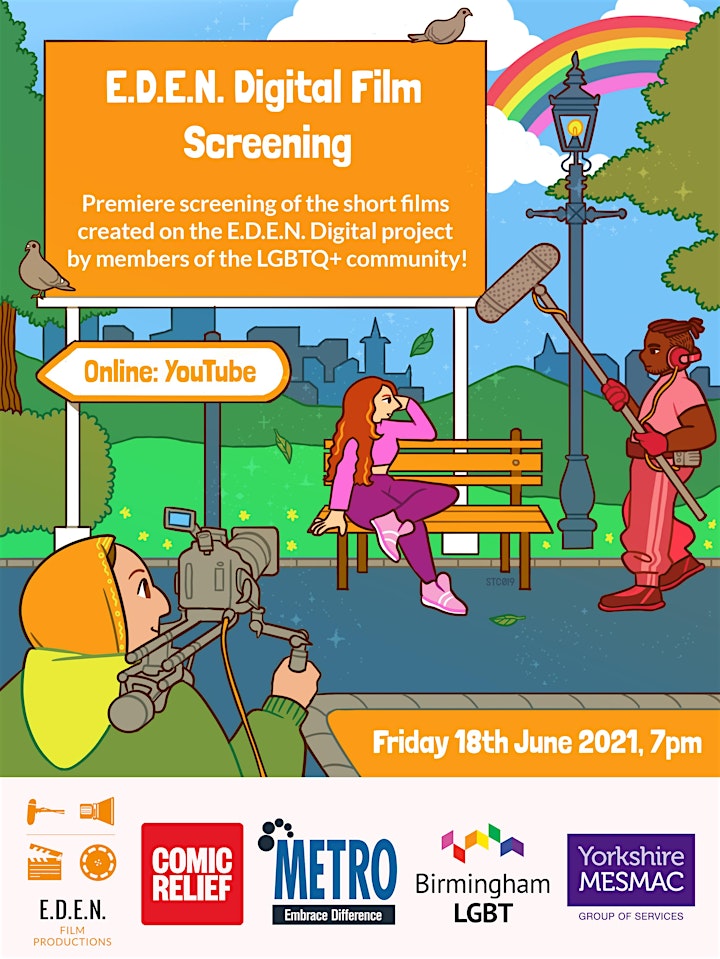 The poster was created by stc019, a trans comic artist and illustrator, devoted to telling trans love stories and colorful mini utopias.
Twitter: @stc019
Portfolio: https://stc019.artstation.com
Organizer of E.D.E.N. Digital Premiere Screening
E.D.E.N. Film Productions is an award-winning social enterprise working with the LGBTQ+ community providing filmmaking workshops, producing short & feature films alongside hosting screening events. We are the organisers of Transforming Cinema, a film festival championing transgender, gender nonconforming, non-binary and genderqueer voices.
Films produced on our filmmaking projects have been screened at film festivals around the world including BFI Flare, SQIFF and Translations: Seattle Transgender Film Festival.