Description
*IMPORTANT UPDATE*

Please be advised that there is NO PARKING available at this location. Guests must arrive by private transportation and be dropped off directly in front of the residence.
Unauthorized vehicles WILL be towed at the vehicle owner's expense.
Thank you,
Lynn Hutchins
Hutchins AMC LLC, Event Production Team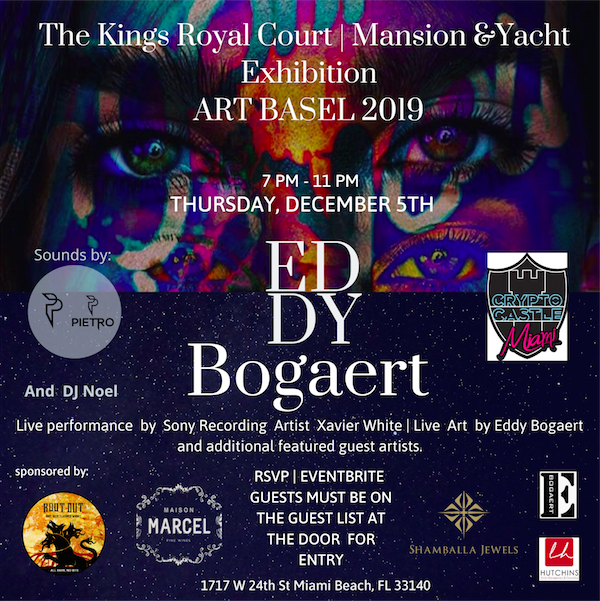 Join us for an Art Basel Miami kickoff with an unveiling of art by artist Eddy Bogaert on a Yacht at the one and only Crypto Castle! Experience art by various emerging and established artists while enjoying a live vocal performance by Sony Recoding artist Xavier White. Come party at the castle with us!
DJ sets by Patrick Pizzorni and DJ Noel, live art by Eddy Bogaert. Sponsored by Shamballa Jewels, SoHo, NYC and Crypto Castle Miami.
Save your 3D glasses from the event and gain entry to attend the NYC follow up event at Shamballa Jewels in SoHo, NYC in early 2020 - THE KING'S ROYAL COURT -"When Art and Gemstones Collide".
Follow us to stay in touch for updates on future events.
Hutchinsamc.com
#Miamiartbasel
#Eddybogaert
#hutchinsamc