Description
Ed.D Cohort Meeting/Meet & Greet with Brandman University
You are invited for a unique opportunity to join in on a monthly Ed.D. Cohort Meeting in action. The evening will be led by one of our cohort mentors, Dr. Lovely from the Irvine campus. We will kick our evening off with a working dinner and lead our way into introductory statements from existing students in the program. There will also be an opportunity for a quick questions and dialogue. You are encouraged to stay for the duration of the meeting to experience a monthly cohort meeting.
Date: Thursday, April 20th

Time: 5:30–7:30 p.m.

Location: Irvine Campus

Classroom: 120
Doctor of Education in Organizational Leadership
Brandman University, part of the Chapman University System, offers an Ed.D. in Organizational Leadership that develops visionary leaders who are creative agents of change in transforming their diverse organizations through collaboration, innovation, positive influence, strategic thinking and a profound commitment to lifelong learning. The Ed.D. program is an Interdisciplinary degree, designed for students from all career paths – educators, business executives, organizational development consultants, city and county government, college faculty and staff, and non-profits.
What Makes the Brandman Ed.D. Program Unique?
Online program with rich face-to-face support and access to instructors

Local cohorts throughout the state of CA, WA, AZ, NV, and TX offer opportunities to work with distinguished leaders as mentors and bond with student peers who help each other succeed

Coursework completed in two years, dissertation in third

Learn to lead transformational change through innovation and collaboration

Extraordinary preparation for dissertation beginning immediately
Click here to learn more about the Ed.D in Organizational Leadership with Brandman University a System of Chapman University: click here!
Watch the following videos and learn about the Ed.D program, extraordinary full-time faculty, inspirational and education extraordinaire, Dr. Dean Zeppos and how you can become the next transformational leader at your school, school district or organization.
Videos:
Inspired yet? How about this?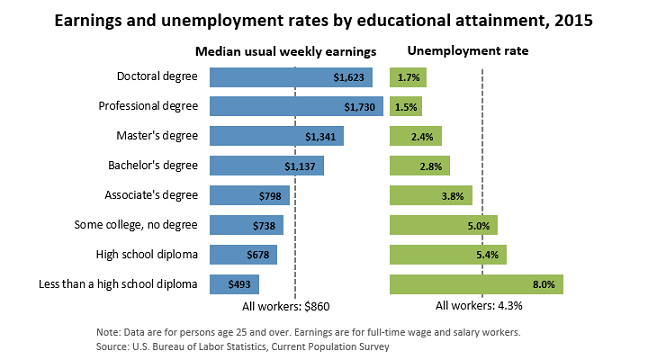 *Source: https://www.bls.gov/emp/ep_chart_001.htm
---
Please email the Manager of Community and Corporate Relations if you have any questions or cannot make it.
Get ready...your life is about to change!
*Scholarships are based on meeting the requirements. As such, to receive your scholarship you must
be an approved affiliate with Brandman University.
Start your transformational change by earning your Doctoral Degree from Brandman University, a WSCUC accredited institution with state (CTC) and national (NCATE/CAEP) professional accreditation.