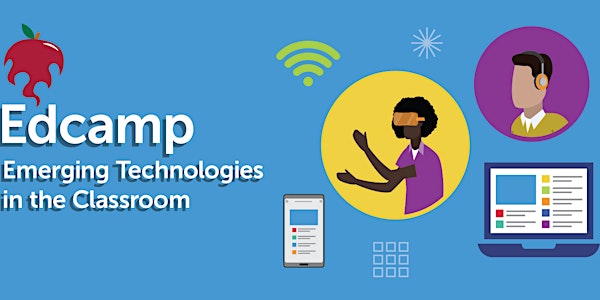 Edcamp: Emerging Technology in the Classroom
Discuss the challenges, opportunities, and questions around emerging technologies in education in this research-in-practice Edcamp!
About this event
Join us, for Edcamp: Emerging Technology in the Classroom, an online unconference-style professional development for and by educators.
This Edcamp is an opportunity for educators from all over the country to support one another, identify and discuss similar challenges, and amplify best practices and resources. Edcamps are free public events that leverage the knowledge and experiences of attendees who submit session topics of interest to guide the discussions and learning of the day.
Tenets of the Edcamp model:
Free and open to all: Edcamps never charge a fee and are open to educators of all levels, subjects, and schools.
Participant-driven: Edcamps allow participants to collaboratively determine session topics. Session topics are sourced from those attending the Edcamp and the session board can be built the day of the Edcamp or prior to depending on the platform and time availability.
Experience, not experts: Edcamps encourage participants to share their experiences and knowledge. We encourage conversations, not planned presentations.
Rule of Two Feet / Clicks: Edcamps encourage participants to find sessions that meet their needs to maximize learning. If you are in a session that is not meeting your needs, we encourage you to move on to another session that may be better suited.
Vendor free: Edcamps may not sell any goods/services or require attendees to purchase goods or services.
About this Edcamp:
This Edcamp invites educators to share their experiences and expertise as they discuss emerging technology adoption and use in schools. Together, we will hold space for discussions, sharing, and networking as we build a community among educators interested in discussing emerging technologies.
What are Emerging Technologies?
Technology that has been newly developed and implemented in the classroom OR technology that has existed for some time but is being newly incorporated in the education sector;
Can be in place now OR in pilot or development phases;
Are open to definition and interpretation – we'd like to know what you think!
During registration, attendees will have an opportunity to submit topics used to build the session board for day-of discussions. The session board will be displayed during the event, and participants will choose which session discussions they want to participate in.
For this Edcamp, we are looking for participants to help co-design the topic discussion, share classroom experiences, and provide guided conversations in session breakout rooms. This is a great opportunity for participants to demonstrate teacher leadership! Here's how you can participate:
Panel contributor: Participate in co-designing the opening discussion and sharing your classroom experiences about emerging technology and how it has impacted your teaching practice. Led by partner facilitators, panel contributors provide real-world examples of how this principle plays out in the classroom. Panel contributors will receive a $400 stipend for their time spent preparing for the panel in co-design sessions.
Session Moderator: Help us keep virtual breakout session conversations focused and productive for everyone! Moderators do not need to prepare a presentation, nor be subject-matter experts.
Notetaker: Follow and capture the discussion within a breakout room using the designated Padlet. The Padlet will be shared with other participants and available following the Edcamp for participants to reference.
Register by September 21, 2022 if you would like to be considered to be a panel contributor and/or moderator.
Agenda:
Welcome & Introductions
Preview the Session Board
Opening Panel
Breakout Discussion 1
Breakout Discussion 2
Share Out / Reflection
Announcements / Survey
Edcamp: Emerging Technology in the Classroom is a series of research-in-practice Edcamps centered on understanding the adoption and use of new technologies in the classroom, and how practitioners can influence the researchers and developers of those technologies. Participants do not need to attend all sessions to find value; however discussions will center on learnings that build on the sharing and transformation of knowledge among practitioner, research and development communities.
If you have any accessibility needs, please reach out to edcamp@digitalpromise.org. We will do everything we can to ensure event accessibility.
Connect with us on Twitter using #EdcampEmergingTech before and during the event!
Edcamp Community Anti-harassment Policy:
The Edcamp Community is dedicated to providing a harassment-free experience for everyone, regardless of religion, gender, gender identity and expression, sexual orientation, disability, physical appearance, body size, race, or age. The Edcamp Community does not tolerate harassment or bullying in any form of anyone at an Edcamp or at any events sponsored by the Edcamp Community. At the discretion of the Organizers, Participants violating these rules may be asked by Organizers to leave an Edcamp event; and at the discretion of the Edcamp Community, Organizers who violate this Policy may be precluded from hosting and organizing future Edcamp events. Our anti-harassment policy can be found at: https://digitalpromise.org/edcamp/anti-harassment-policy