Ed-spiration:Leadership Safari with Silvia Mirandola (add'l sponsor is CCF)
Silvia Mirandola has created a self-reflection and learning journey using characters from the Savannah.
About this event
In Leadership Safari: Meet the experts in the African savanna the Cheetah, along with the Whistling Thorn and African Elephant are characters who will take you on an imaginary tour into the fascinating world of the African savanna, a natural environment that has contributed to the evolution and differentiation of homo sapiens. Readers will meet these natural mentors, exploring their habitat, biology, survival strategies and behaviours, in an understandable and accessible narrative language. Observing and studying, with the lens of Biomimicry, the natural mentors that still populate the African savanna offers an opportunity to analyse the survival forces and skills that help wildlife cope with threats and extreme conditions.
In this book, author Silvia Mirandola has created a self-reflection and learning journey, a source of inspiration to generate innovation, transformation, and an "ecosystemic" vision within organizations and teams
The Cheetah as one of the book's protagonists, is a mentor for managers and organisations of fast action, agility, opportunity, vulnerability, flexibility, attention and focus, sight, intelligence, solitude and resting.
- What can we exactly learn from this fascinating feline?
- What kind of advice can we ask cheetahs for our business challenges and leadership?
Connecting with the Cheetah and looking at it as a mentor could generate inspirations about leadership, strategic speed, prioritization, goal setting and work-life balance. We need to look at the strategies adopted by cheetah and other bio-mentors to struggle and survive under a competitive pressure where resources are limited, and social, economic, political conditions are constantly changing.
Nature provides a powerful and rich source of inspirational metaphors in cheetah's biology and behaviours. Discover the mentor's advice on leadership and business challenges; stimulate brainstorming and systems thinking through powerful questions (bio-questions), insights, practical exercises, and mindfulness.
Cheetah Conservation Fun (CCF) SUPPORTER
Author, Silvia Mirandola became a member of the CCF Conservation Circle pledging a portion of the revenues from the sale of her book to support CCF work. She is passionate about helping protect and preserve endangered species in the African savanna, to promote biological diversity and educate the public concerning the conservation of endangered species and their habitat. Please let your circles know they may purchase her inspiring book on Amazon and Barnes and Noble.
MORE ABOUT THE AUTHOR
SILVIA MIRANDOLA, is a Biologist with a Ph.D. in Biomedical Sciences attained at the University of Padua. She has devoted 12 years to Medical Research, collaborating with different Universities, and she is the author of several scientific publications in viral hepatitis. After a career in the Medical Affairs of Pharma companies, she also expanded her interest in transformative Leadership and Team-coaching programs, designing and creating science driven training, facilitation, and coaching services. She is a certified Coach (ACC) by ICF (International Coaching Federation), creator of WeBiomimic® for Team Effectiveness, co-author of "Empowerment in Health and Wellness" and partner of Biomimicry for Business. (www.biomimicryforbusiness.com)
Learn more by visiting her website https://www.biomimicryforbusiness.com/
TO PURCHASE THE BOOK:
Here are the instructions to receive the book:
Dr. Mirandola donated just over a dozen books to the Cheetah Conservation Fund (CCF) to sell and use for various activities in support of CCF. All funds from these books go to CCF. We would like to have these books distributed first of course
By going to CCF website and donating $29 which includes shipping, the book will be shipped to you
1. On the donate page select "Other" amount and enter $29
2. Put a note in the Leave a Comment section "for the Leadership Safari Book."
3. payment can be whatever choices are on the donate page including PayPal, cc, etc.
3. You will receive an acknowledgment letter.
You can also purchase Silvia's book from Books on the Square, Amazon, or your local bookstore.
This event on December 7 at 1:00pm (EST) is virtual, free, and open to the public. Registration is required.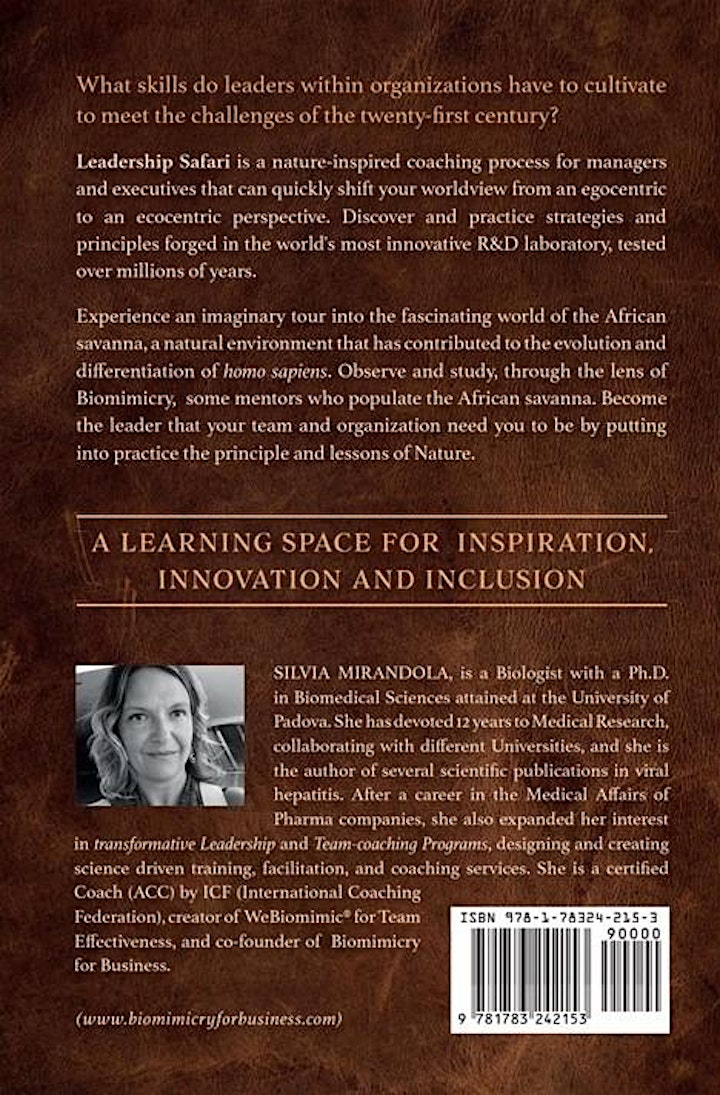 Organizer of Ed-spiration:Leadership Safari with Silvia Mirandola (add'l sponsor is CCF)