Ed Begley, Jr. on Transit, Biking, and Green Living - Hosted by Angelenos Against Gridlock

Wednesday, July 16, 2014 from 11:30 AM to 1:00 PM (PDT)
Event Details
Angelenos Against Gridlock presents a: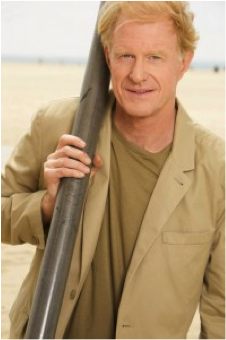 Fireside Chat with Ed Begley, Jr. on Transit, Biking, and Green Living
Join us to hear actor & environmentalist Ed Begley, Jr. reflect on his passion for public transportation, biking, and green living.
Lunch reception: 11:30 am • Lecture & Q&A: 12:15 pm – 1 pm Tateuchi Democracy Forum at the Japanese American National Museum, 111 North Central Avenue, Los Angeles, CA 90012
Free! RSVP required.
Biography: Emmy nominated actor and environmentalist Ed Begley, Jr. practices what he preaches, riding public transportation and biking when he's not driving his electric car. He first came to audiences' attention for his portrayal of Dr. Victor Ehrlich on the long-running hit television series St. Elsewhere. He co-starred in the Woody Allen movie Whatever Works with Larry David, as well as the Seth Rogan/Judd Apatow film Pineapple Express, and a number of Christopher Guest films, including A Mighty Wind, Best In Show and For Your Consideration. Other film credits include Batman Forever, The Accidental Tourist and The In-Laws, and on television, Muhammad Ali's Greatest Fight, Recount, Six Feet Under, Arrested Development and Boston Legal. He also directed several episodes of NYPD Blue. On the theatrical stage, he starred in David Mamet's November at the Mark Taper Forum, and has also appeared The Cryptogram and Romance, and he wrote and directed the play Cesar and Ruben.
The son of an Academy Award-winning actor, he now himself serves on the Board of Governors of the Academy of Motion Picture Arts and Sciences. Ed lives in a solar-powered home and drives an electric car, and he and his family are currently documenting construction of a LEED Platinum-certified home for On Begley Street, a television and Web series. He serves on the boards of Green Wish, the Coalition For Clean Air, The Thoreau Institute and the advisory board of the Union Of Concerned Scientists. His environmental activism has earned him awards from the California League of Conservation Voters, the Natural Resources Defense Council, the Coalition for Clean Air, Heal the Bay, Santa Monica Baykeeper and other organizations.
About Angelenos Against Gridlock:  Angelenos Against Gridlock's pro-transit, pro-bike, anti-gridlock work has led to coverage on the front page of the Los Angeles Times and on Good Morning America, KCRW's "Which Way, L.A.?", KPCC, KNBC, KABC, KCAL, and in the New York Times, LA Daily News, LA Weekly, Curbed LA, Wired, LA Observed and more. Read more about us at endinggridlock.org/about. Angelenos Against Gridlock is headquartered in downtown Santa Monica and is led by its President, David C. Murphy, and is fiscally sponsored by the Rose Foundation for Communities and the Environment, a nonprofit, 501(c)(3) organization.  Follow us on Twitter at @EndingGridlock and follow David at @DavidCMurphy. (The Twitter hashtag for conversing at the event will be #endinggridlock.)  
NOTE: Space is limited -- we cannot guarantee entry unless you RSVP. 
SPECIAL THANKS:
Special thanks to The David Bohnett Foundation for sponsoring our David Bohnett Global Thought Leaders speakers series.
SPONSORS
Angelenos Against Gridlock thanks its donors and event sponsors, who make our work possible:

ADDITIONAL SPONSORSHIPS AVAILABLE: Contact dmurphy@endinggridlock.org for event sponsorship benefits & details regarding this event. For general donation information for Angelenos Against Gridlock's 501(c)(3) nonprofit fiscal sponsor, the Rose Foundation for Communities & the Environment, visit our website.
PARTNERING ORGANIZATIONS
This event is part of Angelenos Against Gridlock's speaker series, made possible by the David Bohnett Foundation, and we thank our event partners and advisors.

CONTACT US / FOR MORE INFO
Contact us if you have any questions.
Note: simply contact us if you don't want to receive future emails from Angelenos Against Gridlock -- otherwise, by RSVPing you consent to receive emails from us about future events and news. Thank you.
When & Where

Tateuchi Democracy Forum at the Japanese American National Museum
111 North Central Ave
Los Angeles, CA 90012


Wednesday, July 16, 2014 from 11:30 AM to 1:00 PM (PDT)
Add to my calendar
Organizer
Angelenos Against Gridlock is an advocate for a world-class transportation system for Los Angeles County, the most populous county in America. We believe Angelenos deserve a world class transportation system, with a fully built out subway/light rail network, bike safety improvements, far more frequent Metrolink commuter rail service, timely fixes to gridlocked freeways and roads, and other solutions already seen in other cities around the world.
Angelenos Against Gridlock is fiscally sponsored by the Rose Foundation, a nonprofit, 501(c)(3) organization. Read more about us at http://endinggridlock.org/