ECUSADIVULGA@NY: Juan Verde "Tendencias Globales para una Economía Competitiva y Sostenible en el Siglo XXI: desafíos y oportunidades"

Wednesday, March 30, 2016 from 7:00 PM to 9:00 PM (EDT)
Event Details

ECUSADIVULGA@NY se complace en presentar a:
Juan Verde

Presidente y Fundador de Advanced Leadership Foundation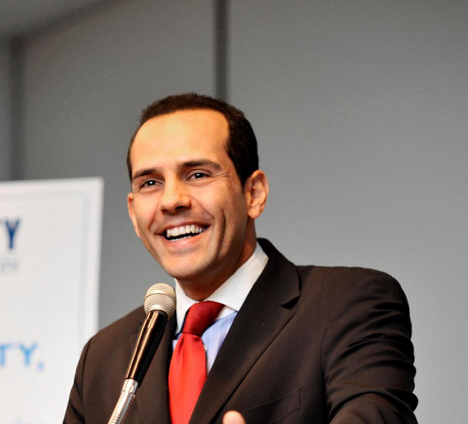 "Tendencias Globales para una Economía Competitiva y Sostenible en el Siglo XXI: desafíos y oportunidades"
Juan Verde explicará las razones que llevan a ciertas regiones, empresas o instituciones a liderar la carrera de la sostenibilidad y la innovación, y como consecuencia de ello, también a liderar la economía del siglo XXI.
Como personalidad de referencia en política ambiental y cambio climático, Verde aporta soluciones realistas e innovadoras para dos de los problemas globales más importantes en la actualidad: la recesión económica y la crisis climática, sirviendo de inspiración y liderazgo en muchas áreas de negocio, en las que los avances científicos y tecnológicos y el liderazgo tienen una importancia fundamental.

BIO:
Juan Verde es un reconocido asesor económico y político de gobiernos, instituciones y empresas a nivel internacional. Experto en internacionalización de empresas, estrategia y sostenibilidad, es un incansable emprendedor y abanderado de diferentes causas sociales.
Juan Verde ha sido Co‐director Internacional de la Campaña para la Reelección del Presidente Barack Obama así como su asesor en temas de economía internacional, sostenibilidad y comunidad hispana. Previamente ocupó el puesto de Subsecretario Adjunto para Europa y Eurasia del Departamento de Comercio del Gobierno de EE.UU. Asimismo, durante la administración del presidente Clinton trabajó como Asesor de Comercio Internacional para ese mismo departamento. Actualmente es un estrecho colaborador de la Campaña de Hillary Clinton a la presidencia de los EEUU.
Gracias a su amplia experiencia como asesor político, Juan Verde ha trabajado en numerosas campañas políticas. En el sector privado, Juan Verde ha sido fundador, accionista mayoritario, ejecutivo o consejero de varias empresas e instituciones.
Como impulsor de iniciativas sociales y persona de referencia en política ambiental, fue fundador y máximo responsable de "The Climate Reality Project Spain", rama española del Proyecto contra el Cambio Climático de Al Gore, ex vicepresidente de EE.UU. Asimismo, preside la Fundación Advanced Leadership, una institución sin ánimo de lucro que fomenta y desarrolla habilidades de liderazgo en los futuros líderes empresariales, políticos y sociales. 

Have questions about ECUSADIVULGA@NY: Juan Verde "Tendencias Globales para una Economía Competitiva y Sostenible en el Siglo XXI: desafíos y oportunidades"?
Contact ECUSA New York
Organizer
The New York Metropolitan Area is a unique hotspot for scientific advancement and one of the most vibrant and dynamic scientific communities in the world. New York is home to an impressive variety of top-notch academic research institutions, including world-renowned universities and research laboratories. Additionally, the region sits at the world's crossroads of finance, legal and international business, opening doors to entrepreneurs in all aspects of science and technology.
We aim to develop a platform that fosters interaction between researchers, employers, entrepreneurs and the Spanish institutions in the city.