Join us for our first VIRTUAL Ecuadorian Scholar Fund (ESF) 12th Annual Gala.
About this event
We are back for our 12th Annual Gala, where the winners of the 2020 scholarship contest will be announced on Friday, January 15th, 2021.
It's JUVE's 13th year of continuous support to education, community, leadership, and empowerment!
Get your ticket, it comes along with a ticket for our raffle!
REGISTRATION IS REQUIRED: https://juve12gala.eventbrite.com
For more information about the Ecuadorian Scholars Fund and Organizacion Juventud Ecuatoriana, go to www.juventudecuatoriana.org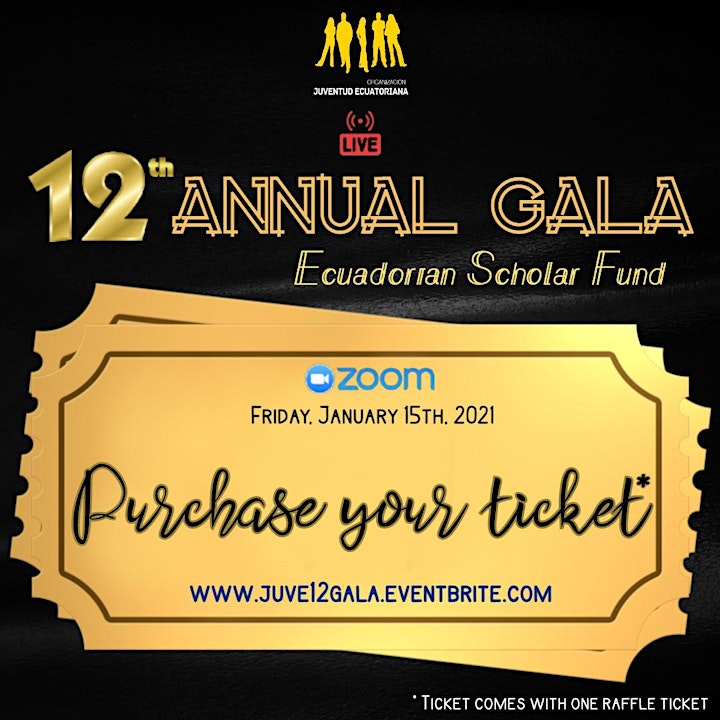 Organizer of Ecuadorian Scholars Fund 12th Annual GALA
MISSION: Juventud Ecuatoriana is an apolitical nonprofit 501(c)(3) organization that channels, promotes and facilitates the intellectual development of Ecuadorians worldwide.
VISION: Juventud Ecuatoriana aspires to become self-sustaining entity that generates resources to invest in community projects, and to establish the presence of the organization worldwide to strengthen and spread the wealth of Ecuadorian culture and identity.
MISIÓN: Juventud Ecuatoriana es una organización 501(c)(3) apolítica sin fines de lucro que canaliza, promueve y facilita el desarrollo intelectual del ecuatoriano en todo el mundo.
VISIÓN: Juventud Ecuatoriana aspira convertirse en una entidad auto-sustentable que genera recursos para invertir en proyectos comunitarios; además establecer su presencia a nivel mundial para fortalecer y difundir la riqueza de la identidad y cultura ecuatoriana.