Description
ECSU HOMECOMING 2018: The Ultimate Alumni Experience
FRIDAY. OCTOBER 26. 2018
THROWBACK PARTY: SIP + PAINT + KARAOKE
9:00 p.m. - 2:00 a.m.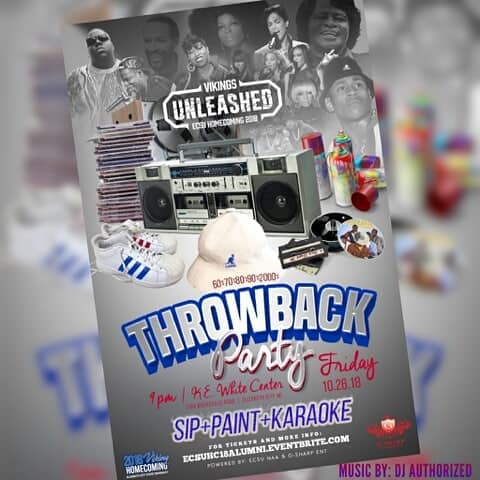 The night includes good music, painting, karaoke, trivia takedown, live photo booth, giveaways, vendors, and great vibes! BYOB (bring your own bottles)!!
Paint a famous masterpiece and get your Art Buzz on! Feel like a star and participate in the xtreme interactive karaoke experience. The stage is yours… Rounds will consist of billboards greatest entertainers of all time.
Attire: Attendees are strongly encouraged to dress in their "Best Old School" attire. The winner of "Best Dress" wins a grand prize.
Format: 9:00-9:30pm: DJ Prelude | 9:30-11:00pm: Painting | 11:00pm-12:00am: Karaoke | 12am-until: Party
Instructor: Jasmine Harris (Skie Art Creations), ECSU Class of 2014
Music By: DJ Authorized
SATURDAY. OCTOBER 27. 2018
BLACK ENCORE CABARET

9:30 p.m. - 2:30 a.m.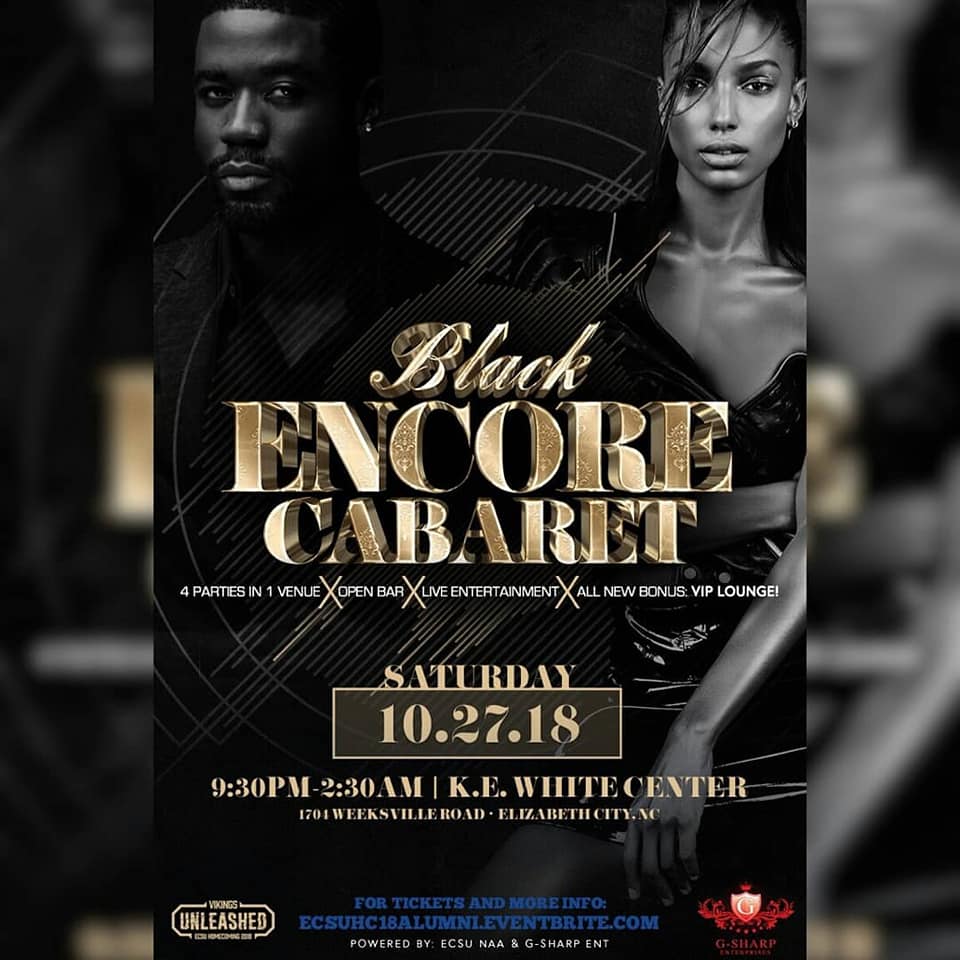 4 Parties in 1 Venue x Live Entertainment x Open Bars x VIP Lounge x Exclusive Decor
Attire: Fashionable upscale is required (no jeans, tennis shoes nor athletic wear allowed). Dress Code Strictly Enforced. Non-Compliance Patrons Will Not Be Issued A Refund Nor Entrance In Venue. We Reserve The Rights.
POWERED BY: ECSU NAA & G-SHARP ENT
K. E. White Graduate Center | 1704 Weeksville Road | Elizabeth City, NC