Description

Move however you wish, at an alcohol-free, drug-free conscious dance gathering. No chit-chat on the dance floor keeps it all about dance, a culture of respect keeps the moment safe. Ample room on the dance floor helps you move as you choose. Club-quality sound and lighting, to help you lose yourself in the moment. Kick off your shoes and feel the dance floor under your feet. Ecstatic Dance NYC: what you've been waiting for. Join us. Nourish yourself.
This month, ALIA visits us from the Bay Area, with a three-hour dance journey for sacred, sexy, movement. Her sets are lively, spirited and beautiful. Where and how she finds her music, we never know…but we always want more. Before ALIA's set, Jeanine T. Abraham guides a JourneyDance movement warmup that's sure to get your body loose, your muscles ready and your heart open.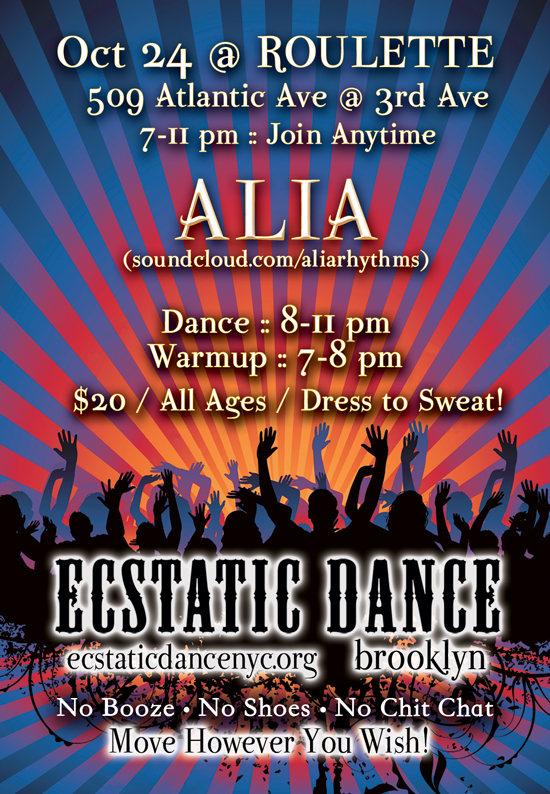 ALIA is friend of our community, and a very special guest DJ for Ecstatic Dance NYC. Here's a sample of her awesomeness, her set from this year's Enchanted Forest festival:

Formerly known as Bombgoddess, ALIA has rapidly become a fixture of the Bay Area conscious movement and underground dance scenes. Affectionately dubbed "The Sonic Shamaness" and "The Goddess of Grooves and Rhythms", she weaves an intoxicating blend of globally infused electro-tribal grooves, melodic glitch hop, inspired dubstep, and cosmic downtempo with a dash of goddess spark and sass.
She has shared the bill with the likes of Beats Antique, Random Rab, Govinda, Freq Nasty, Marty Party, An-ten-nae, Heyoka, Pussymonster, Sasha Rose, Vibesquad, DJ Jocelyn, and Bay Area favorite DJ Dragonfly.
And she's in New York in two weeks, ready to rock our worlds in Brooklyn.
Each Ecstatic Dance Brooklyn gathering will also include a one-hour movement class, that intends to serve you all as a warmup. It might also help inform you of new ways of moving your body, or of sharing the dance floor with others, or something else awesome.
The warmup class is included in your admission to Ecstatic Dance, and is totally optional. It's our way of introducing you to new movement habits and styles, and to the amazing facilitators in our community. Unless the facilitator requests otherwise, you can drop into the class whenever you arrive.
On October 24: Jeanine Abraham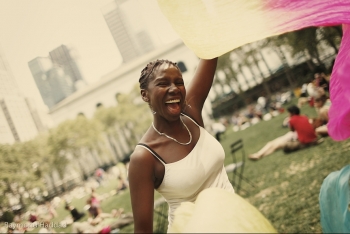 Jeanine T. Abraham (Jeanine, The Dancing Chef) has spent the past 15 years living and working in NYC. In 2008, she became a Certified JourneyDance™ facilitator. JourneyDance™ is a freestyle movement form with structure, which inspires participants to dance out of the mind and into the body. Jeanine currently leads JourneyDance workshops in Brooklyn - at Cumbe Center for African & Diaspora Dance, and at Shambalah Yoga and Dance - and in Manhattan, at Pure Yoga West. Her movement background includes West African Dance (Ivory Coast), Capoiera, Swing Dance, Salsa, Afro-Haitian, and a 15-year, ongoing practice of Vinyasa flow Yoga and meditation.

Jeanine is also a professional Chef and Certified Holistic Health Coach, graduate of the Institute for Integrative Nutrition in NYC. Dance, Cook and Eat in Community for life is Jeanine's life mission. Encouraging New Yorkers to cook homemade real food that is delicious filled with love, nutrition and spirit.
For obvious reasons, we are excited to share the dance floor with her before and during ALIA's Ecstatic Dance NYC debut!
As always, you can join Ecstatic Dance at any time during the three hour gathering. Move however you wish. Arrive whenever you can.
And, it wouldn't be an Ecstatic Dance NYC event without delicious, nourishing Beyond Kombucha, compliments of Spiro and his team. Beyond Awesome.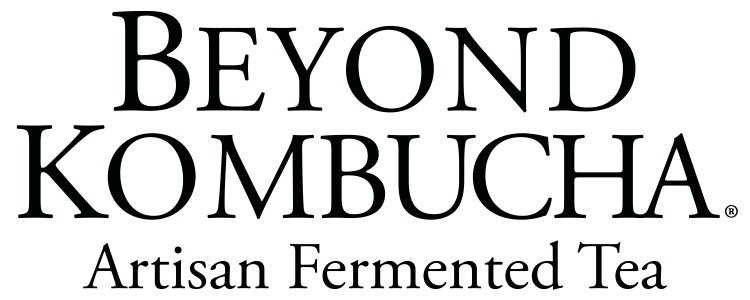 ---
On tap for November & December: Imagika Om & Sharu!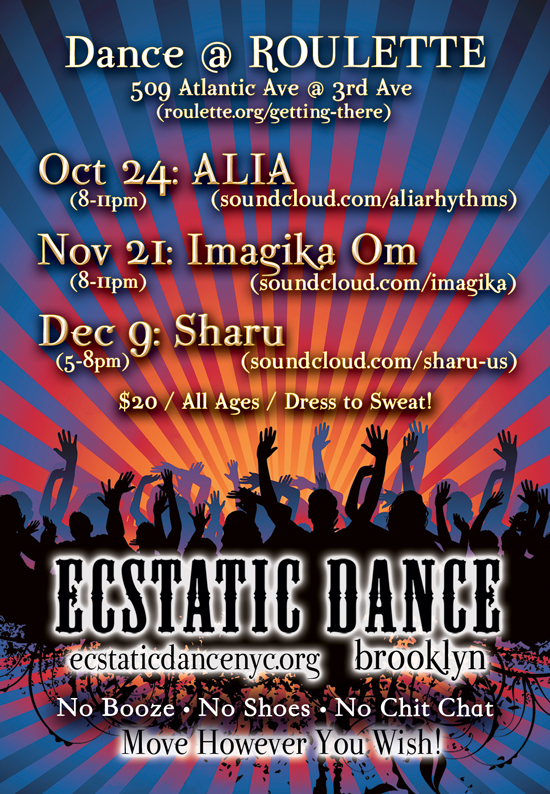 Scoop up one of our Fall passes. Set your intention.
Dance your hearts full, New York City. See you in Brooklyn!
~ Ecstatic Dance NYC ~
Organizer of Ecstatic Dance Brooklyn with Special Guest DJ: ALIA!
Ecstatic Dance is a community gathering for people who love to Dance.

Join us and enjoy a safe and inspiring space to dance without talking, drinking, and the nightclub vibe. This is about self-expression, freeing your mind and body, and connecting with yourself and those around you. No booze, no shoes and no chit-chat on the dance floor helps us keep it intentional. Amazing music helps us keep it all about dance!

Guidelines:
1. No talking on the dance floor (plenty of room to talk off-floor)
2. Drug-Free, Smoke-Free, Alcohol-Free environment
3. No photos or videos, cellphones muted and out of sight
4. Care/Awareness for the space and each other
5. Move your body however you wish
6. You can dance alone, or with as many partners as (you) like to join. (If you'd rather not dance with someone, thank them for the offer by placing your hands in prayer position at your heart – Namaste.)

What to Bring:
1. Loose-fitting clothes that let you move your body and free yourself
2. Water and a water bottle. 

Ecstatic Dance empowers people from all walks of life to freely express themselves, regardless of shape, size, and background. The liberating atmosphere creates a melting pot of acceptance, and the fearlessness with which people move gives newbies permission and courage to dance without inhibition.

See you on the Dance floor!