Description
Cannabis Nurses Network Conference 2017
Course: Making eCS Connections Workshop & Interactive Sports Book Panel
Date: Friday, October 6th, 2017 9AM-5PM
Location: UNLV Foundations Bldg. 4609 S. Maryland Pkwy. Las Vegas, NV 89154
Session I: Making eCS Connections Workshop (9AM-12Noon)
This workshop explains the Endocannabinoid System (eCS) function and purpose, reviews Cannabinoids, Phytocannabinoids, Endocannabinoids with an Intro to Ethnobotany where class participation will feed their eCS with tasty products and teas. Next, the course will dive into the Foundation of Eastern Medicine and Acupuncture with hands-on training lead by a Certified Holistic Nurse. To round out the workshop, participants are engaged in "Tuning your Senses with Terpenes" where everyone will have an opportunity to make their own individual scent that fits their personal terpene profile. This entire workshop will be guided by teaching and hands-on training that makes the connections from Holistic Nursing to Western medicine which participants will be able to apply directly to your healthcare practices.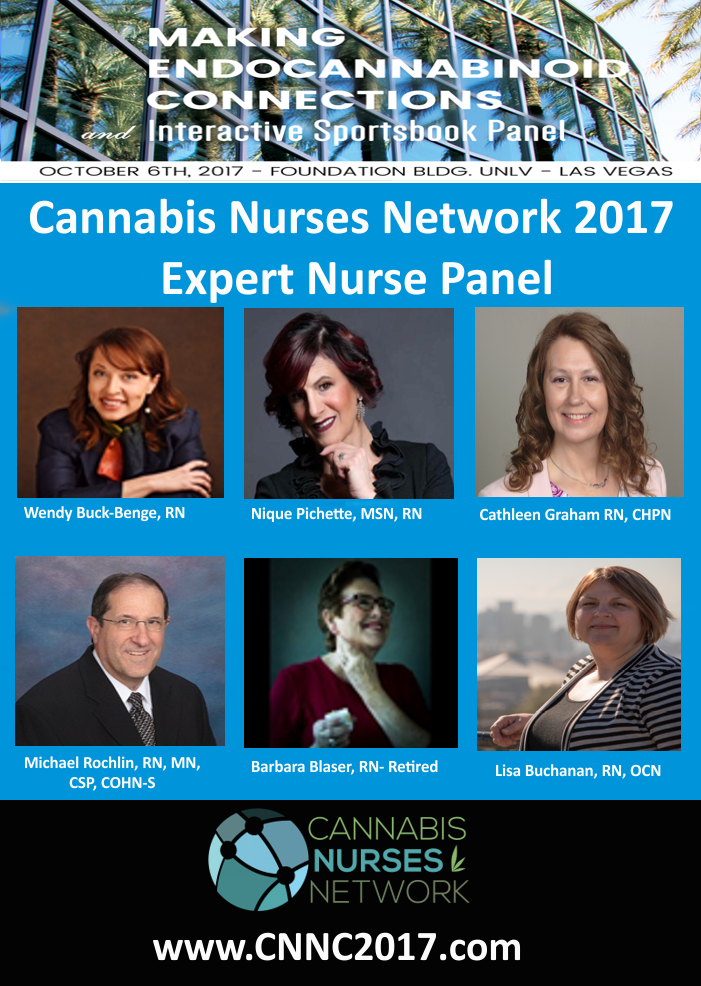 Session II: Interactive Sports Book Panel (1PM-5PM)
Come and meet the Professional Sports Medicine Interactive Panel Star Power: Marvin Washington (Former NFL- Giants/Broncos), Boo Williams (Former NFL Saints), Steve Cantwell (Former MMA Fighter now NV Grower), and Frank Hawkins (Former NFL Raiders now NV Dispensary owner).
This unique Interactive Sports Book Panel will provide participants the opportunity to interact directly with these Sports Legends. Each will tell their stories, share their knowledge about the plant, and what strides they are making in having cannabis accepted into professional sports, as well as what people can do to help spread awareness about Cannabis Therapy for Athletes. Each attendee will have their own Sports Book for Autographs and selfies allowing participants to get up close and personal and create a lasting memory with these brave Canna Heroes. These Athletes choose cannabis as their holistic, preferred medicine for treatment of pain and TBI, and they in turn are breaking stereotypes, which can have consequences to their careers, in order to have cannabis accepted in professional and youth sports across the world.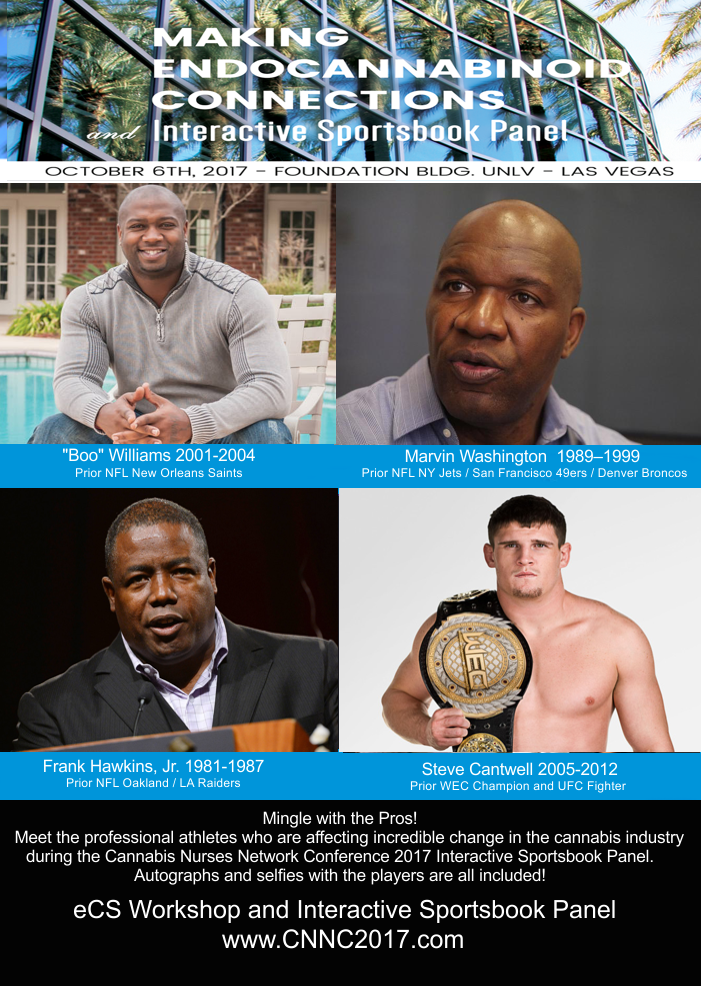 Knowledge is power! Break! 420Media Video: https://www.youtube.com/watch?v=UGJ5rcJtn7A&index=1&list=PLTIUchiDsR4_eD5jToGaA3iJYINoWxmBH
General Admission ticket for one person. Purchase this ticket + Paid Completion of Thursdays Course: Cannabis Education for Nurses and receive VIP ACCESS to all #CNNC2017 Weekend Events.
Register for Thursday Course Here: https://www.eventbrite.com/e/cannabis-education-for-nurses-open-to-all-tickets-35903442162#tickets
For questions and complete weekend schedule please visit: www.CNNC2017.com
(FB) Cannabis Nurses Network
www.CannabisNursesMagazine.com
www.NatureNurseHealth.com
#CNNC2017 Promo Video: https://www.youtube.com/watch?v=scV-MgoFs8k
#CNNC2017 Weekend of Events
Thursday:
Cannabis Education for Nurses
CNNC2017 Registration Sign-in and Meet-n-Greet (La Quinta Conference Room 7PM-9PM)
Friday:
Making eCS Connections Workshop
Interactive Sports Book Panel
CNM 2nd Anniversary Party & Leaders of Nursing Awards Ceremony
Saturday:
Dispensary/Lab Tours
Social Responsibility Project- Cannabis Nurses Feed the Homeless at Salvation Army with Boo & Crew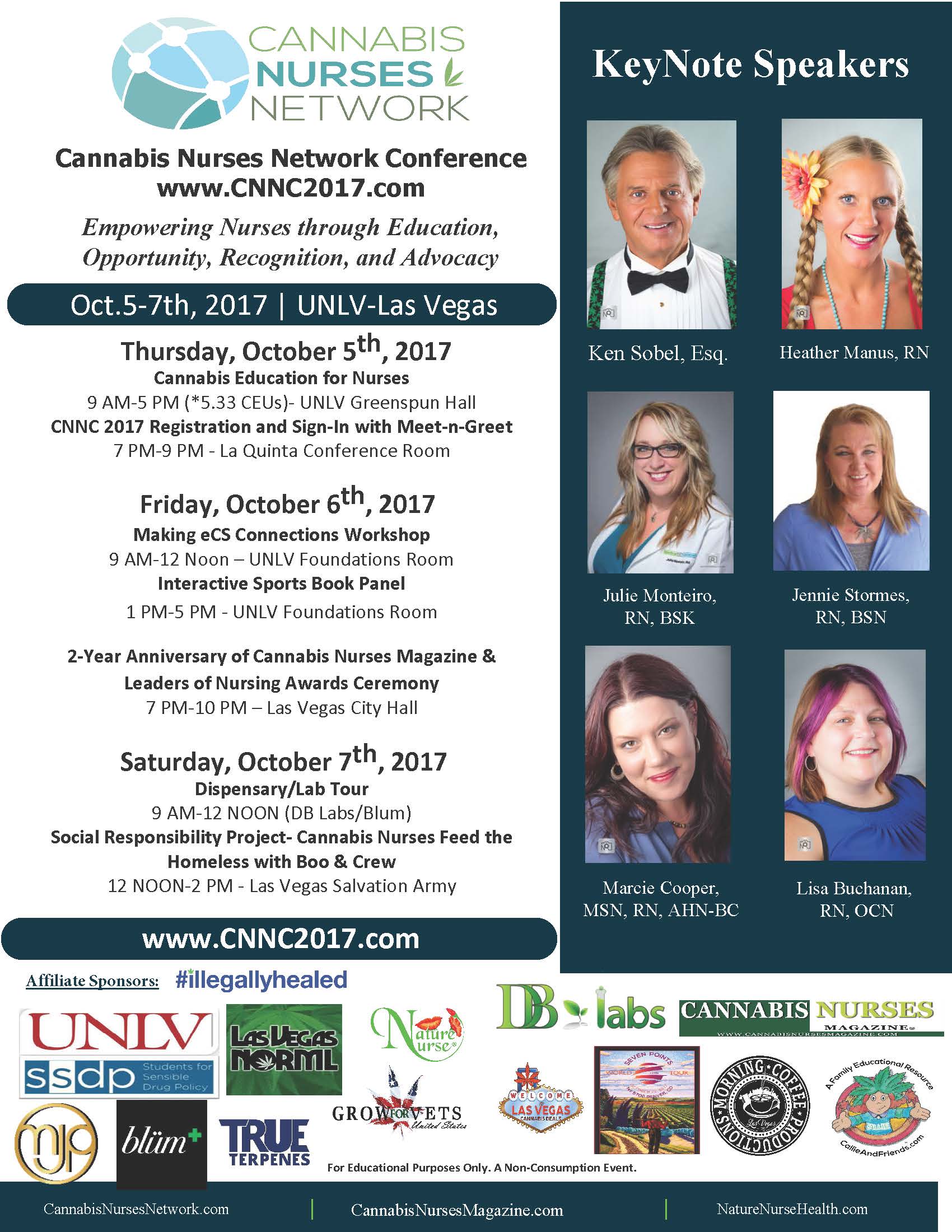 (Note: There has been a change in schedule where the CNM 2-Year Anniversary party has been moved to Friday Night, Oct.6th, 2017 from 7PM-9PM. Make Note!)
VIP Access = Purchase Thursdays Course ($299) + Fridays Course ($199) and receive VIP Access to all #CNNC2017 Weekend Events ($200 Savings).
Educational Purposes Only. A Non-Consumption Event.