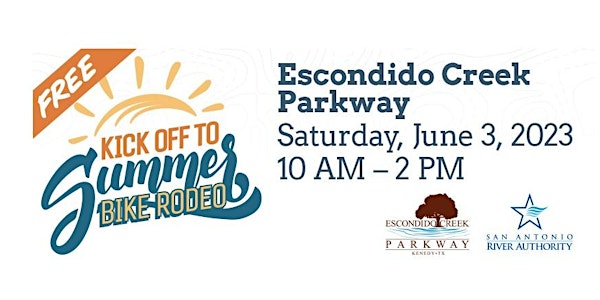 ECP: Kick Off to Summer Bike Rodeo - Participant Registration
The San Antonio River Authority is excited to host the Kick Off To Summer Bike Rodeo!
By San Antonio River Authority
Date and time
Saturday, June 3 · 10am - 2pm CDT
Location
Escondido Creek Parkway 208 N. Sunset Strip Kenedy, TX 78119
About this event
Bike Rodeo and Bike Parade Information:
• Free to participate, pre-registration encouraged
• Day of walk-ups welcome
• BYOB, bring your own bicycle
• Awards for all participants
• Prizes for top finishers
• Every participant must wear a helmet
• All ages welcome
• Visit our website for all the details!
Other Free activities include cooling off at the splash pad, watching skateboard and BMX demos, yard games, giveaways, and more! Food trucks and shopping vendors will be onsite. Giveaways to include skateboards, bicycles, and riding gear!
Bike Rodeo Schedule
10:00 AM - 11:00 AM - Riders 10 and younger
11:00 AM - Noon - Riders 11 - 17
Noon - 12:15 PM - Bike Parade Lineup - All Ages Welcome
12:15 PM - Bike Parade Starts
1:00 PM - 2:00 PM - All Age Riders
📅 Bike Rodeo schedule of events:
Bike Rodeo Participants are asked to Check-In at their designated start time. After checking in, each participant will go to the Bicycle Safety Check Tent and then make their way through 5 Stations that will test their riding ability.
Bike Rodeo Stations:
Station 1 – Straight Line Test
Station 2 – Weaving & Maneuvering Test
Station 3 – Slow Race
Station 4 – Figure 8
Station 5 – Avoiding Objects on the Street
Each Bike Rodeo Participant will receive a ECP Kick Off to Summer Bike Rodeo Participation Certificate. Riders with a high score will receive a prize.
🚲 Giveaway Schedule!! 🛹
Kick Off To Summer Bike Rodeo Giveaway Schedule
10:30 AM @ SARA Booth - 3 Bicycles (2 Children & 1 Adult Size Bicycle), 8 Helmets
11:00 AM @ Skate Ramp - 2 Full Skateboard Sets, 2 Skateboard Decks, 2 Helmets
11:30 AM @ SARA Booth - 3 Bicycles (2 Children & 2 Adult Size Bicycle), 8 Helmets
12:30 PM @ SARA Booth - 3 Bicycles (3 Children & 1 Adult Size Bicycle), 8 Helmets
1:00 PM @ Skate Ramp - 3 Full Skateboard Sets, 3 Skateboard Decks, 3 Helmet
1:30 PM @ SARA Booth - 3 Bicycles (3 Children & 1 Adult Size Bicycle), 6 Helmets