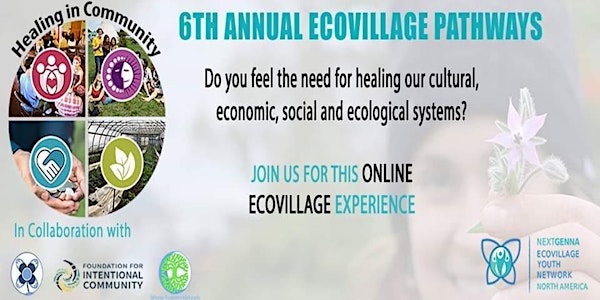 Ecovillage Pathways Going Online
An English and French event! All presentations will be recorded.
About this event
Do you yearn for healing within the environmental, social, health, and economic disparities of our world? While hunkering down in quarantine we have an opportunity to practice deep introspection with hope of finding a new way of life. What options are available for us in a time of unknowing and how can we come together to find generative and practical solutions?
During this series we will be exploring how the many models of community are a powerful tool when examining healing modalities for our current global challenges. We seek to heal our bodies, our environment, our economy, relationships, and our hearts. Come join us on this path to healing at "Ecovillage Pathways: Healing in Community."
The 6th Annual Ecovillage Pathways 2020 (while usually an in person gathering) will be a series of online workshops highlighting a variety of topics presenting healing in the four dimensions of sustainability: social, cultural, economical and ecological.
Our topics:
>Earth Connection using Virtual Tools
>Indegenious healing
>Governance and Decision Making (sociocracy)
>Ecolivelihood 101
>The birth of an Ecovillage - an inside perspective from the founders
>Grief Ritual
>Non Violent Communication Tools
>Assessing your Ecovillage for Success
>Green Building Overview
Our featured speakers:
> Sherri Mitchell - Wena'hamu'gwasit - a renowned Indigenous Activist Speaker
>Sociocracy For All - an international organization spreading inclusive governance
> Solution ERA an international green building (including earthships) company based in Quebec
>A Keala Young - A specialist in regenerative structures and cultures
>Thumbs Cassidy: Ecovillage traveler and professional yurt builder
>Chloe Buzzotta and Leonie Brien: Founders of Whole Systems Network
>Audree Morin: Nonviolent Communications specialist
>More to be announced!
What you get:
10 workshops on Healing nature and humans in community
Answers to your questions
All the recordings of the workshops
A community of practice to continue the conversation
This online gathering is for you if:
You would like to live in an ecovillage but don't know where to start
You feel that nature and humans need healing
You already live in community and would like to step up your game
You want to meet other community enthusiasts.
The event will be mostly in English but we will have at least one workshop in French with options for english assistance for Francophone members.
Enjoy our podcast series Healing in Community to get a taste of the whole systems approach we are investigating to achieve healing in community
Visit our webpage to know more.
If you are have questions contact: ecovillagehelp@gmail.com