Description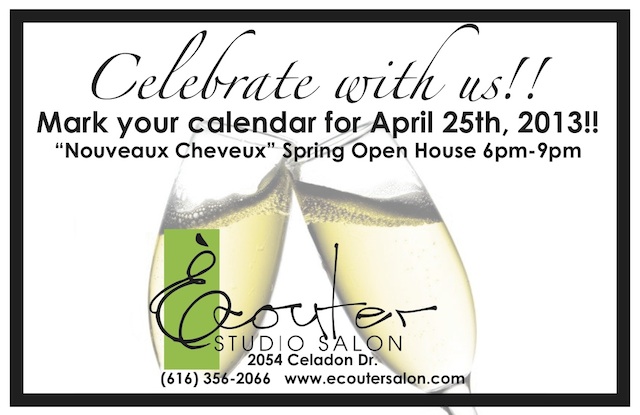 Celebrate with us on April 25th, 6-9pm at our new location!!

Guests will enjoy complimentary bites, professional hair consultations, live piano music, photos with the BAM! models and Ècouter will be giving some lucky winner a complete luxury makeover and gift basket full of Paul Mitchell goodies!
Every attendee has a chance to enter the contest, which will be open through the end of April, but only attendees at the April 25th event will receive a goodie kit* that will include samples and other surprises so mark your calendar!

RSVP via this event page for guaranteed entrance plus bonus gift* for 1st 50 entries.

Ècouter Salon "Nouveaux Cheveux" Spring Open House
Date: Thursday, April 25th, 2013
Location: 2054 Celadon Dr. Grand Rapids, MI 49525
Time: 6 – 9 PM

Sponsors include: The Gordon Group Real Estate, Amore Trattoria Italiana, World Source Tech, Modifie Wellness and Licari's Sicilian Pizza Kitchen.
{* while supplies last/1 per household}