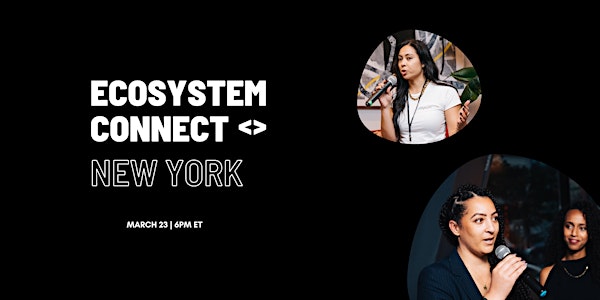 Ecosystem Connect: New York Innovators Mixer
A Curated Mixer for Culture-Forward Innovators to Connect and Build.
Date and time
Thursday, March 23 · 6 - 9pm EDT
Location
Perkins Coie LLP 1155 6th Avenue #22nd floor New York, NY 10036
About this event
Join Ecosystem Connect and our partner Perkins Coie as we bring together a unique, invitation-only group within Finance, Media, Tech, Venture Capital and more!
We'll hear from exciting founders, investors and ecosystem builders to discuss tips on going from zero to one as a creator, capital readiness and access, building strong entrepreneurial relationships, and how founders can find success in todays economic climate and beyond.
ABOUT ECOSYSTEM SERIES - A highly curated action networking series that assembles founders, investors, allies, operators and industry leaders together to connect socially, exchange resources and build. We're on a mission to advance the Black entrepreneurial ecosystem.
The event is proudly sponsored by our good friends at Perkins Coie LLP
Food & beverages will be provides
HOSTED BY:
Abir Liben: Principle, Primary Venture Partners
Anthony Edwards Jr: Founder & CEO, Eat Okra
Mica Le John: Founder & CEO, Idoru
Khalil Simmons: Co Founder & CMO, Spark App
Allie Tsahey: Founder, Baddies in Tech
Emmanuel Brown: Co Founder & COO, Church Space
Shirin Malkani: Co Chair, Sports Group & Emerging Platforms
WHAT TO EXPECT:
Action Networking: Discover new connections with industry leaders, experts and a community of Entrepreneurs taking action and changing the game!
Curated Programming: Hear from successful founders and investors, learn about helpful resources and tune in to a town hall style Q&A with our speakers and hosts.
Insider Knowledge: Our partners provide attendees Legal, Funding, Investing and founder growth gems in person and post event via our Digital Gift Bag!
Good Vibes: Enjoy a wonderful selection of food & beverages and dope musical vibes. Enjoy the atmosphere of connective energy. Manifest your vision!
EVENING AGENDA:
6:00-7:00 PM: Check-In & Networking
Get a jump start in building new connections by engaging with our partner stations and attendees across the legal, funding, accelerator, product and investing landscape.
7:00-7:45 PM: Welcome & Programming
We'll begin welcome remarks during this time to hear from our event hosts about their initiatives and ways to get involved or get support.
7:45-9:00 PM: Networking & Closing
Continue to enjoy the food and beverages provided and engage with our speakers, partners, and your professional peers.
OUR PILLARS:
Creating Connections for a richer culture.
Sharing knowledge and resources, educate and inspire.
Building bridges to economic opportunity.
WHO WE'RE LOOKING FOR:
This event is for you if you are driven, ambitious, dedicated and strive to create cultural impact with your work and within the innovation economy. Whether you work within a SMB or large company organization, currently building your own venture, or seeking to expand your industry connections, come gather with other like-minded innovators just like you!
Founders (High growth, SMB, Hybrid, etc)
Industry Professionals
Investors (Angels, VCs, PE Funds, etc)
Emerging Entrepreneurs
Business Coaches
We look forward to connecting and growing and inclusive ecosystem with you!
REGISTRATION
By registering for this event, you are giving Ecosystem Connect and Toasted Life permission to share your registration information with our event sponsors.
ABOUT TOASTED LIFE
Toasted Life is a community-based premium experience platform empowering connections for ambitious dreamers of color. We specialize in designing 360 lifestyle experiences that center the needs of multicultural audiences through events, activations and cultural programming.
ABOUT ECOSYSTEM CONNECT
Ecosystem Connect is a curated network of like-minded innovators pushing advancement in the black and brown start up community.
ABOUT PERKINS COIE LLP
With more than 1,200 lawyers, and 20 offices– 17 U.S. offices and 3 international, Perkins Coie represents great companies across a wide range of industries and stages of growth—from start-ups to FORTUNE 50 corporations. Attorneys in our Emerging Companies and Venture Capital practice offer one of the premier legal resources in the nation for venture-backed companies that have IP as a key value driver. Founders rely on us for guidance on company formation, IP protection and enforcement, corporate governance, financings (including IPOs), and strategic transactions, among others. We also represent investors as they make, manage and divest investments in diverse industries. In its first two years ranking law firms, U.S. News & World Report named us "Law Firm of the Year" for Venture Capital Law (2011-2013), an honor the publication only gives any firm two years in a row. The publication has currently named us "Law Firm of the Year" for Technology Law. To learn more, visit us at www.startupPerColator.com.