Description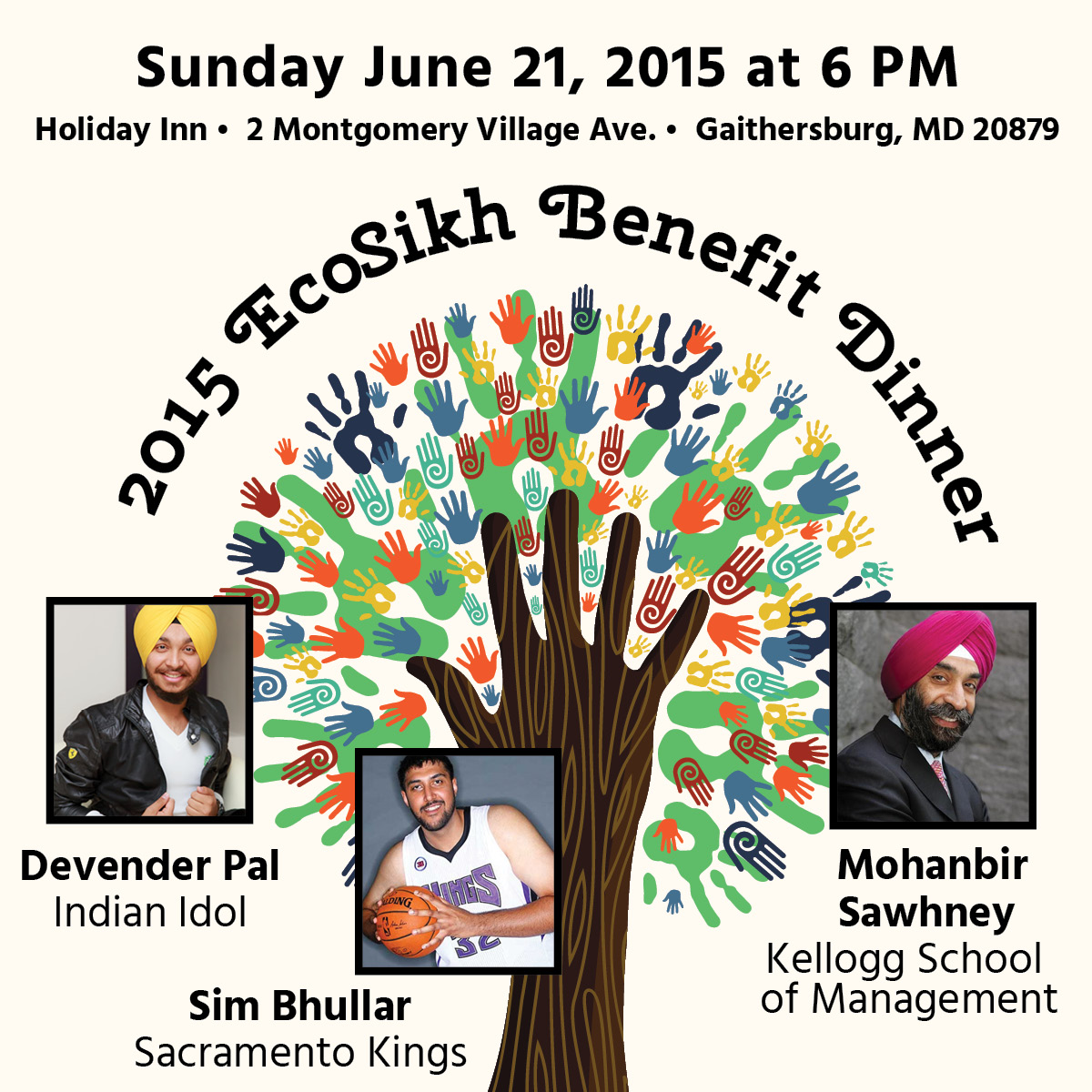 EcoSikh Gala 2015 will be held on Sunday, June 21, 2015 at 6pm at Holiday Inn Gaithersburg, (2 Montgomery Village Ave Gaithersburg, MD 20879). Our keynote speaker is Mohanbir Sawhney, a world-renowned business consultant who has advised companies such as Microsoft, Boeing and Sony (among MANY more). Devender Pal Singh of Indian Idol will bring the musical element; and the first NBA player of Sikh and Indian descent, Sim Bhullar, will be the special guest! Purchase tickets here and don't miss this inspirational night of reflection, entertainment and activism!
EcoSikh strives to empower all by bringing Sikh teachings on the environment to the world stage. In addition, there are a number of innovative, groundbreaking environmental projects happening here and in Punjab, and more on the way. Please come out and be part of this wonderful endeavor.

Keynote and Chief Guest
MOHANBIR SAWNHEY
One of the 25 Most Influential People in e-Business and
Among 50 Most Greatest Minds in the US

Celebrity Guest
SIM BHULLAR
The first NBA player of Sikh and Indian descent will join us for the evening!

Musical talent
DEVENDER PAL SINGH
An inspirational and entertaining musical artist!

For more information:
Dr. Rajwant Singh
Rajwant@aol.com - (202) 460-0630
Dimple Sandhu
Dimple_sandhu@yahoo.com - (571) 263-3947
Meenu Nandra
Nandrameenu@gmail.com - (703) 244-2067
Gita Pabla
Gita.pabla@gmail.com - (917) 226-0131
Manranjan Singh
leoleo316@yahoo.com - (301) 523-3249
Sumeet Kaur
Program Manager - EcoSikh
sumeet.kaur@ecosikh.org - (508) 292-1769
Organizer of EcoSikh Benefit Dinner 2015
EcoSikh connects Sikh values, beliefs, and institutions to the most important environmental issues facing our world. We draw on the rich tradition of the Sikh Gurus and the Khalsa Panth to shape the behavior and outlook of Sikhs and the world, ensuring that our deep, abiding reverence for all creation remains a central part of the Sikh way of life.