Description
EcoSessions : Sustainable & Holistic Strategies for Sleep
June 8, 2017
7:00 - 9:00 pm (EST)
Are you getting enough sleep? In 2013, the Centers for Disease Control and Prevention called insufficient sleep a major public health problem, noting that nearly 30% of adults get less than six hours of sleep a night. And a national survey by the Better Sleep Council found that a solid majority of us (61%) crave sleep more than sex. External factors, such as what we eat and drink, the medications we take, and the environment in which we sleep can also greatly affect the quantity and quality of our sleep. This EcoSessions aims to tackle our sleepless epidemic with strategies and ideas towards a sweet [sustainable] sleep. Featuring Summer Rayne Oakes, Amy Galper, Erin Galvin and more.
Schedule:
7:00 - doors open
7:15-8:15 - Discussion and break-out groups
8:15-8:45 - Wrap-up and networking
FEATURING:
Summer Rayne Oakes, an environmental scientist and entomologist by training, Summer Rayne moved to New York City to design and work on creative solutions to some of the world's toughest environmental challenges. She co-founded Source4Style (now Le Souk), an award-winning marketplace to connect designers to sustainable material suppliers around the world and wrote best-selling book, Style, Naturally. Three years ago, she expanded her focus and has been working on helping people eat better through more sustainable food systems. In 2014, she launched sugardetox.me, to help people cleanse themselves from sugar and published a cookbook and guide on the topic with Sterling Publishing in March 2017. Most recently she has made the news for her very, very green home (she lives with 500 plants in her Brooklyn apartment). Follow along at Instagram and www.summerrayne.net
Amy Galper, Executive Director, New York Institute of Aromatherapy. The New York Institute of Aromatherapy cultivates more than a new set of skills. From the moment you enter their school, you begin a relationship with plants, oils and aroma-based healing that you'll love for the rest of your life. Studying there, you'll learn the vital science and incredible craftsmanship of aromatherapy intimately. It's a deep, meaningful, wonderful bond that excites your spirit and your mind, and opens up new possibilities in your life. As the only school for in-person aromatherapy certification in the region, they offer an experience you won't find anywhere else—sensory, hands-on, lively and intensely interactive.
Erin Galvin, Owner at Erin Galvin Nutrition & Natural Health. A Nutrition Consultant and Herbalist based in Brooklyn, Erin began her journey to natural health as a way to manage and treat her allergies, PCOS, PMS, IBS, as well as fatigue and anxiety. When at a crossroads in her corporate accounting and finance career, Erin decided to trade in 12 hour days and reporting deadlines to pursue a career in natural health. Erin initially trained at the Institute of Integrative Nutrition in NY. She continued her studies to broaden her understanding of nutrition, functional medicine, and herbal medicine. She earned diplomas in Nutritional Therapy and Herbal Medicine from the College of Naturopathic Medicine in London, UK. Erin has worked as a nutrition educator for a farm located outside of London, teaching kids about healthy food and organic farming. She was a lecture at the College of Naturopathic Medicine and the lead nutritionist at a start-up nutritional supplement company.
and more!
FACILITATOR:
Kate Black, Founder of Magnifeco (and EcoSessions). Recognized as an expert in ethical fashion and sustainable living, Kate is the founder of Magnifeco.com (launched '09) and author of 'Magnifeco: Your Head-to-Toe Guide to Ethical Fashion and Non-Toxic Beauty' (published '15), and the producer and host of Magnifeco Radio, a weekly podcast on iTunes. Kate is also a part-time professor of ethical fashion at NYC's Fashion Institute of Technology.

FAQs
What do you mean 'break-out groups'?
Given the unique set up at Coco Mat, we will venture away from our usual panel discussion and will instead start with a 10-minute overview and then our experts will each join a smaller group for a more intimate conversation.
Can I pick my expert/group?
Yes - you can pick where (and with whom) you want to sit, but each expert will join each group - so you will get some time with them all (the Nota Bene method).
Will there be alcohol?
No, this is an all ages event.
What can I bring into the event?
Business cards, and other promotional material to share about your brand/project/upcoming event
Can media attend and can I take pictures?
Yes!!
Can I volunteer?
Yes - email connect@ecosessions.co for more info
THANKS TO:

All Natural, Hand-made bedding and furnishing. Our store is about Sleep, Lifestyle, Aesthetics and Hospitality above all. Open for naps 10am-7pm.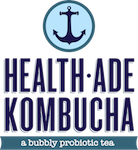 Beverges provided by Health-Ade Kombucha, the best tasting and highest quality kombucha you can buy.