EcoSessions: Made in Africa (NYC)
When and where
Location
Fashion Institute of Technology John Reeves Great Hall 227 W 27th St New York, NY 10001
Description
FIT's Enterprise Center and the Sustainable Design Entrepreneur's Certificate Program Presents:
EcoSessions: Made in Africa
beauty | accessories | fashion
June 2, 2014
4:30-8:30 pm (EST)
at FIT in the John E. Reeves Great Hall
This EcoSession focuses on Africa, bringing together three panels of active professionals at the forefront of ethical beauty, fashion and accessories production in the continent. Gathering to dispel misconceptions, address complexities of local production and discuss the direction of its growing market, panelists will give the audience a fuller, richer and more honest picture of Africa's sustainable potential.
Ticket holders are invited to come for any portion of the program or for the duration.
Schedule:
4:30 - doors open
4:45 - Welcoming remarks from Christine Helm, the director of Fashion Institute of Technology's (FIT) Enterprise Center and Kate Black, founder of EcoSessions
5:00-6:00 Beauty Panel: The Body Shop, Kahina Giving Beauty and Rain Africa, moderator: Baze Mpinja (Beautycism)
6:15-7:15 Accessories Panel: Brother Vellies, Shop Soko, Heritage 1960 and Mikuti, moderator: Yolanda Sangweni (Essence.com and AfriPOPmag.com)
7:30-8:30 Fashion Panel: Nest, Osei Duro, Modahnik and Mantis World, moderator: Jacqueline Shaw (African Fashion Guide)
8:30 - Participants are invited to mingle at Hotel Indigo, 127 West 28th Street, Cash bar
THIS EVENT MADE POSSIBLE BY:
Enterprising New Yorkers turn to FIT for practical know-how and support to build successful businesses and to upgrade the technical skills indispensable in today's business and design environments. For over two decades the Enterprise Center has served those at the intersection of art and commerce with credit and non-credit classes, conferences, round table discussions and other special programs.
THANK YOU ALSO TO: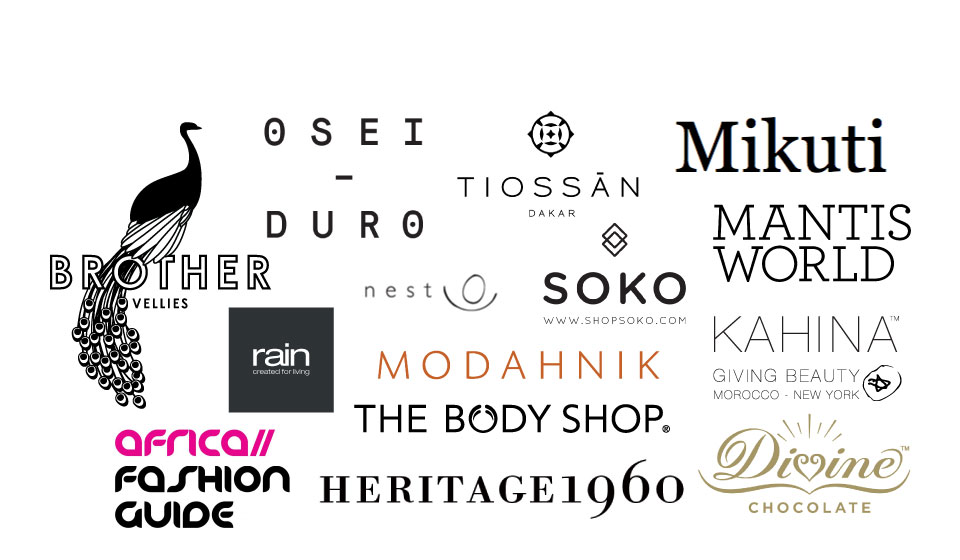 Beauty
The Body Shop International PLC, known as The Body Shop, was founded in 1976 by Dame Anita Roddick in Littlehampton, England. The beauty brand pioneered corporate activism and was built on a philosophy that business can be a force for good. With its brand expression, Beauty with Heart, the company continues to be focused on five core values; Against Animal Testing, Support Community Fair Trade, Activate Self Esteem, Defend Human Rights and Protect The Planet. All products are created using the finest ingredients sourced from the four corners of the globe, including Community Fair Trade partnerships throughout Africa, and all of which are not tested on animals and are 100% vegetarian.The Body Shop has over 2,800 stores in over 60 countries.
Kahina Giving Beauty, Morocco-New York, Women Helping Women Through Shared Beauty Rituals. Kahina Giving Beauty is a simple and effective skincare regimen based on highest quality and ethically sourced ingredients from around the world. With organic and fair trade argan oil from Morocco at its core, KahinaGiving Beauty provides real skincare solutions that advance people and the planet. A percentage of profits from the sale of all Kahina products goes to the indigenous Berber women who extract the oil at the heart of our line.
Rain Africa, body and bath products are our first love, made with natural and where possible, organic ingredients. Our products are made in Africa and are high in antioxidants, essential fatty acids, vitamins and omega 3,6 and 9, generously formulated for the best results. As one of the rare Fairly Traded and Beauty Without Cruelty accredited companies in the beauty industry, we consider ourselves to be a company with SOUL – buying with a conscience.
Accessories
Brother Vellies was founded by Creative Director, Aurora James, with the goal of introducing the world to her favorite traditional African footwear while also creating and sustaining artisanal jobs within Africa. Handmade in South Africa, Kenya and Namibia, Brother Vellies creates boots, shoes and sandals in styles that are inspired by their African counterparts. Brother Vellies originally launched with just one style, the velskoen. Relatively unknown outside of Africa, the velskoen—pronounced "fell-skoon" and known colloquially as "vellies"—are actually the ancestor of the modern-day desert boot. At the workshop in South Africa, a small group of men and women assemble 20 pairs of the shoes each day using techniques crafted over multiple generations. The workshop was established in 1963 and is an open space that welcomes artisans of all genders, sexual orientations, backgrounds and tribes.
Soko is an innovation in global fashion and technology: An online storefront that connects online consumers directly to artisans and handcrafted jewelry from Africa. With Soko, you can discover incredible design and creative ingenuity made in communities that lay outside of the digital economy. Brought to the global stage using our technology, Soko delivers you exceptional style with stunning handcrafted jewelry designs created by artisans in emerging economies, using natural and upcycled materials. The Soko solution transforms the ubiquitous mobile phone into a tool that expands access to economic opportunity for artisans in under-served communities, disrupting the traditional export supply chain, cutting out the middleman, and revolutionizing the way money and goods are exchanged between developing world artisans and global consumers.
Heritage1960 is a lifestyle brand focused on preserving traditional African arts and culture. Launched in 2011 as an online magazine and expanded in 2012 to include an online shopping destination, Heritage1960 is constantly evolving to provide immersive and tactile ways of engaging with African culture. Currently, Heritage1960 is developing a range of accessories utilizing traditional handicraft techniques in Nigeria, ranging from weaving (Akwete) and dying (Adire) to embroidery and leather tanning. Heritage1960 specializes in manufacturing and sourcing art and objects from Africa, with a focus on traditional textiles and artisanal design. Since its inception in 2011, Heritage1960 has been lauded globally by leading publications including Style.com, Vogue, WWD, Business of Fashion, Huffington Post, and more. Heritage1960 is headquartered in New York City, with a workshop in Port Harcourt, Nigeria.
The brand Mikuti is a direct result of designer/founder, Erika Freund's efforts to bridge the unlikely. It is the expression of her adventurous spirit, fierce courage, and exploration of possibilities. Freund spent 4 years traveling throughout East Africa, (specifically, Tanzania, Kenya, Uganda, Ethiopia, and Rwanda), seeking out the best workshops and discovering hidden raw talent in the region. She made committed efforts to learn about traditional techniques and how to access the highest quality local materials. This groundwork created a foundation to create respectable jobs for some of the region's most skilled and highly regarded individuals, while developing a mindful supply chain. It allowed her to create adornments of the upmost quality, while developing a distinct design aesthetic. Ultimately addressing and contributing to the basic needs of the local economy and purposefully connecting everyone to a more established global market, giving Sub Sahara Africa both an opportunity and platform to be the incredible sourcing destination that it is. These are the principals and foundation of the Mikuti Brand.
Fashion
Nest is a non-profit organization partnering with the world's most promising artisans to build sustainable businesses within the competitive landscape of today's global economy. Simultaneously, we seek to transform the communities in which our artisans work and live, through the alleviation of poverty, empowerment of women and promotion of peace. Nest believes that craft can be harnessed as a tool to solve some of the greatest global issues. Taking a participatory approach to change, Nest projects are uniquely hands-on from inception through completion, beginning with a rigorous needs appraisal and closing with the formation of enduring industry partnerships with leading retail brands in the luxury space. By teaming up with likeminded NGOs, Nest holistically addresses pressing social issues faced by artisan communities, including access to clean water, female safety and empowerment. Treating every artisan as not just an individual, but a family provider and community leader too, we maximize our impact through the powerful ripple effect that job creation has been proven to engender time after time. In Africa, Nest works with talented horn, bone and brass-cast jewelry artisans in Kenya, as well as with an all-female troupe of handicraft artisans in Swaziland. Through innovative design curriculums like that led in partnership with National Geographic photographer, Alison Wright, Nest is helping artisans to merge ancient tradition with modern techniques and aesthetics as a means to increase production capacity, market access and overall sustainable business growth. In the process, Nest is transforming surrounding social landscapes through strategic alliances with NGOs like VOSS Foundation, who is helping Nest to deliver clean water to more than six thousand people in Swaziland.
Designers Maryanne Mathias and Molly Keogh founded Osei-Duro in 2009. Osei-Duro makes its products fairly and sustainably (both environmentally and economically) without compromising quality or aesthetics. We aim to honor the local textile traditions in Ghana and anywhere else we might produce, and to create a venue to expose them to the world. On a practical level, we work to improve both infrastructure and training in Ghana, to raise the garment industry up to international standards. On a creative level, we are excited about a two way exchange of ideas and aesthetics by which all cultures involved may benefit. Osei-Duro is sold in North America, Europe, and Asia, and online at www.oseiduro.com. The designers currently split their time between Accra, Los Angeles, and Vancouver.
MODAHNIK is a woman's ready to wear brand that incorporates the designer's African heritage and multicultural upbringing with modern influences. With a focus on detail, color and print MODAHNIK is bold, sexy, feminine and sophisticated with pieces that easily transition from day to night for the confident woman who has an individual sense of style. MODAHNIK has been featured in WWD, Chicago Magazine, Chicago Sun-Times, Refinery 29 and on runways in Los Angeles, New York, Chicago and Johannesburg. MODAHNIK was founded in 2009 by designer Kahindo Mateene. Originally from The Democratic Republic of Congo, she pulls inspiration from the Avant Garde spirit of the Congolese art and culture combined with her travels and upbringing across Africa, Europe and America, bringing a unique point of view to her design aesthetic.
Mantis World is an award-winning supplier of sustainably sourced clothing with ranges for adults, kids and babies. Backed by a strong ethical ethos, they strive to create fashionable, high quality garments that will be worn and loved for years to come. The company's heritage came through working with their family-owned vertical mill, Sunflag in Arusha, Tanzania; employing over 1500 workers. They offer a fully transparent supply chain certified by GOTS and compliant with SA8000 and Oeko Tex 100 to ensure social, environmental and organic production standards are met. Over the years Mantis World have diversified supply routes to encompass textile mills in Pakistan, Turkey, Sri Lanka, India, UK and Bangladesh, operating on the same criteria of sustainability and transparency. Mantis World demonstrates the success of their triple bottom line model - commercial, large volume manufacturing in an ethical and sustainable manner with care to everyone in the supply chain. Mantis World works alongside corporates, fashion brands and garment suppliers; turning designs into finished garments; either through bespoke manufacturing or using an extensive stock range of garments in Europe which can be relabelled, printed and decorated. Their mission is to make ethical and organic cotton clothing affordable and easy to order for everyone from the smallest start-up to large corporations and organisations. The company supports community projects in East Africa including training, education and homes for children and disadvantaged groups, IT training in slums plus wildlife conservation initiatives. New projects on the horizon include supporting the introduction and upskilling of women in the workplace and the education of girls in Pakistan.
Moderators
Baze Mpinja - Beauty Journalist and Blogger. From 2007 - 2011, Baze was a beauty editor for Glamour magazine and a contributor to The Girls in the Beauty Department, Glamour.com's beauty blog. Her television credits include The Tyra Banks Show, The CBS Early Show, the WCBS evening news and The Style Network's Glamour's 25 Biggest Dos & Don'ts. Prior to Glamour, Baze served as beauty editor for Vibe Vixen, a girly spin-off of the music titleVibe. She was also the associate beauty editor for Suede, a multicultural fashion and beauty magazine. Baze is currently a freelance writer and her work has appeared in Marie Claire,Essence, Brides, Manhattan, People StyleWatch and online at Style.com, Refinery29 and Cosmopolitian.com. She is also the founder of Beautycism, a blog that examines beauty in the media, pop culture and real life.
Yolanda Sangweni is a South-African born writer and editor. She's the current entertainment editor of ESSENCE.com, and founder of AfriPOPmag.com an online magazine highlighting contemporary African youth culture, music, fashion and film from an Afropolitan perspective. She has written for Essence, Time Out New York, Page Six Magazine, O: The Oprah Magazine (South Africa), True Love and Glamour. She is also a singer/songwriter signed to Sony ATV, currently experiencing the turbulent, but thrilling, grind of working on an EP of her original work.
Jacqueline Shaw is the Founding Director of social enterprise and sourcing agency Africa Fashion Guide (AFG) and is the Author of the coffee table book Fashion Africa featuring over 40 African designers (available to purchase on amazon.com, amazon.co.uk and waterstones) Jacqueline is a professional Fashion Designer by trade with a background working and designing for fashion companies PUMA, Russell Athletic, Ocean Pacific, Fila, Chilli Pepper in London to name a few, C&A in Germany, Kingsheen in Turkey and Babylon Princesse (Talent in Shanghai) in China. As a public speaker Jacqueline holds international experience holding talks such as that at FIT in NYC, WOW Festival and Africa Utopia at London Southbank, House of Lords Roundtable discussion in London, Africa Gives at SOAS University, Ghana Fashion Week, Africa Fashion Week Toronto to name a few. Jacqueline adds on the role of Visiting Lecturer to her experience delivering talks, seminars and workshops at academic institutions such as Bahir Dar University in Ethiopia, Ravensbourne University in UK, UCA Epsom and FIT fashion school in NYC, alongside hosting the AFG Fashion Africa Business Workshops in the UK. She has been mentioned on Vogue Italia by online editor Bethann Hardison regarding her Ethical Fashion in Africa presentation during Ghana Fashion Week 2012.