Actions and Detail Panel
EcoSessions: Circular Economy/Économie Circulaire (MTL)
Wed, October 19, 2016, 6:30 PM – 8:30 PM EDT
Description
Ethik and FEM International present:
EcoSessions: Circular Economy | EcoSessions:

Économie Circulaire
October 19, 2016 | 19 O

ctobre, 2016
6:30 - 8:30 pm
Économie circulaire dans l'industrie textile: la deuxième vie des vos vêtements
Saviez-vous qu'au Québec, une personne achète en moyenne 27kg de vêtements par an mais en jette 24kg ? Vous êtes-vous déjà demandé ce qu'il pouvait advenir de votre chandail autrefois tant aimé ? Si vous souhaitez savoir comment redonner vie à vos vêtements, éviter le gaspillage et apprendre à recycler votre garde-robe tout en devenant un consommateur éco-responsable, rejoignez-nous le 19 octobre prochain à l'espace We Work Montréal pour participer à la discussion sur les bienfaits de l'économie circulaire en présence des expertes en innovation textile telles que Kristine Upesleja de Madisons Innovative Material, Lis Suarez d'ETHIK, Luce Beaulieu de l'Institut EDDEC et Marianne-Coquelicot Mercier de CHROMA. L'événement sera animé par Danica Straith d'ASHOKA Canada.
Circular Economy in the Textile Industry: the afterlife of your garments
Did you know that in Quebec, each person buys approximately 27kg of clothes per year but throws away 24kg? Did you ever wonder what happened to your once cherished sweater? If you want to give your clothes a second or a third life, learn all about innovations in textiles waste reduction and become an eco-responsible consumer, join the next EcoSessions on Wednesday, October 19th at We Work Montreal. We are gathering a panel of experts from the circular economy to discuss. You will hear from: Kristine Upesleja of Madisons Innovative Materials, Lis Suarez Director of ETHIK, Luce Beaulieu from l'Institut EDDEC and Marianne-Coquelicot Mercier textile innovator and designer from CHROMA. The moderator will be Danica Straith from ASHOKA Canada.
Schedule:
6:30 - doors open
6:45-8:00 - Panel Discussion between Lis Suarez Visbal-Ensink (ETHIK), Kristine Upesleja (Madisons Innovative Texiles), Marianne Mercier (CHROMA), Luce Beaulieu (l'Institut EDDEC) and Isabelle Dicaire (OPTECH). Moderated by Danica Straith (Ashoka U).
8:00-8:30 - Conversation and networking
FEATURING:
Marianne Coquelicot Mercier, Founder and Designer, CHROMA CHROMA felts were created in 2012, Marianne developed a new industrial felt based on the principles of sustainability. The felts are manufactured with a raw material that can be found in abundance here: recycled clothes! Through a meticulous selection, it is possible to obtain colours without the addition of any dyes. The felts are produced entirely in Québec and divert waste materials from landfill.

Lis Suarez Visbal-Ensink, Co-Founder and President, ETHIK ETHIK's mission is to promote ethical fashion and sustainable development practices within the textile industry and promote ethical fashion products amongst consumers. ETHIK is the first organization in Canada to work in the circular economy framework within the fashion industry. It was launched in 2009 as the first incubator of ethical fashion, by FEM International and now, since 2013, it has become its own organization. ETHIK encourages an ethical lifestyle for people who wear their clothes and those who made them. They believe that both human and environmental resources are precious, thus they strive for a system that not only produces zero waste, but also enables designers to offer smart solutions through their beautiful creations. With ETHIK, consumers are able to support global ethical fashion brands & artisans.
Kristine Upesleja, Founder, Madisons Innovative Texiles Madisons Innovative Textiles curates an annual Innovative Materials Conference/Exhibit with guest speakers from the innovative industries such as Patagonia, Michael Schmidt Studios, Avery Denison, Prana and Textile Exchange. Kristine works with companies such as Hugo Boss, Adidas, C.P.Company, Stone Island, Lenzing, Vitra, Patagonia, Schoeller, Cocona, Recover, S3 Studios., and Suzanne Lee, founder of Biocouture and Gary Cass, founder of Fermented Fashion, to name a few.
Luce Beaulieu, Coordonnatrice de l'Institut EDDEC. L'Institut EDDEC a pour mission de soutenir et promouvoir la formation, la recherche, l'action et le rayonnement de l'Université de Montréal, HEC Montréal et Polytechnique Montréal, en matière d'environnement, de développement durable et d'économie circulaire, dans un esprit de partenariat et d'interaction entre les trois établissements et la communauté. L'environnement, le développement durable et l'économie circulaire (EDDEC) interpellent les chercheurs de toutes les disciplines sur des questions complexes exigeant la mise en commun de leurs expertises. L'Institut EDDEC a pour objectif de fédérer le bassin de compétences dans ces domaines au sein de ses trois établissements fondateurs, ce qui représente plus de: 200 unités de recherche (laboratoires, groupes, centres, chaires, etc.); 400 professeurs et chercheurs; 1500 étudiants aux cycles supérieurs. Ayant accès au plus grand bassin de scientifiques francophones au Canada en EDDEC, l'Institut couvre ainsi tout le spectre des disciplines scientifiques, des sciences humaines et sociales aux sciences économiques et aux sciences naturelles, en passant par l'ingénierie.
Isabelle Dicaire, chercheuse centre collégial OPTECH is a specialist in Physics, Optics and Photonics. She obtained the doctoral degree from the Swiss Federal Institute of Technology in Lausanne, Switzerland where she developed new fiber optics technology for the space industry. She then worked at the European Space Agency in the Netherlands for two years during which she initiated five interdisciplinary projects in optics, artificial intelligence and biology with applications in the space domain. Now back in Montreal where she is originally from, Isabelle works as a project manager, operations manager and business developer at Optech, a collegial center for technology transfer in optics and photonics. Ethik partnered with Optech to study the feasibility of an optical sorting system for clothing based on spectral infrared technologies to close the loop for a circular economy.
MODERATOR:
Danica Straith, Canadian Director, Ashoka U Ashoka is the largest network of social entrepreneurs in the world. Our vision and understanding of the world comes from Ashoka's experience in pioneering the field of social entrepreneurship over the last 35 years—finding, selecting, and supporting the world's leading social entrepreneurs (Ashoka Fellows). The network of more than 3,000 Ashoka Fellows is implementing system-changing solutions to human and environmental problems in over 70 countries. Ashoka's Canadian branch was established in 2002 and aims to build a radically new Canada where solutions outrun problems—a country where Everyone is a Changemaker®. Together, we recognize, support, and connect our network of leading changemakers. We work with this inspiring network to amplify solutions and embed empathy and changemaking into Canadian society.No bio.
Thanks to venue sponsor:

WeWork is a community of creators that aims to help companies grow by providing them with not just beautiful space, but also the benefits, amenities, and professional community they need to focus on their business. Email placevillemarie@wework.com to set up a tour today!
WeWork est une communauté de créateurs qui vise à aider les entreprises à croître en leur fournissant non seulement un bel espace , mais aussi le soutient, les avantages, les commodités et la communauté professionnelle dont ils ont besoin pour se concentrer sur leur activité. Ecrivez nous à placevillemarie@wework.com et réservez une visite dès aujourd'hui!
Special thanks to:

ETHIK's mission is to promote ethical fashion and sustainable development practices within the textile industry and promote ethical fashion products amongst consumers. ETHIK is the first organization in Canada to work in the circular economy framework within the fashion industry. It was launch in 2009 as the first incubator of ethical fashion, by FEM International and now since 2013 it has become its own organization.
ETHIK est une OSBL novatrice qui travaille autant avec des designers et artisanes éco et socialement engagées d'ici et ailleurs, ainsi qu'avec leurs clientèles et leurs marchés. Notre mission consiste d'une part à promouvoir des pratiques en développement durable dans l'industrie du textile et d'autre part, à promouvoir de produits issus de cette démarche.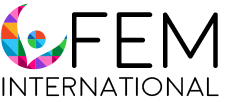 FEM International a évolué à partir d'une quête personnelle, une prise de conscience de soi et une connexion avec le monde dans lequel nous vivons. Elle est née d'une forte passion, à travers laquelle une extraordinaire détermination de bénévolats internationaux est rendue possible par le soutien continu de ceux qui croient que nous pouvons faire quelque chose de mieux ensemble plutôt que seul.
Empowering young girls and women around the world, in developing countries and in Canada, to reach their full potential through the dynamics of socially responsible entrepreneurship, in a way that helps them become self-sufficient and create a better link with their communities and their local environments.