ECONOMIES OF EXPERIENCE - An International Conference by ZU-UK

Thursday, 6 November 2014 from 10:00 to 18:30 (GMT)
Event Details
#economiesof by ZU-UK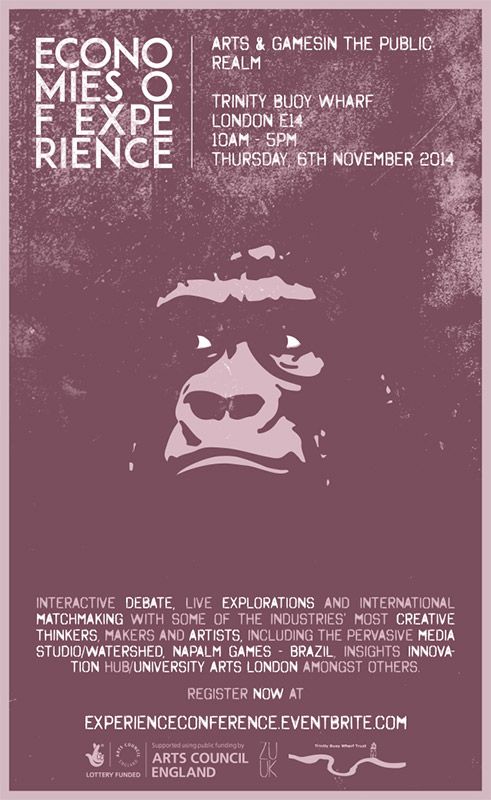 ECONOMIES OF EXPERIENCE
Interactive debate, live explorations and international matchmaking
The curated dynamics will be focused around three key provocations: 
i) What can Zombies teach the Arts?
ii) How can artists and gamers partner with Privately Owned Public Spaces (POPS) to engage audiences in new ways?
iIi) What can business model innovation look like for an increasingly digital and gaming culture?
This international event will bring together some of the industries' most creative thinkers, makers and artists to discuss, exchange views on and thrash out the future of digital, performative and gaming culture in POPS. ZU-UK are committed to creating an environment of possibility through the use of play structures and participatory technologies to allow people a chance to bring forth their views and share their ideas. This is an artist-led event and as such there will be some playful interventions involving a silent disco, a chance to have your photo taken with a gorilla and travel in a pineaple. From 5pm to 6:30pm you are welcome to stay for the Toast Temple Bar and DJ Alwayz Will.
A CPAD International Conference organized by ZU-UK
In partnership with BoSI and Napalm Games
Funded by Trinity Buoy Wharf Trust and Arts Council England
In partnership with NPO Bureau of Silly Ideas (BoSI) and Brazilian Games company Napalm Studio, British-Brazilian ZU-UK will host international panels bringing a wide range of industries to debate and present case studies under the title Economies of Experience. This event will focus on the interface between digital games, outdoor arts and immersive theatre in the public realm. Panels will be formed of stakeholders and practitioners from the worlds of arts, place making, cultural strategy and digital gaming. Confirmed organizations include NESTA, Queen Elizabeth Olympic Park, Watershed Bristol, National Theatre Wales, Encounters Festival amongst others (see full list of speakers and contributers below).
The use of combined arts, gaming and digital technologies will become an essential and accepted part of the life of future High streets and Privately Owned Public Spaces (POPS). ZU-UK and its partners believe if stakeholders integrate working with artists from an early stage they will reap reward from increase in use and create cohesion as well as new entrepreneurial activity that contributes to local economies. As a result, artists will be able to engage audiences in new ways through partnerships with POPS. 
As well as seeking new business models for the Arts, ZU-UK sees the international conference as essential groundwork required to engage audiences in new ways and in the long term. This event offers the opportunity for development of combined arts activity and gaming with digital platforms in the Public Realm, with a specific focus on international match-making and cross-industry debate.
ZU-UK is an established award winning independent experience making company based in East London and Rio de Janeiro since 2001. We collaborate across cultures and artistic disciplines, delivering our DRIFT methodology to emerging artists across disciplines. ZU-UK are the creators of Humble Market - an immersive exhibition between Uk and Brazil (2012) and Hotel Medea - a multi award winning immersive over-night experience (2011).
ZU-UK believes in the transformative power of the human experience. As the world becomes more globalised we are increasingly losing the rituals and rites that bind us in worthwhile communion and we set out to purposefully give people tailor made experiences that connect us  with who we are and the essential desire to connect meaningfully.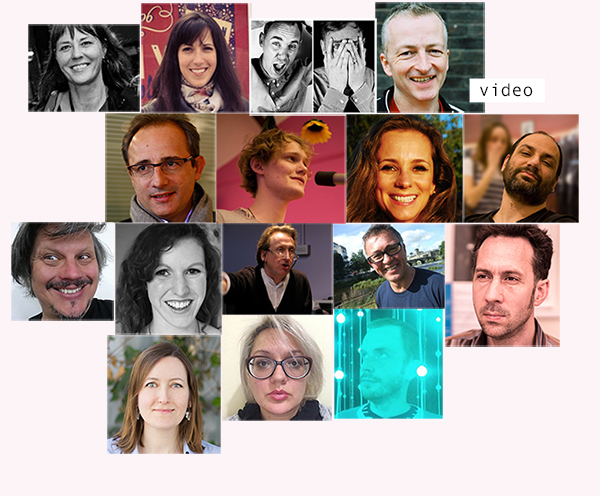 PROGRAMME
i) What can Zombies teach the Arts? 
Verity McIntosh
Pervasive Media Studio Producer, WATERSHED
Verity McIntosh is the Studio Producer at Watershed's multi-disciplinary R&D lab, the Pervasive Media Studio. She curates a vibrant mix of projects and events and works closely with a community of over 100 Studio residents, including artists, technologists, start up companies and academics. @veritymcintosh @PMStudioUK
Dan Eastmond
Managing Director, FIRESTATION ARTS & CULTURE
Dan is MD of Firestation Arts & Culture, a social enterprise based in Windsor, UK. Projects include The Firestation Centre for Arts & Culture, Lemonade Gallery, Beat Magazine & Fireythings.  Dan's writing on business models, cultural practice and future arts is much referenced in current debate and can be found via a number of magazines, Fireythings and his blog.
James Wheale
Director, UNDERSTORY & 2.8 hours later


Writer, Maker, Poet, Cook. Writer/Director for Slingshot; touring street games around the UK including 2.8 Hours Later, one of the largest street games in the world.
Understory is an immersive dining experience blending emerging technologies, animation, gastronomy and storytelling. Fascinated by interactive narratives. Maskboy is out on Burning Eye books.
Julian Sykes
Creative Director, YELLOBRICK
Julian is the creative director at yello brick. Co-founder of the award winning brand strategy company, Hoffi (which he still is a director). Julian regularly talks on branding, and brand as experience.  He is also co-creator of thinkARK a social design volunteer group which develop events and projects to highlight issues within society. More recently he has created a series of pervasive games with long time collaborator Alison John (producer of yello brick), which have gained recognition for their strength of narrative and immersive nature.
Mariana Bandarra
Transmedia Artist and Linguist
Based in Porto Alegre, Mariana Bandarra works across various media, in solo and collaborative projects that focus on resignifying urban rituals and harnessing the power of communities to transform public spaces. As a linguist with extensive experience in transcultural projects, she has published translations in fiction and applied arts.
ii) How can artists and gamers partner with Privately Owned Public Spaces (POPS) to engage audiences in new ways?
Adriana Marques
Head of Arts and Culture, QUEEN ELIZABETH OLYMPIC PARK
Adriana is a curator who has been delivering international projects in public spaces for the last 16 years. For the last five years she has been working on the Olympic Park commissioning permanent artworks throughout the landscape in the lead up to the 2012 Olympic and Paralympic Games, and now heads up the arts and culture strategy for the newly transformed Queen Elizabeth Olympic Park, which includes new art commissions and projects as well as supporting the cultural community of east London. 
John McGrath (video)
Artistic Director, NATIONAL THEATRE WALES
John is Artistic Director of National Theatre Wales, developing landmark, site-specific productions such as The Port Talbot Passion and Mametz as well as innovative intimate performances.  Recent directing work includes the award-winning The Radicalisation of Bradley Manning, and The Opportunity of Efficiency, with New National Theatre Tokyo. He is the author of Loving Big Brother: Performance, Privacy and Surveillance Space
John Sackett
Creative Director, BIG ADVENTURES
Founded in 2013, BIG Adventures is the brainchild of Creative Director John Sackett; and looks to combine innovative, original event concepts that deliver tangible results. BIG Adventures' core philosophy is to inject creativity into experiential campaigns that provide value to both the consumer and the client.  The team behind BIG Adventures has over 20 years of multi award-winning event experience, achieving huge success in the retail, public and business sectors, as well as an enviable address book of partners and suppliers across the UK.
Professor Jon Dovey
Professor of Screen Media, UNIVERSITY OF WEST ENGLAND
Director, REACT 
Jon Dovey is Professor of Screen Media in ACE.  Jon spent the first 15 years of his working life in video production, as a researcher, editor and producer in documentary and experimental video, co founding original scratch artists Gorilla Tapes in 1984. His current research practices are in Pervasive Media, Documentary Studies, Cultural Value, Creative Citizenship and Knowledge Exchange for Innovation. In 2008 he launched the Digital Cultures Research Centre at UWE, which he directed until 2012. He was a Knowledge Transfer Fellow at Bristol's Pervasive Media Studio from 2010 – 12, co-authoring the Pervasive Media Cookbook. In 2012 He became the Director of REACT (Research and Enterprise for Arts and Creative Technologies) one of four Hubs for the Creative Economy funded by the AHRC. Led by UWE and Watershed, REACT is an Arts, Technology, and Business Collaboration aiming to produce 60 innovative media prototypes in four years. He is also Co Investigator on the AHRC Connected Communities Creative Citizens Project where he leads a strand on the impact of informal creative economies on communities.
Roger Hartley
Artistic Director, BoSI (NPO Bureau of Silly Ideas)
Since the early 90's Roger has worked predominantly in the public realm, founding the Bureau Of Silly Ideas in 2002 and starting work on 'The Burst Pipe Dream' a large, long term project using theatrical practice and elements of circus, embedding them into real construction projects changing everyday machinery and situations into exciting possibilities. He is most well known for Sid N' Nancy the radio controlled wheelie bins. He is a specialist in making people laugh, smile and question the fabric of their reality.
iii) What can business model innovation look like for an increasingly digital and gaming culture?
Emma Quinn
Manager of Digital R & D Fund for the Arts, NESTA

She has over 16 years' experience working in the commercial digital media sector, the public arts sector and more recently in arts funding.   After completing her MA in Digital Arts at Middlesex University in 1997 Emma combined her interests in art and technology in a career that has included work at the Millennium Dome, The Institute of Contemporary Arts, OgilvyAction, The Wellcome Trust and the Esmée Fairbairn Foundation.
Giovanni Schiuma
Professor of Arts-based Management, INNOVATION INSIGHTS HUB (UAL)
Giovanni Schiuma is Professor of Arts-based Management and Director of the Innovation Insights Hub at University of the Arts London. He is widely recognized as one of the world's leading experts in the arts in business and strategic knowledge management. Giovanni holds also the title of Professor at Università della Basilicata (Italy) and visiting appointments with Universities in UK, Russia, Poland, Finland and Italy. He has a Ph.D. in business management from the University of Rome Tor Vergata (Italy) and has published more than 180 publications.
Carlos Idiart
Managing Director, Napalm Games Studio and Kayumo
Carlos Idiart is an entrepreneur, award-winning designer, transmedia artist and independent researcher based in Porto Alegre.  After over 10 years as a creative director and planner for advertising campaigns, Idiart shifted his focus to the game and education industries. He is currently managing director of Napalm Studio and Kayumo, developers of serious games, edutainement and entertainment games. A strong voice within the game design and innovation community, Carlos is president of ADJD-RS, innovation consultant and curator for Bits Global Conferences, and co-founder of the Thinkers Poa collective. He has vast experience in working with innovation networks, engaging various knowledge areas. 
Caroline Bucker
Design Thinker & Collaborative Leadership, IDEALIZA/THINKERS POA/D.THINK
Merging know-how and experience as a Design Thinker (for 5 years) and  as a Retail Consultant (for 18 years), Caroline is able to conduce multidisciplinary teams in companies at different market sectors to achieve  goals, sometimes unexpected ones that are more creative and align to the brand's purpose and help teams to build new brand experiences, now focused on the human side.
Debbi Lander
Former Creative Programmer, North West Cultural Olympiad


I work as a director and producer, operating in the UK and international arts, new media and cultural sector's since 1990. I am currently Festival Director of Encounters Short Film and Animation Festival in Bristol.  Formerly Creative Programmer for the London 2012 Cultural Olympiad (Northwest) and Programme Director of WE PLAY, the Northwest's cultural legacy programme for the London 2012 (2008 - 2012). In 2013 I worked with Stella Hall as a Freelance Creative Producer for Quays Culture at MediaCityUK producing a new outdoor arts and digital programme for Greater Manchester's Waterfront. 
iv) Explorations and provocations throughout the day
Eleanor Barett & Rosie Freeman
Toast Temple, The Brick Box
Toast has the power to transform and enhance our lives. It offers us peace, steadfast friendship, and strength in times of trial. Toast leads us to happiness.  We invited you to bathe in the presence of The Toast Temple, to rejoice in the golden majesty of The Slice and to share your devotion. After the conference The Toast Temple will be offering communion with Toast themed tots and buttery bites.
Will Dickie
DJ Alwayz Will 
Previously at Battersea Arts Centre, after dwelling in a cocoon-like Artist's Bedroom in a dark corner of Battersea Arts Centre for 6 months, DJ Alwayz Will emerged from the chrysalis and flew from tune to tune in the BAC Scratch Bar! Alwayz Will took listeners on a journey of musical vibration, from the depths of Battersea Arts Centre's archives to the rhythms of the future. Now specially invited to join the Toast Temple Bar, come share the air with friends, vibe to the sound and take in the atmosphere of the Chainstore.
Alastair Eilbeck 
Meyouandus 
Meyouandus is a media arts practice and organisation founded by Alastair Eilbeck and James Bailey. They create artworks that act as interventions in public spaces and encourage participation. Many of their works are site specific and all involve varying degrees of code, video and hardware.
FUNDERS: TRINITY BUOY WHARF TRUST AND ARTS COUNCIL ENGLAND.
PARTNERS: Centre for Performing Arts Development (CPAD/UEL), BoSI and NAPALM STUDIO.
SPONSORS: QUEEN ELIZABETH OLYMPIC PARK, WATERSHED, NATIONAL THEATRE WALES, ENCOUNTERS SHORT-FILM AND ANIMATION FESTIVAL, YELLOBRICK, BIG ADVENTURES AND DIGITAL CULTURES RESEARCH CENTRE (UWE). 
Do you have questions about ECONOMIES OF EXPERIENCE - An International Conference by ZU-UK?
Contact ZU-UK
When & Where

THE CHAINSTORE
Trinity Buoy Wharf
64 Orchard Pl
E14 0JY London
United Kingdom


Thursday, 6 November 2014 from 10:00 to 18:30 (GMT)
Add to my calendar
Organiser
ZU-UK is an established award winning independent theatre company based in East London and Rio de Janeiro since 2001. As a British company that has successfully maintained a satellite base in Brazil for over a decade, ZU has a strong track record of collaborating across cultures and artistic disciplines, delivering ambitious innovation with depth and integrity.
Our celebrated DRIFT methodology was created by the joint artistic directors in 2006 and spans 15 residencies in over 10 countries. Interactive exhibition HUMBLE MARKET was commissioned by LONDON2012, FACT Liverpool and presented by Brazilian Ministry of Culture World Cup Programme in 2014. The overnight immersive HOTEL MEDEA was the number 1 hit of Edinburgh 2011, won numerous awards, and was presented at both Hayward Gallery and LIFT2010.
ZU-UK believes in the transformative power of the human experience. As the world becomes more globalised we are increasingly losing the rituals and rites that bind us in worthwhile communion and we set out to purposefully give people tailor made experiences that connect us  with who we are and the essential desire to connect meaningfully. 
www.zu-uk.com