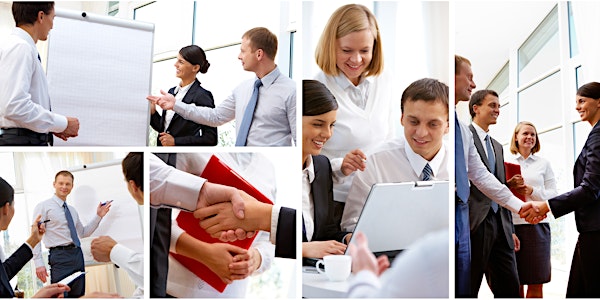 Economic Outlook for 2023 and the Effect on Business Valuation
Join us Feb. 1 for this CEO Exchange and hear an expert panel discuss the 2023 economic outlook.
Date and time
Wednesday, February 1 · 5:30 - 7:30pm EST
Location
Tower Club 100 SE 3rd Ave., 28th Floor Fort Lauderdale, FL 33394
About this event
Agenda — Networking, Expert Panel, Small-group Breakout, Panel Summation
The 2023 economic outlook has been unclear, forecasting recessionary impacts from mild to moderate and of uncertain duration. Simultaneously, inflationary pressure on business and consumer costs continue to ramp up. The panel will bring its own insights to these outlooks and how to manage assets in uncertain times. The panel will also focus on middle market business valuations, both recent and expected and what practices are best suited for realizing maximum business value regardless of the economy.
Event Hosted by CEO Nexus, GrowFL, and Nperspective
Albert Williams, Ph. D.
Dr. Williams is an Associate Professor at the Nova Southeastern University. He lectures at the Farquhar Honors Economics College. Dr. Williams will provide his insights on the 2023 economic outlook.

Riad Shanaway, CFP, CRPC
Riad is currently President of Myriad Capital, a position he has held for 12 years. His expertise is in Asset Management Strategy and Financial Planning. Riad advises on both business and personal wealth management.

Sheri Fiske Schultz, CPA, ABV
Sheri is currently Managing Partner at Fiske and Company. Her expertise is in Business Valuation and Business Pricing Disputes. Sheri provids expert witness and income tax advisory sevices for all forms of business transactions.

Michael Sluka, CPA, CMAA, MJS Advisors, LLC
Michael is a mergers & acquisitions advisor, business exit consultant, and fractional CFO. Michael will also serve as panel moderator.

Eric Ospina, Principal
Eric is a Principal with Nperspective CFO. Eric specializes in strategic planning, financial management, corporate governance, financing and funding.
~ ~ ~ ~ ~ ~ ~ ~ ~ ~ ~ ~ ~ ~ ~ ~ ~ ~ ~ ~ ~ ~ ~ ~
About CEO Nexus
CEO Nexus is committed to serving business owners and executive teams leading growth-oriented, second-stage businesses. Our facilitated peer roundtable program utilizes the CEO Nexus Content Model, which focuses on leadership, sales, operations, and finance. The program is structured to enhance Your Ownership Journey™.