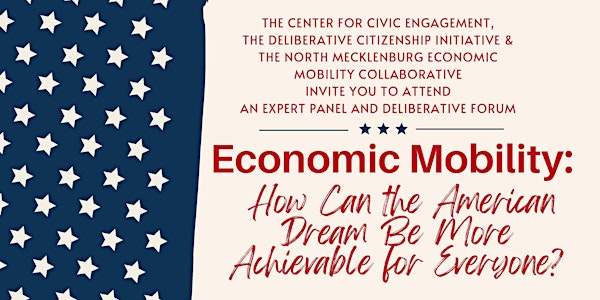 Economic Mobility Forum
Please join us February 15, 2022 from 7 to 9 pm for a virtual expert panel discussion followed by small breakout room deliberations!
About this event
The Davidson College Deliberative Citizenship Initiative, Davidson College Center for Civic Engagement, and North Mecklenburg Economic Mobility Collaborative invite you to join us for an online deliberative forum to discuss Economic Mobility: How Can the American Dream Be More Achievable for Everyone?
In November 2020, Harvard-based research group Opportunity Insights, led by Professor Raj Chetty, issued a report ranking Mecklenburg County 96th overall among the nation's 100 largest counties for upward economic mobility. This came after a 2013 study from the same researchers named Charlotte last in economic mobility among the 50 largest metro areas in the United States. Nationally, people across the United States are beginning to question the concept of the American dream as income inequality rises, poverty deepens, and access to education and healthcare opportunities appear unequally distributed.
If the American dream does exist, how might we begin to understand this abstract concept? In our everyday lives, how do we define this idea of economic mobility, and what different ideas have been proposed to make it more achievable for everyone?
This DCI Deliberative Forum will enable participants to explore these important questions, first by hearing from a panel of three leading experts on this issue, and then by actively deliberating with one another in facilitated small group discussions on how best to understand and pursue economic mobility. This is a fantastic opportunity to learn from experts, listen to the perspectives of others, and share your own ideas about economic mobility.
We request that all registrants plan to attend both the panel and the small group discussions – the panel and small groups are designed to complement each other. Spaces are limited due to the number of trained DCI facilitators we have available to moderate the small group discussions. You may be placed on a waitlist if our capacity is reached; we will let you know if spaces open up. We will do our best to accommodate as many people as we can so please don't hesitate to get on the waitlist.
Panelist Bios:
Sherri Chisholm is the Executive Director of Leading on Opportunity, a local non-profit organization created in 2017 that is dedicated to ensuring that "within a generation every child in Charlotte-Mecklenburg will have an equal chance to achieve social and economic success." Ms. Chisholm joined the organization in 2020, after serving as the founding Executive Director of Urban Alliance Detroit and founder and CEO of FreeSpace Consulting Group. Holding master's degrees in education from Harvard University and the Broad Center for the Management of School Systems, Ms. Chisholm has worked as a management consultant and has also held leadership roles with Teach for America, the School District of Palm Beach County, FL, and the Fulton County School System in Metro-Atlanta.
Kieth Cockrell is the President of Bank of America Charlotte and also leads Bank of America's efforts to leverage its resources to address social and economic concerns, build strong communities, and support the health and safety of its employees. He has worked at Bank of America for 28 years in leadership positions related to consumer and small business services, global technology and operations, and customer service. Mr. Cockrell has also served as vice chair of the bank's Global Diversity and Inclusion (D&I) Council and received two D&I awards within the company. A current member of Davidson College's Board of Visitors, he has also been an active community leader and has served on the boards of multiple local organizations, including My Brothers Keeper (Charlotte-Mecklenburg), the Charlotte Regional Business Alliance, and the United Way.
Patrick Garry is a professor at the University of South Dakota's School of Law and Director of the Hagemann Center for Legal & Public Policy Research. The author of over 40 scholarly articles and 22 books, Professor Garry has spoken and published extensively on poverty, limited government, and conservatism, including his books, The False Promise of Big Government: How Washington Helps the Rich and Hurts the Poor and Conservatism Redefined: A Creed for the Poor and Disadvantaged, and his essays, "Conservatism and the Real Problems of Income Inequality" and "Education as the Key to Opportunity and Upward Mobility." Dr. Garry has also served as a visiting scholar at Columbia University's School of Law and earned his JD and PhD from the University of Minnesota.