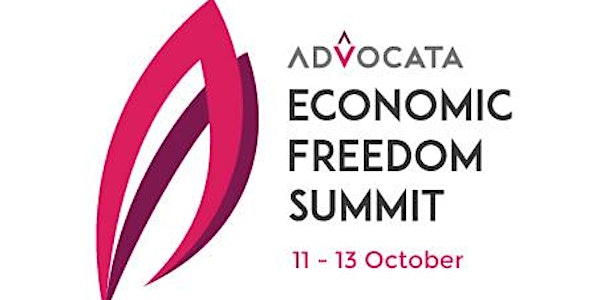 Economic Freedom Summit
When and where
Location
Colombo Colombo, WP Sri Lanka
Description
The Advocata Economic Freedom Summit brings together leading thinkers and doers to deliberate on the state of economic freedom in Sri Lanka. In three separate events they will discuss, debate and contemplate on ideas on how to improve levels of economic freedom in Sri Lanka and to provide audit of Sri Lanka's ratings on the acclaimed Economic Freedom of the World Index
Visit on www.efsummit.advocata.org for more details
Day 1 : Kick Off Event - Panel Discussion Has the Open Economy Worked in Sri Lanka?
Join us for a panel featuring Chanuka Wattegama and Vinod Moonasinghe on whether the Open Economy has worked in Sri Lanka.

Wednesday, 11th October 5.30 PM - 7.30 PM
Location:Hotel Nippon Colombo 123 Kumaran Ratnam Rd, Colombo 00200 (Directions on Google)
Day 2 : Breakfast Meeting - Economic Freedom : a Framework for Prosperity
Join us for some breakfast and see the Sri Lanka launch of the Economic Freedom of the World report. Sepcial presentation by Fred McMahon on Sri Lanka's standing in the index. Keynote speeches by Anushka Wijesinha and State Minister Eran Wickramaratne.

Thursday, 12th October 7.30 AM - 9.30 AM
Location: Global Towers Hotel. Marine Drive, Colombo 06, Sri Lanka (Directions on Google)
Followed by Private discussions with policy experts (Invitees only)
10 AM Onwards - Invitee Only Economic Policy Audit
Day 3: ශ්‍රීලංකාව සහ ආර්ථික නිදහස (Sinhala Event on Economic Freedom)
Friday, 13th October 5.30 PM - 8 PM
Location: The LightHouse Auditorium @ LKI 24 Horton Place, Colombo 07 (Directions on Google)
Speakers - Prof Rohan Samarajiva, Prof Sirimal Abeyratne, Hon. Sarath Amunugama and Hon. Ajith P Perera.