Economic Forecast and Business Opportunities in China 2021 - 2022
FPCI Exclusive Briefing: "Economic Forecast and Business Opportunities in China 2021-2022"
About this event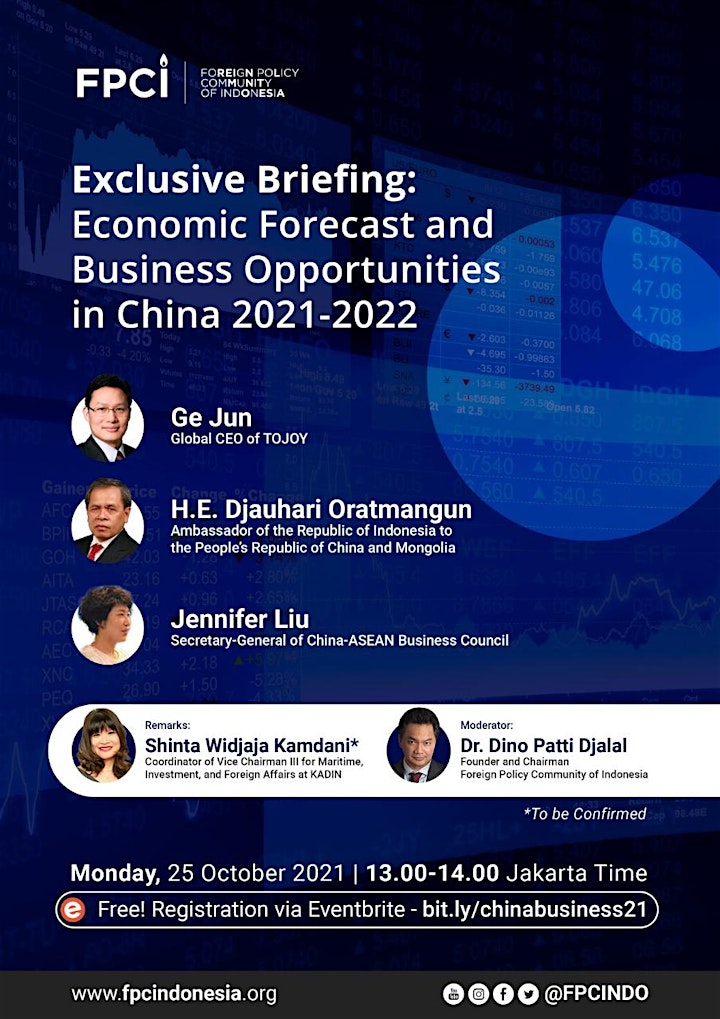 FPCI invites all entrepreneurs, business practitioners, investors, and all our network to attend an exclusive briefing entitled "Economic Forecast and Business Opportunities in China 2021-2022" The event will be held on Monday, 25 October 2021 at 13.00-14.00 WIB (Jakarta Time).
The forum will feature:
Remarks:
Shinta Widjaja Kamdani, Coordinator of Vice Chairman III for Maritime, Investment, and Foreign Affairs at KADIN*
Speakers:
Ge Jun, Global CEO of TOJOY
H.E. Djauhari Oratmangun, Ambassador of the Republic of Indonesia to the People's Republic of China and Mongolia
Jennifer Liu, Secretary-General of China-ASEAN Business Council
Moderated by:
Dr. Dino Patti Djalal, Founder and Chairman of Foreign Policy Community of Indonesia
We look forward to seeing you at the forum!
*in confirmation
Organizer of Economic Forecast and Business Opportunities in China 2021 - 2022