Description
The month of March is the United Nations' second-annual Women's Economic Empowerment Panel where "eminent experts highlight the interactions between economic growth and gender to galvanize political will and leadership to implement the UN's Sustainable Development Goals"
Damsels in Design is pleased to participate in this dialogue by inviting our own panel of experts to discuss why it is important to take charge of your financial future and how to increase your chance of success in the workplace as you progress through your career. We look forward to sharing strategies to financially empower women in how to build their bank accounts, invest in their 401K and other financial vehicles, and how to prepare for emergencies.
About our Panel: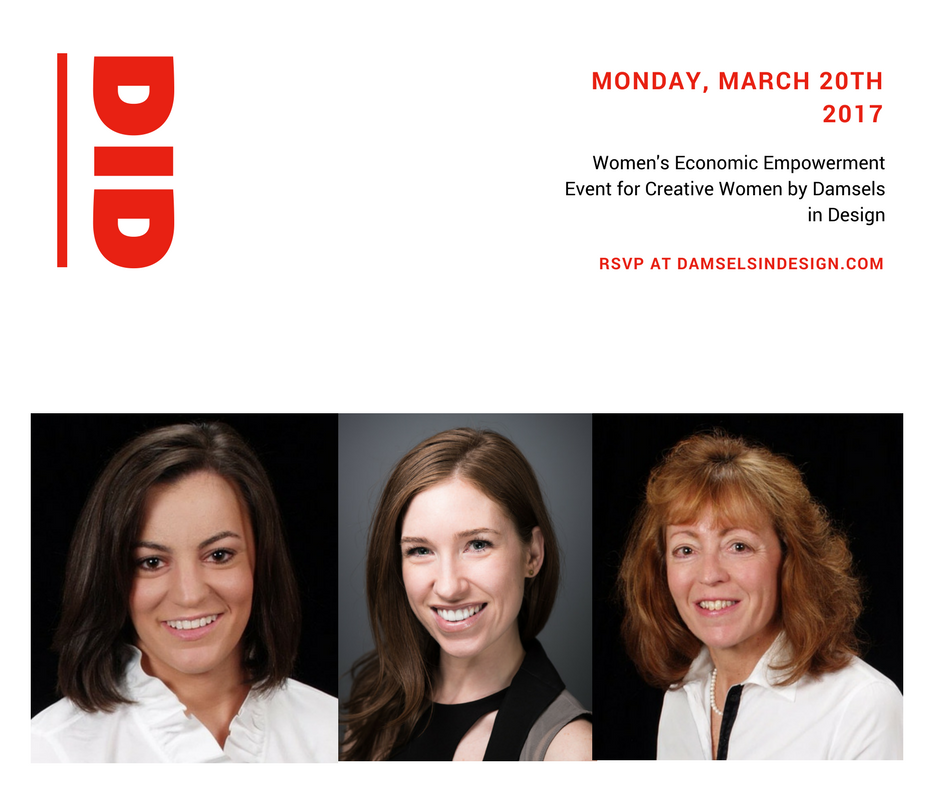 According to the US Department of Labor, the average length of time someone stays in a job is 3-5 years, and it's even shorter for those from 18-35. As you navigate along your career path, you will need the skills and education to make smart and empowered decisions, from negotiating your salary to understanding the investment options in your 401k.
Cindy Newman has been a Financial Advisor with Morgan Stanley since 1982 focusing on financial planning for corporations and individual investors. Cindy began her career on Wall Street in 1978 with Oppenheimer & Company. As a Senior Vice President of Wealth Management, Cindy helps advise corporations in establishing and maintaining retirement plans. Additionally, Cindy has focused her business on helping to empower women to achieve their financial independence. Cindy served on the Monmouth University Planned Giving Council Advisory Board and was a Trustee of Big Brothers Big Sisters of Monmouth County where she currently serves on the Community Development Committee. Cindy is a guest instructor for PACE, a nonprofit program that seeks to educate high school aged minority students in Science and Math. She also serves as a mentor in the college bound program for the Monmouth County Boys & Girls Club. Cindy graduated with a Bachelor of Arts in Management with a minor in Accounting from Cedar Crest College, Allentown, PA where she serves as a member on the Board of Trustees. Cindy is married with 3 daughters, and splits her time between her apartment in Manhattan and her home on the Jersey Shore.
Morgan Newman focuses on educating the next generation of the responsibilities that come with the attainment of wealth. She manages the technology and marketing, including social media, for the Newman Group. Prior to joining Morgan Stanley, Morgan worked in international development and government relations in Washington, DC. She earned her Bachelor of Arts degree in Economics with minors in Mathematics and International Politics from Bucknell University in Lewisburg, PA. Morgan is a member of the Omicron Delta Epsilon International Economic Honor Society and is Series 7, 66, and Life and Health Insurance licensed. She is the President of the NYC Chi Omega Alumnae Chapter, Vice Chair of the ORT NYC Next Gen Board and a competitive member of CrossFit Dynamix. She lives in Astoria and is an avid traveler, having visited 14 countries including South Africa, Nicaragua, Israel, and Brazil.
Allegra Brantly is the Head of Partnerships and Marketing at the Financial Gym, a female led fintech startup putting the 'personal' back in 'personal finance' and offering affordable financial planning services to all, with a focus on women. She's was formerly the Global Partnerships Director at international fashion tech summit series, Decoded Fashion, where she discovered emerging b2b tech startups innovating the fashion, beauty and retail space. Allegra is also an entrepreneur, having founded women's luxury loungewear brand, A.MOAY, creating custom robe, turban and eyemask sets for the modern women. Her background also includes working for The Estee Lauder Companies in Global Digital Marketing across their 28+ brand portfolio and has done various strategy and social media consulting for startups and fashion brands. She's most passionate about empowering women to realize and achieve their full value potential and is on a mission to inspire 100K women to do just this. Hailing from an eclectic upbringing spanning LA, Asheville, Miami, the DC area, Charleston and Brazil, she found her home in NYC in 2010 and has been trying not to steal busy New Yorker's dachshunds ever since. Allegra is an avid traveler, podcast enthusiast and story-teller who loves a good laugh that leaves you breathless.


---
2 is the Maximum Number of Tickets Per Order.
THIS EVENT IS NON-REFUNDABLE.