Economic Development & Workforce Updates at the November General Membership Meeting

Thursday, November 15, 2018 from 10:00 AM to 12:00 PM (EST)
Event Details
You're invited to the General Membership Meeting of the 
Council for Workforce Development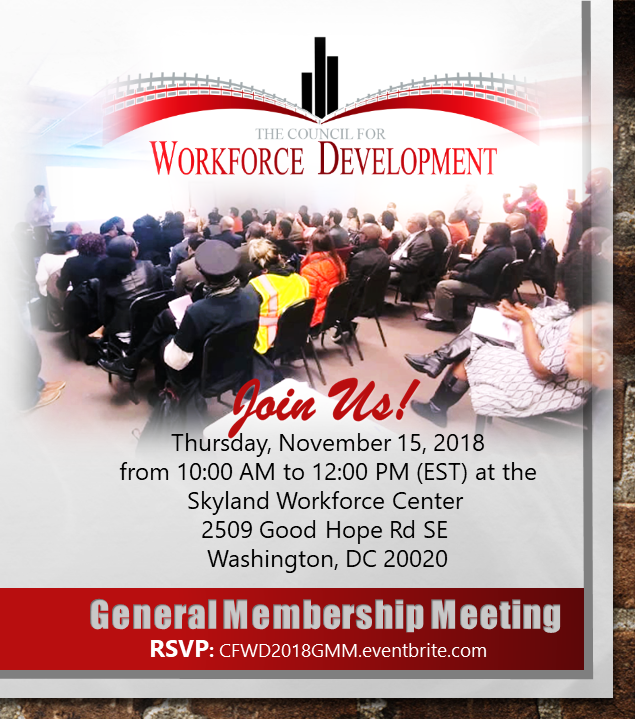 FEATURING:
Upcoming Major Projects at St. Elizabeth's w/ DMPED 
Upcoming Training Opportunities at Skyland Workforce Development

DOES First Source Compliance

Upcoming Transportation Projects w/ Fort Myers Construction

Upcoming Housing Developments w/ Red Brick

Thursday, November 15, 2018
10 am- 12:00 pm
Skyland Workforce Center

2509 Good Hope Rd SE
Washington, DC 20020
(Plan to arrive at 9:30 to park and check in to location.)
Take your business to the next level and stay informed of Councilmember Trayon White's Economic Development & Workforce Committee. 
Learn how to Comply with federal aid contracts & hire local residents. Keep informed about these transportation & infrastructure project that lead to major land developments East of the River.
**Guest of the Skyland Workforce Center can park in the neighborhood along the 2300 block of 25th street SE, and along 2600 block of Naylor road. Do not park in the McDonald's lot! Additional parking is also available in the Safeway shopping center. This site is also accessible by the following Metro Bus lines: 30S, 32, 34, 92, W2, W3, W4, W6, W8, DC Circulator Potomac Ave/Skyland, V5 & D51. See you there.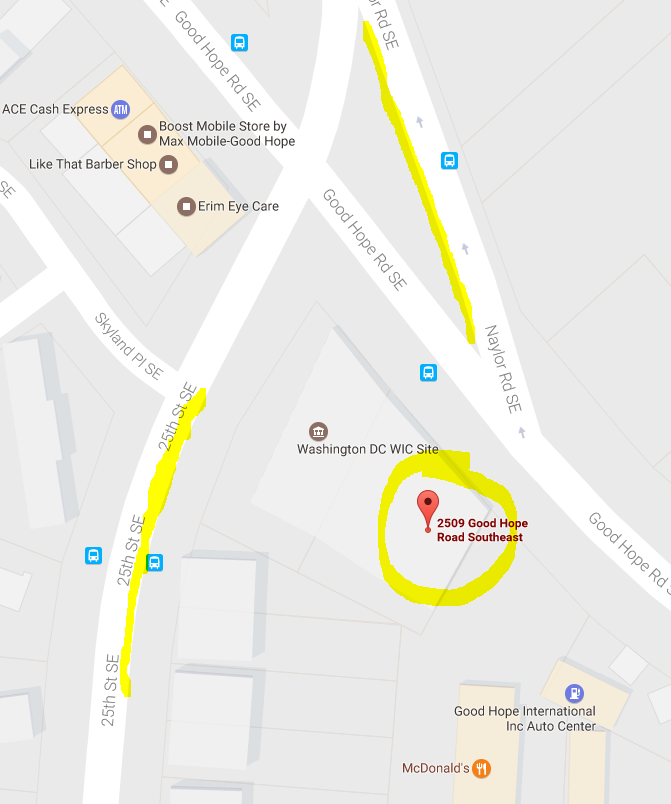 Project Reference:
DMPED - http://stelizabethseast.com/development-overview/
https://dmped.dc.gov/page/st-elizabeths-east-parcel-15-request-proposals-rfp
https://www.steapts.com/
Skyland Workforce Development - https://www.skylandworkforcecenter.org/
Red Brick - http://columbianquarter
DDTOT / GSA - (Project Fact Sheet) - https://www.improving295dc.com/
http://www.anacostiacc.org/uploads/1/2/8/9/12892898/20180614_malcolm_x_fact_sheet.pdf

https://ddot.dc.gov/sites/default/files/dc/sites/ddot/page_content/attachments/DDOT%20DBE%20Application%20Packet%20-%20Effective%209.20.2017.pdf
https://ddot.dc.gov/sites/default/files/dc/sites/ddot/page_content/attachments/20150908_South%20Capitol_SEP%2014_Local%20Labor%20Hiring%20Preference.pdf
DOES - https://does.dc.gov/sites/default/files/dc/sites/does/page_content/attachments/First%20source%20program%20info_factsheet.pdf
Community Updates - http://www.trayonwhite8.com/
Carnegie Mellon Report - https://drive.google.com/file/d/1cPi-kX-dYNeuja5kOk6okDwpAlVBTQTs/view
When & Where

Skyland Workforce Center
2509 Good Hope Rd SE
Washington, DC 20020


Thursday, November 15, 2018 from 10:00 AM to 12:00 PM (EST)
Add to my calendar