President, Chief Executive Officer and Alternate Governor Arizona Coyotes Hockey Club
About this event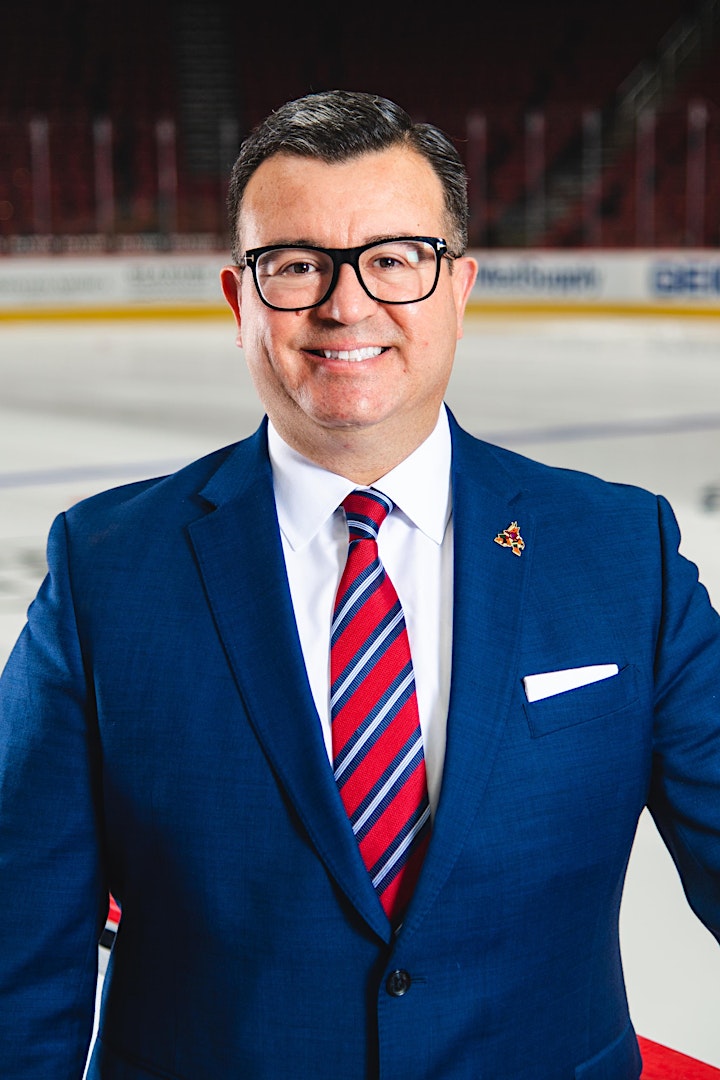 Xavier A. Gutierrez serves as President, Chief Executive Officer and Alternate Governor of the Arizona Coyotes Hockey Club. In this role, Mr. Gutierrez oversees all business operations, strategic planning, significant organizational decision-making, and public affairs for the club. He is the first Latino President & CEO in the history of the National Hockey League.
Mr. Gutierrez has a 25+ year career as a business executive, investor and dealmaker focused on investment management, corporate strategy & operations, finance, and business development. Previously he was Managing Director at Clearlake Capital Group (a private investment firm with $39 Billion+ institutional capital). Prior to Clearlake, Mr. Gutierrez served as Chief Investment Officer of Meruelo Group (Alex Meruelo family office/management company), and President & Chief Investment Officer of Meruelo Investment Partners (investment affiliate). Mr. Gutierrez was also Principal & Managing Director with Phoenix Realty Group (a national real estate private equity firm with $1 billion equity capital). In addition, Mr. Gutierrez has worked at Latham & Watkins, Lehman Brothers, and the National Football League Office.
A dedicated philanthropist and corporate leader, he serves on multiple boards and advisory councils. Mr. Gutierrez is currently a Shareholder and Board Director of Commercial Bank of California (CBC), the largest Latino-owned bank in California with over $1.5 billion in assets. He also serves on the board of ARCTOS Northstar Acquisition Corp (NYSE: ANAC), Janus International Group (NYSE: JBI), and Trinitas Capital Management (a privately held credit investment manager).
Mr. Gutierrez is currently a Board Director and on the Investment Committee for the Arizona Community Foundation (ACF), on the Board of the National Association of Investment Companies (NAIC), a Member of the Board of Regents at his alma mater, Bellarmine College Preparatory, and on the Advisory Boards of both the Aspen Institute Latinos & Society Program and the Hispanic Scholarship Fund.
In 2020, Mr. Gutierrez co-founded and currently serves as Board Chairman of SUMA Wealth, an innovative financial technology company focused on eliminating the Latinx wealth gap by engaging, educating, and empowering this cohort through culturally relevant content, financial tools and services.
Mr. Gutierrez previously served as a voting member of the U.S. SEC Advisory Committee on Small and Emerging Companies and was a board member for several organizations including Sizmek, Inc. (NYSE: SZMK), the U.S. Hispanic Chamber of Commerce, the California Community Foundation, and the Southern California Public Radio (2016-2019).
Mr. Gutierrez is a proud graduate of Bellarmine College Preparatory, an all-boys Jesuit high school in San Jose, California. He received his Bachelor of Arts cum laude in Government from Harvard University, and his Doctor of Jurisprudence from Stanford Law School. He, his wife Jericca, and son Xavi live in Paradise Valley, Arizona.
The Economic Club of Phoenix (ECP), the premier speaker series in the Valley, hosts leaders from some of the best-known and most influential companies in the world — leaders who will share their expertise with you. Past ECP speakers have been from successful organizations such as Starbucks, NCAA, Deloitte, McKesson, Humana, and Whole Foods. ECP offers insights for your company and your career, and gives you the opportunity to network with professionals from across the business community.