Sales Have Ended
Registrations are closed
Registration for this eCommerce Campfire is closed. But don't be sad... there will be another! Make sure to keep an eye out for updates and future events.
Sales Have Ended
Registrations are closed
Registration for this eCommerce Campfire is closed. But don't be sad... there will be another! Make sure to keep an eye out for updates and future events.
About this Event
The eCommerce industry is constantly changing. As soon as we feel we have it all down, we are faced with a new reality that we must adapt to. Sometimes, as a retailer, it's a challenge to keep up with all of the latest and greatest.
At this eCommerce Campfire, we want to focus on the future—an opportunity to speak with peers and industry experts to learn what others in the eCommerce industry are doing to prepare for what's to come.
At this eCommerce Campfire we will explore:
The current state of the eCommerce Industry
Key trends to watch for in the 2019 Holiday season
The future of eCommerce in 2020 and beyond
Ask our panel of industry experts what you are dying to know, then network and learn with other business owners and industry pros over drinks and good food in a casual and conversational environment.
This is a chance for you to spark or rekindle your flame for eCommerce, and get excited about your brand. Not to mention the free merch you'll get to take home.
Here's how it's goin' down:
6:00-6:30 PM: Come on in, grab a drink or some food, and get settled.
6:30-7:15 PM: Enjoy an engaging Panel discussion with industry experts.
7:15-9:00 PM: Enjoy networking, food, and drinks.
Sound awesome? We thought so. Sign up now, space is limited.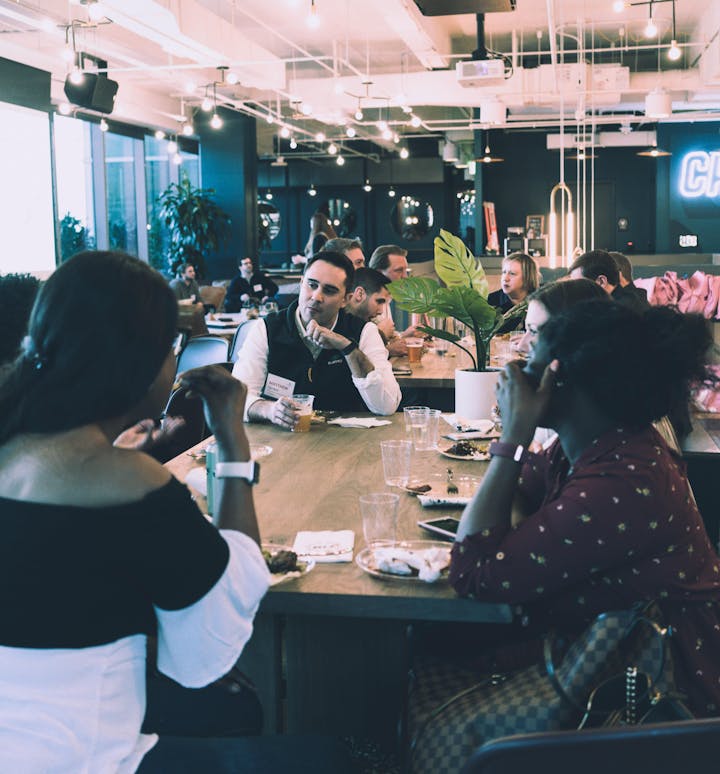 Meet Our Speaker & Panelists
Learn from some of the most experienced experts and don't worry about getting lost along the way. Here are our guides:
Kali has over 14 years of experience in the eCommerce industry. From running her family's eCommerce store to managing eCommerce growth for an international retail brand, she has been there and done that. Now, she's the Marketing and Partnerships Director at Gauge, where she drives strategies for growth not only for Gauge, but for the clients they work with.
Daniel has been Technology Director of Gauge for 12 years. For over 20 years he has been developing sites and applications both domestically and internationally. He brings a deep expertise in complex eCommerce systems & data architecture, analysis, and operations. Daniel and his team at Gauge have guided global brands such as eBay, Swarovski, Rebecca Minkoff, and Southern Tide through some of their most complex eCommerce challenges.
Carly Horn is Head of Partnerships at Simplr where she works with the growth team to drive new business for both Simplr and their partners with goal of ultimately providing the best experience possible for their customers. Prior to joining Simplr she built out successful partner programs for several other SaaS companies in the email marketing and loyalty spaces working with a wide range of brands in various verticals.
Joe has a strong foundation in a broad range of technology disciplines. He has spent many years managing eCommerce and interactive marketing technology. Joe has successfully created, implemented, and managed sales and marketing strategies for many enterprises of all shapes and sizes with a specific emphasis on ecommerce. This experience allows him to offer a great deal of value when working within the sales and marketing universe for ecomm brands. Joe adds value to many types of organizations, aligning revenue goals with strategies, services, and solutions to maximize ROI.
Ben Paull is a Senior Product Specialist at Klevu in their US office. He has a record of successfully guiding E-commerce businesses of all sizes across the country on the importance of an intuitive site search. Before joining Klevu, Ben found his experience in the SaaS space at marketing automation company, ClickDimensions.
Jon Knott has been with the ShipBob team for two years and leads training and enablement for all technology and ecommerce agency partners. Prior to joining the ShipBob team, Jon worked for food delivery & logistics company Order Up and led sales training & development programs at Groupon.
Steve is an entrepreneur & Co-Founder of Smile.io, where he has helped 25,000+ businesses create engaged communities using reward programs. Steve has over 10 years experience in ecommerce. In his past, Steve has co-founded an ecommerce store & an ecommerce consulting agency. Steve's passion is finding & launching projects to grow a business. In his current role, Steve is building the Smile partner platform.
After serving in numerous sales and leadership roles in the software/technology and B2B services sectors, Matt Davis currently leads Avalara's eCommerce sales group. Avalara is a leading cloud-based software platform provider that delivers a broad array of automated compliance solutions related to sales tax and other global transaction taxes, such as VAT (value-added tax). With over 700 ERP, Shopping Cart, CRM and billing technology integration options, Avalara's mission is to become a part of every sales transaction in the world.
The Sponsors
Gauge is an eCommerce Design & Development agency based out of Savannah, GA. We collaborate closely with eCommerce retailers to help them build successful businesses. With our focus on strategy, we have helped worldwide brands such as Atelier Swarovski, Southern Tide, STX, and many more to grow their businesses.
Simplr can start responding to your company's chats, emails, and DMs in a matter of hours, not weeks, thanks to our AI-assisted, human-accomplished solution. Our network of U.S.-based Simplr Specialists is available on-demand 24/7 to answer your store's emails and live chats. Our pay-what-you-use model tackles your most pressing problems - whenever you need us. Simplr is the leading customer service outsourcing solution for premium brands delivering wow moments to your customers.
Emarsys is the only marketing platform that knows your industry. With embedded, industry-specific turnkey solutions, our software enables truly personalized, one-to-one interactions between marketers and customers across all channels — building loyalty, enriching the customer journey, and increasing revenue. This enables companies to scale marketing decisions and actions far beyond human capabilities.
Klevu is an intelligent site search solution designed to help eCommerce businesses increase onsite sales and improve the customer online shopping experience. Klevu powers the search and navigation experience of thousands of mid-level and enterprise online retailers by leveraging advanced semantic search, natural language processing, merchandising and multi-lingual capabilities, ensures that visitors to your site find exactly what they are looking for regardless of the device or query complexity.
Avalara helps businesses of all sizes get tax compliance right. In partnership with leading ERP, accounting, ecommerce, and other financial management system providers, Avalara delivers cloud- based compliance solutions for various transaction taxes, including sales and use, VAT, excise, communications, and other indirect tax types. Headquartered in Seattle, Avalara has offices across the U.S. and around the world in the U.K., Belgium, Brazil, and India.
Smile.io is the world's largest and most trusted loyalty program provider, focusing on a simple but powerful way to reward your customers.
ShipBob offers simple, fast, and affordable 2-day fulfillment for ecommerce businesses. With a network of fulfillment centers across the United States, ShipBob lets you split inventory across locations to reduce shipping costs and time in transit. ShipBob's software seamlessly integrates with the leading ecommerce platforms such as Shopify, BigCommerce, and Amazon to automatically fulfill orders as they are placed online. Learn more at shipbob.com.
The Space
Fat Bottom Brewing started with a man and a dream. Starting with a hobby and passion for brewing Ben Bredesen honed his expertise in the skill and science of beer-making through countless hours slaving over vats of steaming grains. Although Ben had a successful career in software, his ultimate goal was to own and operate his own business. After some serious evaluation, he knew he wouldn't be happy unless he turned his home-brewing hobby into a full-time career. In 2011, he leased a space in East Nashville and started Fat Bottom Brewing.
Opening its doors in August of 2012, and as East Nashville's first brewery, Fat Bottom Brewing quickly became a neighborhood favorite. The recipes were developed from Ben 's time as a home brewer, and scaled up to fit the newly installed 15 barrel brewhouse.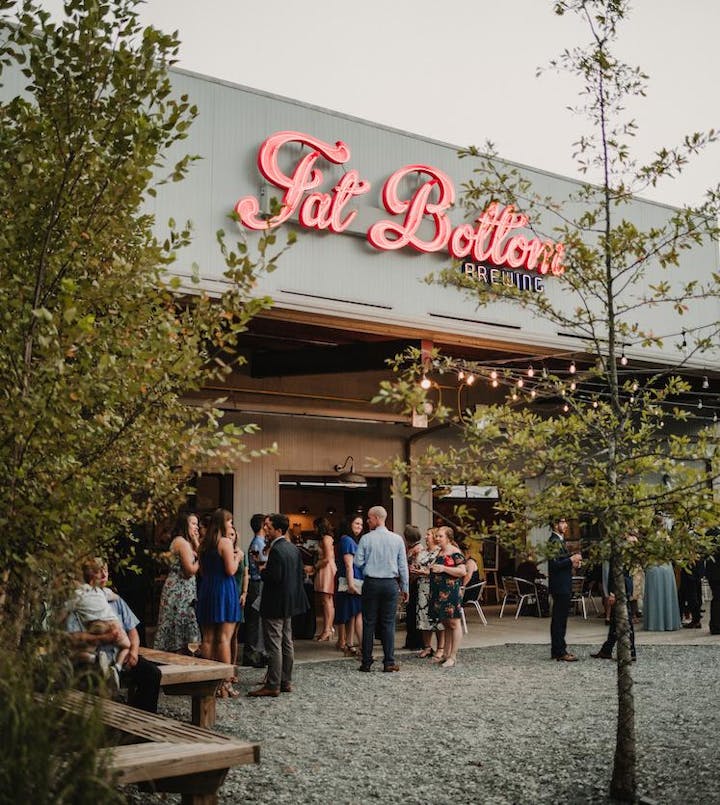 Terms & Conditions
Registration for this exclusive event is limited.
Retailer only event.
Schedule is subject to slight changes.