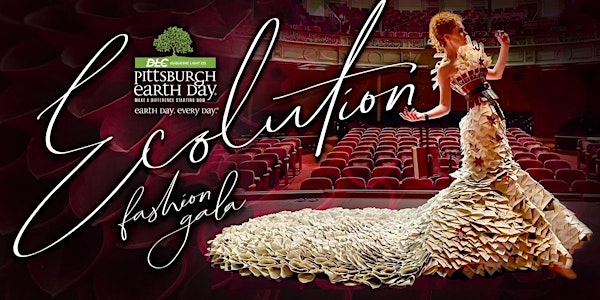 Ecolution Fashion Gala
A one-of-a-kind sustainable fashion gala, presented by Duquesne Light. VIP 6:00 pm | Doors 7:00 pm | Main event 8:00 pm - 10:00 pm | 21+
Date and time
Wednesday, June 7 · 6 - 10pm EDT
Location
Carnegie Museum Music Hall Foyer 4400 Forbes Avenue Pittsburgh, PA 15213
Refund Policy
Contact the organizer to request a refund.
Eventbrite's fee is nonrefundable.
About this event
"The Unseen World"
Join us on Wednesday, June 7, 2023 for the Ecolution Fashion Gala, an exquisite, one-of-a-kind evening of sustainable designs and innovative styles.
Ecolution invites designers and artists to create couture fashion through the use of sustainable, recyclable, and organic materials. This breathtaking eco-fashion show and sustainability gala will feature models from Docherty Model and Talent Agency gracing the runway, donning hand-crafted fashion designs that local artists design and create utilizing reused and recycled materials. These stellar environmentally savvy ensembles address the environmental issues facing our planet.
Later in the evening, Leah Lizarondo, Founder of Food Rescue Hero®, transformative technology that turns food rescues into movements, will be awarded the inaugural Model Citizen award.
Each year, the Ecolution Fashion Gala showcases incredible artists from a wide range of mediums. If you've attended this gala in the past, you're sure to see something new this year as our artists continue to challenge themselves to create truly sustainable pieces. 
This year's featured designers include: Christine Bethea, Terry Boyd, Claudia Brownlee, Brian David, Virginia Nicoll-Hernandez, James Houk, Glendon Hyde, Anika Ignozzi, Darrell Kinsel, Michael Nolan Kouri, Mila Muchnok, Mossy Lane, Randal Miller, Bradford Mumpower, Lana Neumeyer, Karen Page, Suz Pisano, Pearlann Porter, Charlotte Reichman, Rell Rushin, and Brandy Wank.
Graphic Design and Event Production by The Green Voice Collective. Encyclopedia Dress Photo is courtesy of Brian David
Guests can enjoy music by DJ Soy Sos and a special dance performance choreographed by American icon, Kyle Abraham. The entertainment continues with special appearances in the VIP lounge. Special performances by Kierra Drashell, The First Lady of Pittsburgh Drag, and artist Claire Hardy, who strives to bring a traditionally modern feel to her art using vibrant color and texture in decidedly familiar compositions.
For full event details, please visit bit.ly/ecolution23
This year's gala will be co-emceed by the Green Voice's Natalie Bencivenga and Brian Siewiorek.
Tickets include:
VIP (includes a runway seat, vegetarian appetizers, 2 Signature Finlandia Cocktails, and an exclusive Artist Meet and Greet) | $175
General Admission Plus (includes a runway seat) | $100
General Admission Standing Room | $50
Proudly sponsored by: Duquesne Light, UPMC Health Plan, Pitt Ohio, Mitsubishi Electric, Carmeuse, Pittsburgh Regional Transit, Covestro, Diehl Automotive, S&B USA Construction, The Skin Center, Caesar's Designs, Carnegie Museums, Eons, Izzazu, Finlandia Vodka, Docherty, Oakland Business Improvement District, Ditto, Audacy, Pittsburgh Magazine, and the City of Pittsburgh.
Host Venue Sponsor: Carnegie Museum
The 9th Annual Ecolution Fashion Gala will be held at the Carnegie Museum Hall of Architecture and Carnegie Museum Music Hall.
This one-of-a-kind eco-fashion show and sustainability gala will feature models gracing the runway, donning hand-crafted fashion designs that local artists design and create utilizing reused and recycled materials.
The fashion show will be curated on the runway by the masterful Richard Parsakian, with hairstyles and makeup for the show designed by Izzazu Salon, Spa & Serata.
Guests can enjoy a Signature Finlandia Cocktail, the sounds of a local DJ, and a special dance performance choreographed by Kyle Abraham.
[Kyle Abraham photo by Tatiana Wills]
Pittsburgh native, Kyle Abraham is a renowned American choreographer and dancer. He founded his own company A.I.M by in 2006 in New York City and has produced many original works for A.I.M such as The Radio Show, Absent Matter, Pavement, Dearest Home, Drive, INDY, Studies on Farewell, and An Untitled Love. Kyle has also been commissioned to create new works for international dance companies such as Untitled America for the Alvin Ailey American Dance Theater, The Runaway for New York City Ballet, The Bystanderfor Hubbard Street Dance Chicago, Only The Lonely ) for Paul Taylor American Modern Dance and Ash.
A special VIP reception Meet and Greet with Artist Claire Hardy will be held in the Carnegie Museum Hall of Architecture from 6-7:30 p.m.
VIP, General Admission, and General Admission Plus tickets are on sale now. A cash bar will be available.
This annual event features a runway fashion show that highlights recycled and reused materials designed exclusively for Pittsburgh Earth Day. Local designers share their creations accompanied by local music performances.
Guests celebrate with plant-forward hors d'eoeuvres and a signature cocktail featuring Finlandia Vodka.
THE ECOLUTION FASHION GALA IS PROUDLY SPONSORED BY:
Agenda
7:00 PM
General Admission Doors Open
8:00 PM - 10:00 PM
Ecolution Fashion Gala
Frequently asked questions
Is this an all ages show?