Ecology of Education with Dr. Yoshie Nakamura
Description
The Role of Reflection on the Adult Brain
featuring Dr. Yoshie Nakamura, Assistant Professor of Human and Organizational Learning
Brain imaging technology helps us better understand the neurophysiology of learning by illuminating how the adult brain works and how learning takes place from a neuroscience perspective. During the next installment of the Ecology of Education series, Dr. Yoshie Nakamura will share her on-going interdisciplinary research study, "the role of reflection on the adult brain."
Challenging situations--such as ethical dilemmas at work--require reflection at both the cognitive and emotional levels for individuals to react appropriately. The study examines how reflection individually or collectively impacts brain activity during these moments from a biological and neurological perspective. She will share the challenges and facilitating factors in conducting this neuroscience-based study as well. The lecture provides an opportunity for participants to think critically about the current and future state of the interdisciplinary, emerging area of neuroscience-based adult learning research and practice.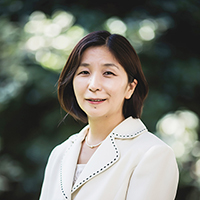 Dr. Yoshie Tomozumi Nakamura is an Assistant Professor of Human and Organizational Learning at GW's Graduate School of Education and Human Development (GSEHD). Dr. Nakamura researches the mind, brain, and behavior of adult learners, focusing on reflective practices, leadership values development, and women's leadership development. She is an awardee of the University Facilitating Fund FY2020 to support her on-going research on the impact of reflection on the adult brain. She is also working as a lead editor of a book about Japanese women in leadership.
Prior to joining the GSEHD faculty, Dr. Nakamura served as an Adjunct Assistant Professor at Teachers College, Columbia University. She also worked as Head of Academic Learning and Neuroscience at Columbia Business School's Executive Education department where she directed the Neuroscience to Enhance Leadership Development program and the Future of Learning Forum, as well as taught the Women in Leadership program. As an experienced executive coach, she has provided coaching sessions for leaders across industries and countries.
---
About The Ecology of Education Lecture Series:
Ecology of Education is an annual series of lectures showcasing the innovative research of new and early career faculty at the Graduate School of Education and Human Development.
Not able to attend? Tune in at www.facebook.com/GSEHD and watch Dr. Nakamura on Facebook Live.