Description
You are cordially invited to The Boeing Center's 15th annual Meir Rosenblatt Memorial Lecture featuring Aleda Roth, Burlington Industries Professor of Supply Chain Management at the University of Clemson.
Location
Charles F. Knight Center, Room 210
10:00 - 10:30am refreshments & networking
10:30 - 12:00pm presentation from Professor Aleda Roth
This is a free event with complimentary refreshments, so your RSVP is your commitment to attend.

Directions & Parking Information
Take Forest Park Pkwy toward Washington University's Danforth Campus.
Turn onto Throop Dr., which is one block east of the intersection of N. Big Bend Blvd. and Forest Park Pkwy.
Go to the stop sign and turn left. Proceed east on Troop drive until you reach the Visitor parking entrance for the Millbrook Garage (on your left). You'll take a parking ticket and follow the signs to the VISITOR parking spaces.
In the event that the Millbrook Garage visitor spaces are full, please proceed to the Snow Way parking Garage (100 yards west of the Millbrook Garage). There are additional visitor parking spaces on the top floor of the Snow Way Garage.
Walk back out of the garage and enter the first floor lobby doors of the Knight Center and look for the sign directing you to to the 2nd floor for Knight Center room 210.
Parking vouchers will be distributed at the event.


---
The High Price of Cheap Foods: Insights from China and the Food Recalls
Exporting our supply chains was arguably more than foolish; especially in the case of food, it can be outright dangerous. This presentation 1) introduces a platform of research that addresses hidden operational risks inherent in long, global supply chains; 2) explores how they affect well-being; and 3) calls for more strategic thinking around a new paradigm of ecologically responsible operations strategy. The past decade has witnessed a spate of product recalls from food to medicines to toys to batteries and more that have been fully or partially produced in lesser developed countries. Importantly, these external quality failures from offshoring production are significantly more complicated than typically considered in traditional supply chain and operations (SC/OM) perspectives. Using insights from China and the food recalls, I argue that fundamentally new paradigms are needed to guide supply chain and operations management strategy and design. The motivation for this research stream starts by providing an overview of operational and health risks associated with long food supply chains, especially focusing on sourcing from China (as a metaphor for emerging markets). In doing so, three views are considered: companies, customers, and society. I share deep insights into the unintended, "hidden" consequences of long supply chains that are typically under the radar screen of consumers. Guided by ecological systems, I discuss strategic lessons going forward that set the stage for future research, practice, and policy.
---
BIO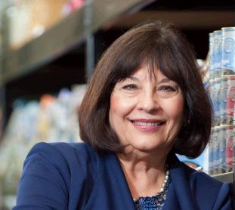 Professor Aleda Roth
Dr. Aleda Roth is a Distinguished Professor at Clemson University. Before then, she held the W.P. Carey Endowed Chair at ASU and the Mary Farley Lee Endowed Chair at UNC-Chapel Hill. She also held faculty positions at Duke and Boston University; and invited visiting scholar positions, including London Business School, IESA, Xi'an Jiaotong, Católica Portuguesa, WHU (Germany), INSEAD (Singapore), and others. Aleda is an internationally recognized thought leader in manufacturing, supply chain and service operations strategy. Her research is motivated by theoretical and practical explanations of how firms can best deploy their operations, global supply chains, and technology strategies for "triple-aim" performance - competitive advantage, sustainability and public well-being. She addresses strategic and policy impacts of emerging paradigms, such as service innovation/design strategies in the hospitality, health care, and humanitarian sectors and proposes new business models for supply chain and operations, including synergies of responsible/sustainable operations; strategic sourcing strategies for resiliency to political risk and mitigating quality risks in food, pharmaceuticals and other consumer products. Professor Roth received over 80 research and teaching awards since her doctorate in 1986. With over 200 publications (99 in refereed journals), her work ranks in the top 1% of POM scholars in the U.S.; in the top 2%, published in the Journal of Operations Management; and 7th worldwide in service management research.