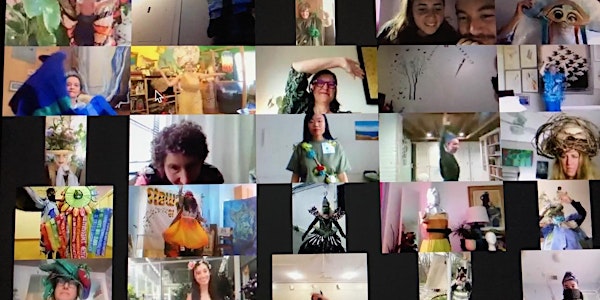 Ecological City - Art & Climate Solutions Panel Discussion & Planning
Join Earth Celebrations' Art & Climate Solutions Panel Discussion. Artists present designs for Ecological City project.
Date and time
Wednesday, February 8 · 3:15 - 5pm PST
About this event
Creative Action on Climate Solutions
Join us for an inspiring panel discussion on urban climate challenges and solutions and how the arts can be applied to engage community on climate action.
Panel speakers include artists presenting their designs for sculptural puppets, costumes and collaborative visual arts projects for the Ecological City - Procession for Climate Solutions. Local environmental experts will present updates on climate solution initiatives. Attendees bring your inspired imagination to share and discuss what we can create together. Visual #artists, #bioart #puppeteers, #costume makers, #performers, #dancers, #singers, #musicians and #poets are invited to join us and collaborate with community creating artistic works for Ecological City.
PANEL SPEAKERS
Lucrecia Novoa - Art & Climate Puppet Workshops
Yohanna Roa - Art & Climate Costume Workshops
Kathy Creutzburg - Bio Arts
Katherine Freygang - Art & Climate Collaborative Painting
Dee Dee Maucher - MoS Collective - Art & Bio Remediation
Felicia Young - Founder/Director of Earth Celebrations - Arts Building Community, Collaboration and Environmental Action
Wendy Brawer - Green Map System
LUNGS- Loisaida United Neighborhood Gardens (Ross Martin - La PLaza Cultural Garden)
Allie Ryan - ESCR East River Park updates
Dr. Paul Mankeiwicz - Gaia Institute - Climate & Coastal Resiliency
About the organizer
Earth Celebrations is a non-profit organization in New York City engaging communities to generate ecological and social change through the arts. For the past 30 years our programs have applied the inspirational power of the arts to build community, collaboration and action on climate change, water quality, river restoration, waste management, and the preservation of species, habitats, nature, gardens, parks, and a healthy urban environment.