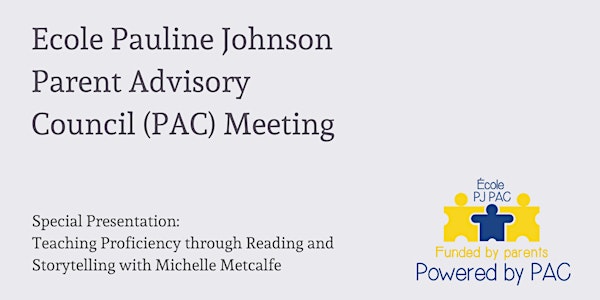 Ecole Pauline Johnson PAC Meeting: November 22nd, 2022
PJ Parent Advisory Council (PAC) meeting which will be held at Ecole Pauline Johnson on November 22nd from 7-9pm.
When and where
Location
École Pauline Johnson Elementary School 1150 22nd Street West Vancouver, BC V7V 4C4 Canada
About this event
Our PJ Parent Advisory Council would like to invite you to join us for the next PAC meeting which will be held on November 22nd from 7-9pm at Ecole Pauline Johnson.
These PAC events are an opportunity to create community at PJ. Not only will you meet other parents but you will also find out more about what is happening at the school and how you can get involved.
The PAC Executive have planned a fun-filled evening complete with event updates, the latest news from Mme. Zielinski and then will cap the evening off with a presentation by Michelle Metcalfe on Teaching Proficiency through Reading and Storytelling (TPRS). TPRS is a powerful and engaging second language acquisition methodology that uses highly interactive, contextualized, personalized and compelling stories to develop authentic language acquisition. Through the co-creation of class stories, dramatization, music and reading, learners acquire language in a natural way and in a stress-free immersion-like environment that promotes risk-taking and authentic communication. Michelle Metcalfe is a well-known TPRS teacher, presenter, trainer and coach. She has presented, coached, and trained teachers in TPRS and Comprehensible Input based methodologies throughout BC as well as in the US and elsewhere in Canada. Michelle will introduce us to the research that supports the TPRS methodology followed by a quick demonstration of how TPRS works.
We will also have a few sweet treats and some non-alcoholic beverages for those who want to stay and mingle after our speaker wraps up at 8:30pm.