Description
When did you last take some time off, just to take care of yourself?
In this frenetic, fast paced world, we just don't take enough time to look after ourselves - inside and out. In this two-and-a-half-hour session, sit back, unplug, unwind with a cathartic skill and get a little pampered with award winning, organic products - all with a glass of bubbly in hand.
What Will I Make?
Hosted by the ethical textile company, Offset Warehouse, you'll create your very own waterproof lined, cosmetic bag from super sustainable fabrics. You'll then be taught easy and effective hand embroidery techniques to really make it your own. You'll also be shown how to make your own reusable makeup remover pads. They're much better for the environment than disposable wipes, don't contain any skin-absorbing chemical nasties, and you'll never have to buy cotton pads again! While you craft, Offset Warehouse's eco fabric whizz, Jaime, will fill you in on what makes your fabrics so special.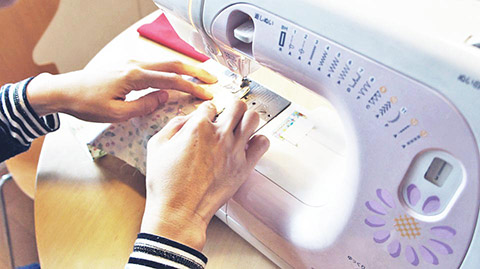 A Bit Of A Pamper
During the session we've set aside a little pampering time. And who better to teach us a thing or two than award winning, organic cosmetics company Neal's Yard Remedies. A Neal's Yard consultant, Suprina, will teach you the insider tricks on how to give yourself a professional facial - something you can do time and time again at home, and pass on to your friends, without the hefty price tag of going to a salon. Whether it's rejuvenation, purification, antioxidants or rehydration, Suprina will offer expert advice on what your skin is crying out for. You'll also be able to take advantage of exclusive discounts and vouchers for any of the products you can't resist on the day – you'll want some fabulous luxury, organic products to put in your brand new cosmetic bag after all!
Finally, just to make your time really special, we are also throwing in a glass of prosecco for all attendees, or, for a little extra, you can upgrade to bottomless prosecco for the full two and a half hour experience*. We can of course provide delicious, sparkling non-alcoholic alternatives, please email in advance to arrange this.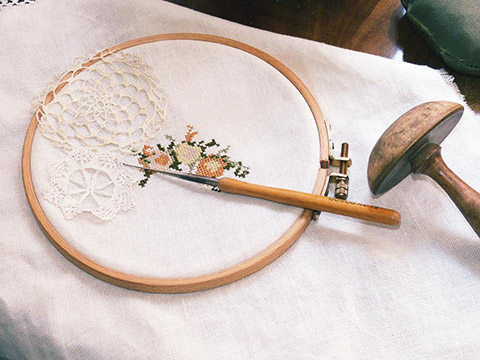 Who Can Attend?
The workshop is suitable for all abilities, from 18 years and up. Our expert eco-crafter, Jaime, will be on hand to help beginners who have never sewn or embroidered before. And for the more experienced stitcher, it will be an opportunity to dedicate some simple, satisfying "you time" to your sewing and embroidery and looking after yourself. Space is limited to 14 people per class.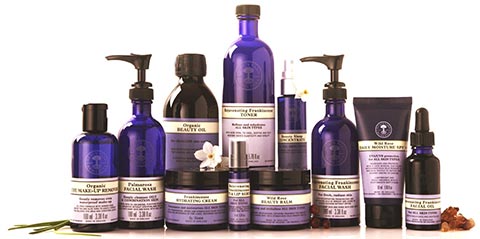 More On The Venue
Bring friends; bring family. With a maximum of 14 people per session, it's the perfect birthday celebration or hen party event. Situated by the river, you can wile away the hours on a summer's afternoon in the hip venue, Fish Island Labs. And with the popular café below serving breakfast, lunch and dinner, you can really make a day of it (the cakes are particularly scrumptious!). A short, picturesque walk along the river Lea from Hackney Wick Overground station, Fish Island Labs is a collaboration between The Trampery and The Barbican, providing a unique and buzzing venue for young artists – It was founded as a center for emerging creative professionals. It combines individual artist studios with a beautiful communal workspace, both within an Edwardian warehouse. With exposed brick walls, warm lighting and vintage reclaimed furniture, it is a home from home for artists and small businesses of all backgrounds - the perfect location for a day of crafting and relaxation.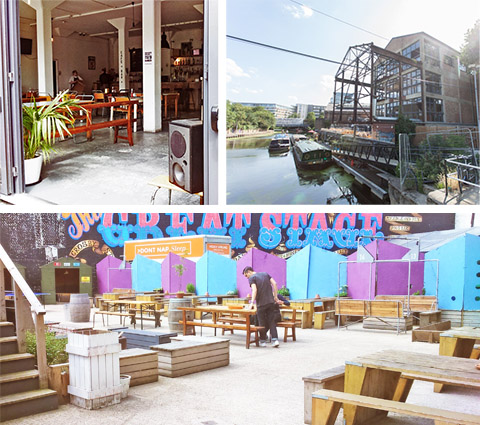 What Do I Need To Bring & What Do I Get To Take Home?
All materials and equipment that you will need for the experience will be provided by Offset Warehouse and is included in the price​. You will, of course, also take home the embroidered cosmetics bag and cotton pads that you make during the session. It is not necessary to prime your face in any way, but the facial will take off any makeup you are wearing, so you may like to bring top-up makeup with you.
Who Are Offset Warehouse & Neal's Yard?
Offset Warehouse & Neal's Yard are a match made in eco heaven. Offset Warehouse is an eco-conscious fabric and haberdashery retailer. All of their gorgeous products are good for either the people who make them or the planet, and usually both! Neal's Yard Cosmetics started over 30 years ago with a passionate belief in nature, and that beauty should be natural, not synthetic.
Why Go Organic?
The skin is the body's largest organ; the active barrier between you and the outside world. You should be looking after it in the best way possible. However, in this fast paced day and age that's easier said than done. Any non-organic beauty products and fabrics we choose to put on our skin can be full of chemicals and toxins that we don't even realise end up in our bodies (think about how nicotine patches work).
What's In
Neal's Yard

Skincare Products?

When it comes to ingredients, Neal's Yard prides themselves on their honesty, integrity and transparency. All the products are made with the maximum organic, natural and wild ingredients, and carefully select other functional ingredients such as detergents, emulsifiers, surfactants, with a view to safety, efficacy and biodegradability. The entire range makes use of high-quality, organic, plant-based ingredients, and they fully disclose all ingredient information, so you know exactly what you're buying.



Getting There

Turn left onto Hepscott Road after leaving Hackney Wick station, and then left again onto White Post Lane. Stay on White Post Lane until you have crossed over the river, and then make your way down to the river path. Once on the path, turn left so that you are walking along with the river to your right and continue until you get to another bridge. Cross the bridge turn left toward the yard and cafe. You will be met by someone to take you up to the venue. (Google maps sometimes doesn't take you the best way this is the quicket & most scenic walk!)

If you want to keep up to date with more Offset Warehouse news and events make sure you follow the link and sign up to our Newsletter!

* For bottomless prosecco a limit of two bottles per person will be applied - we want you to sew in straight lines after all!

Save
Save